Schoenberg: Chamber Symphonies, Five Pieces Op.16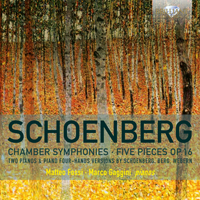 Composer
Arnold Schoenberg
Artist
Matteo Fossi piano
Marco Gaggini piano
Format
1 CD
Cat. number
94957
EAN code
5028421949574
Release
January 2017
About this release
Although both the Op.9 Chamber Symphony and Five Orchestral Pieces Op.16 broke new ground not only in Schoenberg's own output but the fast-developing history of orchestral music around the turn of the 20th century, piano duet arrangements of such works were still regarded as obligatory, as they had been for Brahms. Often such transcription work, aimed at a domestic audience, was left to jobbing professionals employed by the publishers, but both Brahms and Schoenberg often made these arrangements for themselves: not least so that friends (in the case of Brahms) and pupils could study and profit from them.

Indeed the First Chamber Symphony has been dressed both up and down, over the years, by the composer and others, according to requirement and circumstance, from a piano trio version to a full orchestral clothing. At its heart, however, remains a remarkable distillation of symphonic procedure, packed with melody and bursting with energy. Schoenberg initially worked on a piano-duet version but became dissatisfied and turned it over to his ever-willing pupil, Alban Berg.

'This isn't a work like any other,' was Berg's prophetic remark. 'It's a milestone in music, sufficient for an entire generation.' His intent was to write an arrangement that could actually be played on the piano, rather than a version that simply aimed at facilitating study and analysis. Matteo Fossi and Marco Gaggini here present its first recording: an essential acquisition for anyone with more than a passing interest in one of the titans of Western art music.

The symphony is complemented by a no less rare and fascinating transcription of the utterly unsymphonic Orchestral Pieces Op.16, by Schoenberg's other pupil of genius, Anton von Webern. The pieces make original and inventive use of the fullest orchestral canvas in every bar, so much so that a transcription which preserved their essential qualities would seem an impossible task. Yet Webern found a compelling solution that avoided superficial effects and focused instead on making the chord clusters express sound in almost skeletal terms that prefigure those of the sixth piece of Schoenberg's Op.19. In this way the colour of the chords rises to the surface.

Finally, the composer made his own arrangement of the Second Chamber Symphony, which revisits the genre of the First but in a more expansive and Romantic idiom, thus presenting fewer challenges to the transcriber.

This new recording presents arrangements for piano 4-hands or two pianos by orchestral works by Arnold Schoenberg (the two Chamber Symphonies and the Five Pieces Op. 16), arranged by Alban Berg, Anton Webern and Schoenberg himself.
The arrangements are not merely a piano reduction for practical purposes but can stand on their own, shedding new light on these complex scores, and bringing out new details and sonorities.
Excellent performances by the Italian piano duo Matteo Fossi and Marco Gaggini, who already recorded a successful Bartók Complete Works for 2 Pianos CD for Brilliant Classics (BC94737).
The press wrote of the duo's recordings: "The original, overwhelming orchestral tide is here changed into a lean demonstration of pure contents, where the emotions are fully preserved and unveiled through the power of logic". (Claudio Strinati, Il Venerdì di Repubblica).
Listening
Track list
Disk 1
Arnold Schoenberg: Kammersymphonie, Op. 9

Arnold Schoenberg: 5 Pieces for Orchestra, Op. 16: I. Vorgefühle

Arnold Schoenberg: 5 Pieces for Orchestra, Op. 16: II. Vergangenes

Arnold Schoenberg: 5 Pieces for Orchestra, Op. 16: III. Farben

Arnold Schoenberg: 5 Pieces for Orchestra, Op. 16: IV. Peripetie

Arnold Schoenberg: 5 Pieces for Orchestra, Op. 16: V. Das obligate Rezitativ

Arnold Schoenberg: Kammersymphonie No. 2, Op. 38: I. Adagio

Arnold Schoenberg: Kammersymphonie No. 2, Op. 38: II. Con fuoco