Schoenberg: Towards Verklärte Nacht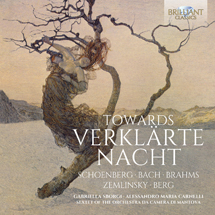 Composer
Arnold Schoenberg
Artist
Gabriella Sborgi mezzo-soprano
Sextet of the Orchestra da Camera
Alessandro Maria Carnelli conductor
Format
1 CD
Cat. number
95288
EAN code
5028421952888
Release
May 2016
About this release
The idea for this album came to conductor and author Alessandro Maria Carnelli as he was researching his new book about Schoenberg's entrancing work Verklärte Nacht. Delving into the background of this piece for string sextet – one of Schoenberg's most important early works – he discovered that the composer's influences came from diverse and interesting sources. Always fascinated by counterpoint (as shown later by his experiments in twelve-tone technique), this stemmed from an appreciation of J.S. Bach, who is represented here in a six-part ricercar; not specified for string sextet but a highly satisfactory choice for the ensemble nonetheless.

More contemporary influences included Brahms, who composed two string sextetshimself, and who also influenced Schoenberg's student Berg. Zemlinsky was highly regarded by Schoenberg – who went on to marry the composer's sister – and as the two men collaborated together, they both wrote pieces for string sextet, including Zemlinsky's Maiblumen blühten überall, featuring the unusual addition of a female voice.

Schoenberg's composition Verklärte Nacht was born out of the combined influence of these great men who had gone before him, as well as the discovery of Dehmel's poem Verklärte Nacht, which chimed perfectly with his wish to write for sextet. This album features not only the complete sections but also Carnelli's own reconstruction of the first version of the transition between sections 1 and 2, later crossed out by the composer. It features world class musicians from the Orchestra da Camera di Mantova as well as mezzo Gabriella Sborgi, an established singer in her home country of Italy, described by Bob Kettelson as 'exceedingly musical'.

This CD presents a fascinating musical illustration of the paths which led to the composition of Verklärte Nacht, Arnold Schoenberg's masterpiece for string sextet, the late romantic outpouring of a harmonic and melodic language at the end of its development, and at the same time the beginning of a new language.
Alessandro Maria Carnelli, scholar, musicologist, author and musician compiled a number of works which deeply influenced Schoenberg: the 6-part (sextet) Ricercar by J.S. Bach, songs by Brahms and Berg transcribed for voice and string sextet, two unfinished works for string sextet by Zemlinsky (a close friend of Schoenberg), all culminating in the work itself, Verklärte Nacht by Schoenberg.
Performed by mezzo-soprano Gabriella Sborgi and a string sextet formed with the principal players of the Orchestra da Camera di Mantova, conducted by Alessandro Maria Carnelli.
The booklet contains extensive information on the background of this intriguing conceptual album.

Recorded in Italy in 2015.
Contains liner notes written by the artist.
Contains complete sung texts in German and English.
Track list
Disk 1
Musikalisces Opfer, BWV 1079: Ricercar a 6

6 Songs, Op. 3: I. Liebestreu

8 Lieder, Op. 6: VIII. Der Wanderer

7 Frühe Lieder: III. Die Nachtigall

Ein Stück aus dem Leben eines Menschen – I. Schicksal

Maiblumen blühten überall

Toter Winkel

Ein Harfenklang

Fragment in G Minor

Verklärte Nacht, Op. 4: Section 1 (bars 1–28). Sehr langsam

Verklärte Nacht, Op. 4: Section 2 (bars 29–200). Etwas bewegter

Verklärte Nacht, Op. 4: Section 3 (bars 201–228). Schwer betont

Verklärte Nacht, Op. 4: Section 4 (bars 229–369). Sehr breit und langsam

Verklärte Nacht, Op. 4: Section 5 (bars 370–418). Sehr ruhig

Verklärte Nacht, Op. 4: Section 1 (end) – Section 2 (beginning) (bars 22–100)