Schubert: 4 Sonatas for Violin & Piano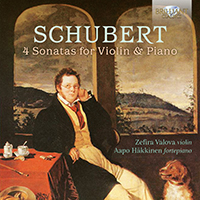 Download booklet
Composer
Franz Schubert
Artist
Zefira Valova violin
Aapo Häkkinen fortepiano
Format
1 CD
Cat. number
96423
EAN code
5028421964232
Release
October 2021
About this release
Sparkling new accounts of Schubert's violin-and-piano music from two luminaries of the Finnish period-instrument scene.
The Bulgarian violinist Zefira Valova graduated from the National Music Academy of her native Sofia, Bulgaria, before specialising in Baroque violin studies with Lucy van Dael. While still based in her homeland, having founded Bulgaria's only annual early-music festival (Sofia Baroque Arts Festival) she is a frequent soloist with and guest leader of the Helsinki Baroque Orchestra under its founder-director Aapo Häkkinen, who swaps the conductor's platform on this occasion for a seat at a gentle, plangent-sounding fortepiano from 1820 of Viennese manufacture – ideally suited to the repertoire at hand.

Together they make a lively and sympathetic partnership, informed by playing these youthful works in concert.

Franz Schubert (1797-1828) was just 19 years old when he wrote a trio of sonatas in the spring of 1816, but he already had four symphonies under his belt as well as masterpieces of song such as Gretchen am Spinnrade and Erlkönig. Like so much of his music, they were only published after his death, when they were given both a misleading opus number (Op.137) and even title, for the diminutive 'sonatina' nomenclature shows little respect for both the scale of Schubert's imagination and handling of form.

On a technical level, the trio of pieces lies within the ambit of amateur players of both instruments, though more demanding for the pianist. This relative ease of execution need not obscure the rapturous melodies of the second work in the collection, D385, or its deeply felt harmonies, which culminate in an elegiac finale. By comparison, D384 is a work of sparkling good humour, melodically reminiscent of Mozart, and blessed with seemingly effortless charm.

Cast in the turbulent Erlkönig key of G minor, D408 turns the listener's ear towards Beethoven, though the concise opening melody clearly speaks with Schubert's voice. However, all three of these 'sonatinas' are somewhat overshadowed by the Sonata D574 from the summer of the following year, 1817, which ranks among the most inspired productions of even Schubert's prodigious youth. While great violinists such as Josef Suk and Arthur Grumiaux once lavished their care over these works, they have been comparatively neglected in recent years, making this new recording using the instruments and techniques of Schubert's time all the more welcome.

· From March 1816 to August 1817, Franz Schubert composed four violin sonatas. All four were published after the composer's death: the first three, D384, 385 and 408, as Sonatinas in 1836 (Op. posth. 137), and the last one, D574, as Duo in 1851 (Op. posth. 162). The sonatas breathe an intimate atmosphere, requiring no virtuoso bravura from their performers, but always bearing the stamp of its composer's genius, his unique gift for melody and harmony.
· Bulgarian violinist Zefira Falova specialized in Baroque violin with Lucy van Dael. During 7 consecutive seasons, she was concertmaster of the European Union Baroque Orchestra, under direction of Lars Ulrik Mortensen, Ton Koopman, Roy Goodman and Petra Müllejans. From 2011 until 2015, she performed as soloist and concertmaster of Il Pomo d'Oro, Les Ambassadeurs, and as an orchestra member she collaborated with Orchestra of the Age of Enlightment, Chambre Philharmonique, B'Rock, Les Musiciens de Saint-Julien and Cordevento.
· Finnish keyboard player Aapo Häkkinen studied in Helsinki. He was also fortunate to enjoy the generous guidance and encouragement of Gustav Leonhardt. He developed a successful career as harpsichordist and conductor, and is Artistic Director of the Helsinki Baroque Orchestra.
Listening
Track list
Disk 1
Franz Schubert: Violin Sonata in D Major, D. 384: I. Allegro molto

Franz Schubert: Violin Sonata in D Major, D. 384: II. Andante

Franz Schubert: Violin Sonata in D Major, D. 384: III. Allegro vivace

Franz Schubert: Violin Sonata in A Minor, D. 385: I. Allegro moderato

Franz Schubert: Violin Sonata in A Minor, D. 385: II. Andante

Franz Schubert: Violin Sonata in A Minor, D. 385: III. Menuetto & Trio

Franz Schubert: Violin Sonata in A Minor, D. 385: IV. Allegro

Franz Schubert: Violin Sonata in G Minor, D. 408: I. Allegro giusto

Franz Schubert: Violin Sonata in G Minor, D. 408: II. Andante

Franz Schubert: Violin Sonata in G Minor, D. 408: III. Menuetto & Trio

Franz Schubert: Violin Sonata in G Minor, D. 408: IV. Allegro moderato

Franz Schubert: Violin Sonata in A Major, D. 574: I. Allegro moderato

Franz Schubert: Violin Sonata in A Major, D. 574: II. Scherzo & Trio

Franz Schubert: Violin Sonata in A Major, D. 574: III. Andantino

Franz Schubert: Violin Sonata in A Major, D. 574: IV. Allegro vivace