Schubert: Complete String Quartets vol. 5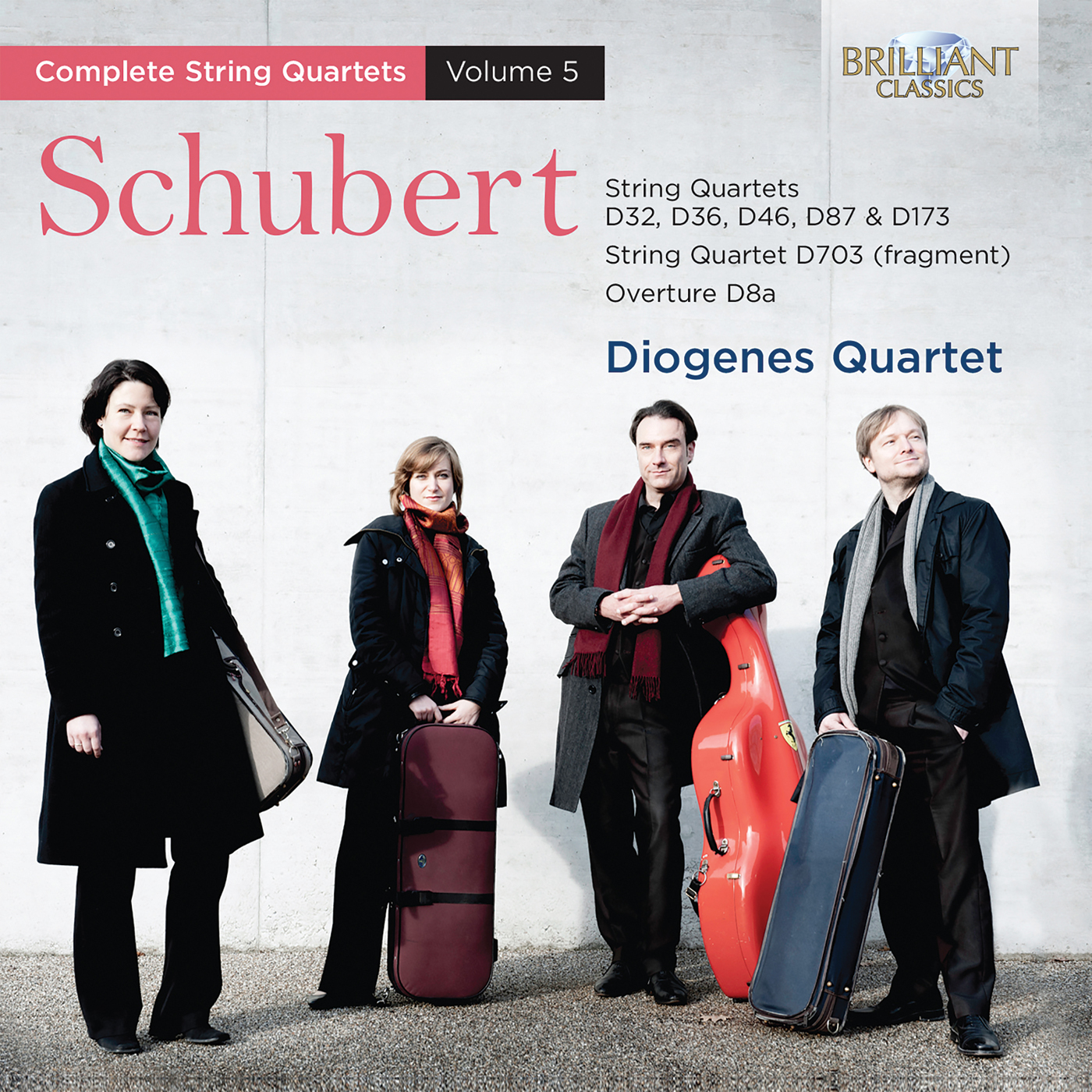 | | |
| --- | --- |
| Composer | Franz Schubert |
| Artist | Diogenes Quartet |
| Format | 2 CD |
| Cat. number | 94466 |
| EAN code | 5028421944661 |
| Release | December 2015 |
About this release
Following the resounding success of their previous four volumes, the Diogenes Quartet is proud to release the penultimate in the series of Schubert's complete string
quartets. Most of the pieces from this collection come from the start of the Austrian composer's career, written while he was still in his teens. Despite this, they still show a remarkable level of maturity and experimentation, with each piece markedly different from the next. One of four quartets from 1813 (the year Schubert
was just turning 16), the String Quartet in C D46 stands out for its technique, development and dramatic pacing, as well
as Schubert's unconventional use of C major as a key of depth and seriousness rather than jollity and warmth. The String Quartet in G minor D173, from 1815, was written in just eight days, and is a nod back to Haydn and Mozart. Schubert subverts the traditional sonata form, however, by unexpectedly making use of the relative B flat major, creating a dual tonality that lasts the whole of the first movement. The latest piece in this collection is the String Quartet in C minor D703 (fragment), otherwise known as the Quartettsatz. Despite only being one movement of a never‐completed quartet, it reveals one of the earliest examples of the composer's 'mature' style, with an expressive tonality that only comes to rest in the home key in the last few bars of the movement.

The quartet have achieved highly positive reviews for their previous Schubert volumes, with ArkivMusic giving an 'enthusiastic nod of approval', the reviewer
saying 'I cannot recommend this release [Volume 2] too highly.' Their release of music for string quartet by Engelbert
Humperdinck was praised by Musicweb International, who wrote 'I couldn't fault the beautiful playing of the Diogenes Quartet'
and praised their 'glorious string tone and impeccable ensemble.' This up-and-coming group is certainly one to watch out for.

This new instalment of Schubert's Complete String Quartets by the German Diogenes Quartet contains his early quartets, from the youthful Overture D8a to the C minor Quartettsatz.
Comparing the early works with Schubert's "late" and mature quartets may find the earlier compositions lacking in profundity, but judged by themselves they are delightful works, in the spirit of Haydn, tinged here and there with Schubert's melancholy and deep romantic feelings of love and death.
The Schubert cycle by the German Quartet Diogenes Quartet is highly regarded, critics praise their superb unity of ensemble and style, their impeccable intonation and their fiery and passionate music making.
Excellent liner notes written by a scholar, in both English and German.

Recorded in Germany in 2014 & 2015.
Contains notes on the composer in German and English.
Contains a biography of the ensemble in German and English.
Contains a full organ specification.
Listening
Track list
Disk 1
Franz Schubert: String Quartet in C Major, D. 46: I. Adagio – Allegro con moto

Franz Schubert: String Quartet in C Major, D. 46: II. Andante con moto

Franz Schubert: String Quartet in C Major, D. 46: III. Menuetto – Trio

Franz Schubert: String Quartet in C Major, D. 46: IV. Finale. Allegro

Franz Schubert: Overture in C Minor, D. 8: Largo – Allegro

Franz Schubert: String Quartet in E-Flat Major, D. 87: I. Allegro moderato

Franz Schubert: String Quartet in E-Flat Major, D. 87: II. Scherzo – Trio

Franz Schubert: String Quartet in E-Flat Major, D. 87: III. Adagio

Franz Schubert: String Quartet in E-Flat Major, D. 87: IV. Allegro

Franz Schubert: String Quartet in C Minor, D. 703: I. Allegro assai

Franz Schubert: String Quartet in C Minor, D. 703: II. Andante (fragment)
Disk 2
Franz Schubert: String Quartet in C Major, D. 32: I. Presto

Franz Schubert: String Quartet in C Major, D. 32: II. Andante

Franz Schubert: String Quartet in C Major, D. 32: III. Menuetto. Allegro – Trio

Franz Schubert: String Quartet in C Major, D. 32: IV. Allegro con spirit

Franz Schubert: String Quartet in B-Flat Major, D. 36: I. Allegro

Franz Schubert: String Quartet in B-Flat Major, D. 36: II. Andante

Franz Schubert: String Quartet in B-Flat Major, D. 36: III. Menuetto. Allegro – Trio

Franz Schubert: String Quartet in B-Flat Major, D. 36: IV. Allegretto

Franz Schubert: String Quartet in G Minor, D. 173: I. Allegro con brio

Franz Schubert: String Quartet in G Minor, D. 173: II. Andantino

Franz Schubert: String Quartet in G Minor, D. 173: III. Minuetto. Allegro vivace – Trio

Franz Schubert: String Quartet in G Minor, D. 173: IV. Allegro