Schubert: Complete String Quartets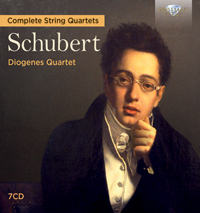 Download booklet
Composer
Franz Schubert
Artist
Diogenes Quartet
Stefan Kirpal violin
Gundula Kirpal violin
Stephen Ristau cello
Julia Barthel viola
Alba González i Becerra viola
Format
7 CD
Cat. number
94468
EAN code
5028421944685
Release
April 2016
About this release
Since 2012, the German ensemble Diogenes Quartet have devoted themselves to recording all of Schubert's music for string quartet. Already released as individual volumes to high acclaim, they are now available to purchase together, setting Schubert's later masterpieces alongside his earlier works and revealing the genius he was at such a young age. Additionally, the quartet have worked with Christian Starke, an expert in Schubert's music, who has sensitively completed two of the composer's fragments, allowing the listener to fully appreciate the astonishing potential these short pieces contain.

While the four late quartets have always been considered shining examples of Schubert's mastery of the genre, his earlier works for string quartet – written as a young teenager – have at times been overlooked in the past. They were clearly intended for a familiar, domestic setting rather than the concert hall, and the Diogenes Quartet's sensitive rendition draws the listener in, recreating the intimate setting and drawing out the sense of lyricism already present in Schubert's lines.

The Quartet were highly praised by Fanfare for their 'immaculate execution', complemented by 'genuine emotional engagement and real feeling for Schubert's unique modes and moods of musical expression' in Volume 2, with the reviewer Jerry Dubins stating that once complete, this recording of Schubert's string quartets would be the one to have. This quality boxset certainly attests to that claim.

This set presents the complete string quartets by Franz Schubert, including the completion of two unfinished movements, by Christian Starke.
Schubert's string quartets span his whole creative lifetime. The early quartets are firmly rooted in the classical Viennese style, charming, fresh, lyrical and witty, the later quartets (Rosamunde, Death and the Maiden, G major) speak a deep, dramatic and sometimes grim language, full of Weltschmerz, hope and despair.
The German Diogenes Quartet have been delving deep into the world of Schubert over the past few years. Critics (Fanfare and other magazines) have praised "their genuine emotional engagement and real feeling for Schubert's unique modes and moods of musical expression", "immaculate execution".
Excellent and extensive liner notes by musicologist and producer Christian Starke.

Other information:
Recorded in Munich, Germany, 2012 -2015.
Contains extensive liner notes by Christian Starke.
Contains a biography of the artist.
Listening
Track list
Disk 1
Franz Schubert: String Quartet No. 7 in D Major, D. 94: I. Allegro

Franz Schubert: String Quartet No. 7 in D Major, D. 94: II. Andante con moto

Franz Schubert: String Quartet No. 7 in D Major, D. 94: III. Menuetto (Allegretto) – Trio

Franz Schubert: String Quartet No. 7 in D Major, D. 94: IV. Presto

Franz Schubert: Andante in C Major, D. 3

Franz Schubert: String Quartet No. 13 in A Minor, D. 804: I. Allegro ma non troppo

Franz Schubert: String Quartet No. 13 in A Minor, D. 804: II. Andante

Franz Schubert: String Quartet No. 13 in A Minor, D. 804: III. Minuetto (Allegretto) – Trio

Franz Schubert: String Quartet No. 13 in A Minor, D. 804: IV. Allegro moderato
Disk 2
Franz Schubert: Overture in B-Flat Major, D. 470: Adagio maestoso – Allegro

Franz Schubert: String Quartet No. 8 in B-Flat Major, D. 112: I. Allegro ma non troppo

Franz Schubert: String Quartet No. 8 in B-Flat Major, D. 112: II. Andante sostenuto

Franz Schubert: String Quartet No. 8 in B-Flat Major, D. 112: III. Minuetto – Trio

Franz Schubert: String Quartet No. 8 in B-Flat Major, D. 112: IV. Presto

Franz Schubert: String Quartet No. 11 in E Major, D. 353: I. Allegro con fuoco

Franz Schubert: String Quartet No. 11 in E Major, D. 353: II. Andante

Franz Schubert: String Quartet No. 11 in E Major, D. 353: III. Minuetto – Trio

Franz Schubert: String Quartet No. 11 in E Major, D. 353: IV. Rondo. Allegro vivace
Disk 3
Franz Schubert: String Quartet No. 1 in G Minor/B-Flat Major, D. 18: I. Andante – Presto vivace

Franz Schubert: String Quartet No. 1 in G Minor/B-Flat Major, D. 18: II. Menuetto – Trio

Franz Schubert: String Quartet No. 1 in G Minor/B-Flat Major, D. 18: III. Andante

Franz Schubert: String Quartet No. 1 in G Minor/B-Flat Major, D. 18: IV. Presto

Franz Schubert: 5 Menuets and 5 German Dances, D. 89: Menuet I – Trio 1 – Trio 2

Franz Schubert: 5 Menuets and 5 German Dances, D. 89: Menuet II

Franz Schubert: 5 Menuets and 5 German Dances, D. 89: Menuet III (early version) – Trio 1 – Trio 2

Franz Schubert: 5 Menuets and 5 German Dances, D. 89: Menuet IV

Franz Schubert: 5 Menuets and 5 German Dances, D. 89: Menuet V – Trio 1 – Trio 2

Franz Schubert: 5 Menuets and 5 German Dances, D. 89: German Dance I – Trio 1 – Trio 2

Franz Schubert: 5 Menuets and 5 German Dances, D. 89: German Dance II – Trio 1 – Trio 2

Franz Schubert: 5 Menuets and 5 German Dances, D. 89: German Dance III – Trio

Franz Schubert: 5 Menuets and 5 German Dances, D. 89: German Dance IV

Franz Schubert: 5 Menuets and 5 German Dances, D. 89: German Dance V – Trio 1 (early version) – Trio 2 – Coda

Franz Schubert: String Quartet No. 5 in B-Flat Major, D. 68: I. Allegro maestoso

Franz Schubert: String Quartet No. 5 in B-Flat Major, D. 68: II. Allegro

Franz Schubert: 5 Menuets and 5 German Dances, D. 89: Menuet III (later version) – Trio 1 – Trio 2

Franz Schubert: 5 Menuets and 5 German Dances, D. 89: German Dance V – Trio 1 (later version) – Trio 2
Disk 4
Franz Schubert: String Quartet No. 14 in D Minor, D. 810: I. Allegro

Franz Schubert: String Quartet No. 14 in D Minor, D. 810: II. Andante con moto

Franz Schubert: String Quartet No. 14 in D Minor, D. 810: III. Scherzo. Allegro molto – Trio

Franz Schubert: String Quartet No. 14 in D Minor, D. 810: IV. Presto – Prestissimo

Franz Schubert: String Quartet No. 6 in D Major, D. 74: I. Allegro ma non troppo

Franz Schubert: String Quartet No. 6 in D Major, D. 74: II. Andante

Franz Schubert: String Quartet No. 6 in D Major, D. 74: III. Minuetto. Allegretto

Franz Schubert: String Quartet No. 6 in D Major, D. 74: IV. Allegro

Franz Schubert: Minuet in D Major, D. 86
Disk 5
Franz Schubert: String Quartet No. 4 in C Major, D. 46: I. Adagio – Allegro con moto

Franz Schubert: String Quartet No. 4 in C Major, D. 46: II. Andante con moto

Franz Schubert: String Quartet No. 4 in C Major, D. 46: III. Menuetto – Trio

Franz Schubert: String Quartet No. 4 in C Major, D. 46: IV. Finale. Allegro

Franz Schubert: Overture in C Minor, D. 8a: I. Largo – Allegro

Franz Schubert: String Quartet No. 10 in E-Flat Major, D. 87: I. Allegro moderato

Franz Schubert: String Quartet No. 10 in E-Flat Major, D. 87: II. Scherzo – Trio

Franz Schubert: String Quartet No. 10 in E-Flat Major, D. 87: III. Adagio

Franz Schubert: String Quartet No. 10 in E-Flat Major, D. 87: IV. Allegro

Franz Schubert: String Quartet No. 12 in C Minor, D. 703: I. Allegro assai

Franz Schubert: String Quartet No. 12 in C Minor, D. 703: II. Andante (fragment)
Disk 6
Franz Schubert: String Quartet No. 2 in C Major, D. 32: I. Presto

Franz Schubert: String Quartet No. 2 in C Major, D. 32: II. Andante

Franz Schubert: String Quartet No. 2 in C Major, D. 32: III. Menuetto. Allegro – Trio

Franz Schubert: String Quartet No. 2 in C Major, D. 32: IV. Allegro con spirit

Franz Schubert: String Quartet No. 3 in B-Flat Major, D. 36: I. Allegro

Franz Schubert: String Quartet No. 3 in B-Flat Major, D. 36: II. Andante

Franz Schubert: String Quartet No. 3 in B-Flat Major, D. 36: III. Menuetto. Allegro – Trio

Franz Schubert: String Quartet No. 3 in B-Flat Major, D. 36: IV. Allegretto

Franz Schubert: String Quartet No. 9 in G Minor, D. 173: I. Allegro con brio

Franz Schubert: String Quartet No. 9 in G Minor, D. 173: II. Andantino

Franz Schubert: String Quartet No. 9 in G Minor, D. 173: III. Minuetto. Allegro vivace – Trio

Franz Schubert: String Quartet No. 9 in G Minor, D. 173: IV. Allegro
Disk 7
Franz Schubert: String Quartet No. 15 in G Major, D. 887: I. Allegro molto moderato

Franz Schubert: String Quartet No. 15 in G Major, D. 887: II. Andante un poco moto

Franz Schubert: String Quartet No. 15 in G Major, D. 887: III. Scherzo. Allegro vivace – Trio. Allegretto

Franz Schubert: String Quartet No. 15 in G Major, D. 887: IV. Allegro assai

Franz Schubert: String Quartet in C Minor, D. 103: Grave – Allegro