Schubert: Hanna Shybayeva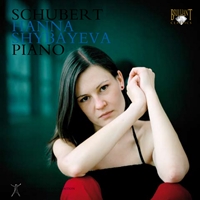 | | |
| --- | --- |
| Composer | Franz Schubert |
| Artist | Hanna Shybayeva piano |
| Format | 1 CD |
| Cat. number | 93913 |
| EAN code | 5028421939131 |
| Release | June 2009 |
About this release
Hanna Shybayava was born in Belarus in 1979. A student of Naum Grubert, she won the 2001 YPF National Piano Competition and has attended masterclasses with Murray Perahia and Emanuel Ax. Her recital on this Brilliant Classics disc is of two of Schubert's greatest sonatas. The A minor Sonata D784 dates from 1823. The period from 1821 to 1825 saw Schubert start and abandon many sonatas and symphonies – struggling to establish his mature and individual voice. Many of these unfinished works provide a fascinating view into the mind of this intense and private artist.

The huge torso of the C major Sonata D840 – consisting of the first two movements, half the scherzo, and a finale that breaks off without warning to nothing – is a prime example. The Seventh and Eighth Symphonies (the latter being the famous 'Unfinished'), though fragmentary, point the way to Schubert's mature style, free of the influence of Haydn and Mozart, and, most importantly a voice that was as unique and powerful as Beethoven's. The piano-writing is almost orchestral. It is unflashy, stark, and with constantly changing moods. The A major Sonata D959 was started and completed along with its companion sonatas D958 and 960 in September 1828. It is an austere work, and on a large scale, with a pensive menuetto in place of the traditional scherzo, and a brooding, wintry finale, obsessive almost in its gloom – very much in the spirit of Winterreise. Less than two months after completing the work, Schubert died. Originally intended for dedication to Hummel, the three sonatas were not published until 1838, a year after Hummel's death. The publisher Diabelli dedicated them to Schumann.

Other information:
- "Shybayeva impresses with a solid sense of form and imaginative and rich colouring of her playing" (NRC Handelsblad reviewing a recital).
Track list
Disk 1
Sonata in A Major, D. 959, Opus posth.: Allegro

Sonata in A Major, D. 959, Opus posth.: Andantino

Sonata in A Major, D. 959, Opus posth.: Scherzo: Allegro vivace – Trio: Un poco più lento

Sonata in A Major, D. 959, Opus posth.: Rondo; Allegretto

Sonata in A Minor, D. 784, Opus 143: Allegro giusto

Sonata in A Minor, D. 784, Opus 143: Andante

Sonata in A Minor, D. 784, Opus 143: Allegro vivace