Schubert: Piano Music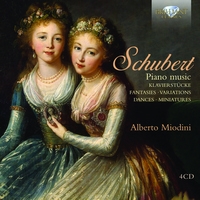 | | |
| --- | --- |
| Composer | Franz Schubert |
| Artist | Alberto Miodini piano |
| Format | 4 CD |
| Cat. number | 94806 |
| EAN code | 5028421948065 |
| Release | March 2014 |
About this release
When we look past the extended meditations of the sonatas into the rest of Schubert's piano music, we tend hardly to see beyond the Wanderer Fantasy and the Impromptus. This undervalues the composer's contribution to the work for his instrument, as the Italian pianist Alberto Miodini reveals on an extensive exploration of the sometimes slighter and lighter but often just shorter works he composed through his all-too-short career. Perhaps the late Klavierstücke D946 are best known, and justly so, for their profound and ruminative contemplation, and Miodini's fellow-countryman Paolo Bordoni did sterling work for the Waltzes in 1970s recordings that stand the test of time, but there are still tantalising fragments that are no less worth hearing for their frustratingly unfinished status – the 'Unfinished' Symphony was by no means the only musical project that Schubert filed in his creative bottom drawer, so fecund was his compositional imagination that he could hardly get the ideas out fast enough. As noted by Alfred Brendel, Schubert chose to interrupt a composition 'when it was unsatisfying or no longer interesting' – evidence of the composer's vigorous pursuit of his own individual Sonata style. Among the complete works here are equally little-known variation sets on melodies by Hüttenbrenner and Diabelli – works full of characteristically Schubertian energy and motive power.

Other information:
- Recorded in 2013.
- This set could be rightly called "The unknown Schubert" as it contains a wealth of shorter, and sometimes unfinished piano pieces by the Viennese master.
- We all know the piano sonatas, large scale masterworks of great profundity, but Schubert wrote many shorter works: dances, variations, fantasies and miniatures, often simple "entertainment" to toss of in the small circle of intimate friends and admirers, but always bearing the stamp of genius, with ever so often a pang of melancholy or sadness, so characteristic of the Schubert The Romantic.
- A joy to listen to Italian pianist Alberto Miodini, always finding the right touch of lightness and charm.
- Booklet includes notes on the music by Gian Paolo Minardi.
Listening
Track list
Disk 1
Franz Schubert: Drei Klavierstücke, D. 946: Klavierstück No. 1 in E-Flat Minor (Allegro assai – Andante – Tempo I)

Franz Schubert: Drei Klavierstücke, D. 946: Klavierstück No. 2 in E-Flat Major (Allegretto)

Franz Schubert: Drei Klavierstücke, D. 946: Klavierstück No. 3 in C Major (Allegro)

Franz Schubert: Klavierstück in C Major, D. 916b (Allegro)

Franz Schubert: Klavierstück in C Minor, D. 916c

Franz Schubert: Drei Klavierstücke, D. 459: Klavierstück No. 1 in C Major (Adagio)

Franz Schubert: Drei Klavierstücke, D. 459: Klavierstück No. 2 in A Major. Scherzo (Allegro)

Franz Schubert: Drei Klavierstücke, D. 459: Klavierstück No. 3 in E Major (Allegro patetico)

Franz Schubert: Klavierstück in A Major, D. 604 (Andante)
Disk 2
Franz Schubert: 10 Variations, D. 156

Franz Schubert: 13 Variations on a Theme by Anselm Hüttenbrenner, D. 576

Franz Schubert: Variation on a Waltz by Anton Diabelli, D. 718

Franz Schubert: Fantasy in C Major, D. 605a "Grazer Fantasie"

Franz Schubert: Fantasy in C Major, D. 605 (Fragment)

Franz Schubert: Fantasy in C minor, D. 2e
Disk 3
Franz Schubert: Hungarian Melody in B Minor, D. 817

Franz Schubert: Allegretto in C Minor, D. 915

Franz Schubert: Allegretto in C Major, D. 346 (Fragment)

Franz Schubert: Allegro moderato in C Major, D. 347 (Fragment)

Franz Schubert: Andantino in C Major, D. 348 (Fragment)

Franz Schubert: Adagio in C Major, D. 349 (Fragment)

Franz Schubert: Allegretto in C Minor, D. 900 (Fragment)

Franz Schubert: Rondo in E Major, D. 506 (Allegretto)

Franz Schubert: Adagio in E Major, D. 612

Franz Schubert: Allegro and Scherzo, D. 570: I. Allegro (Fragment)

Franz Schubert: Allegro and Scherzo, D. 570: II. Scherzo. Allegro vivace – Trio

Franz Schubert: Adagio in G Major, D. 178 (First Version)

Franz Schubert: Adagio in G Major, D. 178 (Second Version, Fragment)

Franz Schubert: Andante in C Major, D. 29
Disk 4
Franz Schubert: 12 Waltzes, D. 145

Franz Schubert: Grazer Galopp in C Major, D. 925

Franz Schubert: Minuet in C-Sharp Minor, D. 600

Franz Schubert: Minuet in A Major, D. 334: Allegretto – Trio

Franz Schubert: Minuet in A Minor, D. 277: Allegro – Trio

Franz Schubert: Two Scherzos, D. 593: I. Scherzo in B-Flat Major (Allegretto – Trio)

Franz Schubert: Two Scherzos, D. 593: II. Scherzo in D-Flat Major (Allegro moderato – Trio)

Franz Schubert: March in B Minor, D. Deest (Allegro assai – Trio)

Franz Schubert: March in E Major, D. 606 (Allegro con brio – Trio)

Franz Schubert: Fugue in D Minor, D. 13

Franz Schubert: Fugue in C Major, D. 24a

Franz Schubert: Fugue in G Major, D. 24b

Franz Schubert: Fugue in D Minor, D. 24c

Franz Schubert: Alfonso und Estrella, D. 759a: Overture (Transcr. Schubert)

Franz Schubert: Waltz in G Major, D. 844 "Albumblatt"