Schubert: Rosamunde Complete Incidental Music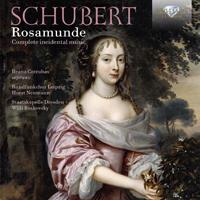 Composer
Franz Schubert
Artist
Ileana Cotrubas soprano
Rundfunkchor Leipzig
Horst Neumann chorus master
Staatskapelle Dresden
Willi Boskovsky conductor
Format
1 CD
Cat. number
95122
EAN code
5028421951225
Release
August 2015
About this release
The play by Helmina von Chezy may not have survived more than two performances on its original run at the Theater an der Wien, but Schubert's incidental music has proved more durable, and forms a happy hour of minuets and choruses, framed by the overture from Alfonso und Estrella which the composer originally reused in haste, and at the end the much more developed overture from Die Zauberharfe (yet another forgotten dramatic work by Schubert) which has come to be more associated with Rosamunde.

In between comes the sequence of ballet music, unforgettably poetic and quietly melancholy, which shows the mature Schubert at his finest, as well as a short aria, sung here by the Spanish soprano Ileana Cotrubas. This East German recording from the early 70s is conducted to the manner born by Willi Boskovsky, as one would expect from his years of leading the Vienna Philharmonic from the front desk, and from the podium for decades of New Year's Day concerts. 'He gets delightful playing from the Dresden orchestra,' remarked Gramophone's reviewer in 1979, and the Leipzig chorus is 'excellent'.

This CD is a classic reissue of the complete incidental music for the play Rosamunde by Schubert.
Several of the entre'actes and ballets have become Music for the Millions, Schubert's unique melodic gift lends even to the most trivial texts a touch of genius and deep humanity.
Wonderful performance by the superb Dresden Staatskapelle conducted by Willi Boskovsky, a feast of Viennese charm, humour, grace and wit. The soloist is the great soprano Ileana Cotrubas, an opera legend, irresistible in this repertoire.
Track list
Disk 1
Rosamunde, D. 797: Overture from Alfonso und Estrella

Rosamunde, D. 797: I. Entr'acte nach dem 1. Aufzug – Allegro molto moderato

Rosamunde, D. 797: II. Ballet - Allegro moderato – Andante un poco assai

Rosamunde, D. 797: IIIa. Entr'acte nach dem 2. Aufzug – Andante

Rosamunde, D. 797: IIIb. Romance. Der Vollmond strahlt auf Bergeshöhn – Andante con moto

Rosamunde, D. 797: IV. Geisterchor. In der Tiefe wohnt das Licht – Adagio

Rosamunde, D. 797: V. Entr'acte nach dem 3. Aufzug – Andantino

Rosamunde, D. 797: VI. Hirtenmelodien – Andante

Rosamunde, D. 797: VII. Hirtenchor. Hier auf den Fluren – Allegretto

Rosamunde, D. 797: VIII. Jägerchor. Wie lebt sich's so fröhlich im Grünen – Allegro moderato

Rosamunde, D. 797: IX. Ballet – Andantino

Rosamunde, D. 797: Overture from Die Zauberharfe, D. 644