Schubert: String Quartets Vol. 1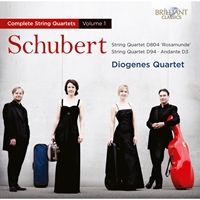 Composer
Franz Schubert
Artist
Diogenes Quartet
Stefan Kirpal violin
Gundula Kirpal violin
Julia Barthel viola
Stephen Ristau cello
Format
1 CD
Cat. number
94315
EAN code
5028421943152
Release
November 2012
About this release
With over 600 lieder as well as sacred, chamber, orchestral and piano music to his name, Franz Schubert was one of the most prolific and influential composers of his generation – a man whose music, heavily influenced by the likes of Haydn, Mozart and Beethoven, drove critics to later argue whether he was of a Viennese Classical or Romantic disposition. Many of Schubert's instrumental works remained unpublished during his lifetime, and it was only in the decades following his untimely death that the young Austrian's genius came to be fully appreciated.

Schubert is perhaps best known as a song composer, and the first volume of this series focuses on the lyrical qualities of his early string quartets. The disc begins with the 1823 'Rosamunde' Quartet No.13 in A minor D804: rooted in the world of song, the work earned its nickname from the slow movement – a set of variations on a theme from the composer's incidental music to Wilhelmine von Chézy's play Rosamunde (written the year before). Also featured is the Quartet in D D94, which, despite its late numbering, is now believed to be one of Schubert's earliest string creations. Here the dramatic harmonic shifts point to a composer who, even in his teenage years, was already seeking to escape the confines of the Classical period.

Formed in Munich in 1996, the young Diogenes Quartet stands as one of the most acclaimed ensembles of its generation. Here they perform with aplomb, combining freshness of interpretation with technical mastery to create superlative readings that document the beginnings of Schubert's chamber music career.

Other information:
- A prestigious project: the recording of the complete string quartets of Franz Schubert, by the German Diogenes Quartet.
- Recorded in July 2012, Himmelfahrtskirche, München-Sendling.
- The German Diogenes Quartet has already recorded extensively, in rare repertoire of Humperdinck, Haas and Gernsheim for CPO and Brilliant Classics, this new release of "standard" repertoire present their excellent qualities: clear structures, long tension lines, tight and immaculate ensemble playing, and a passionate drive to deliver the emotional content of the works they love to play.
- Contains booklet notes on each of the pieces and a biography of the quartet.
Track list
Disk 1
String Quartet in D, D. 94: I. Allegro

String Quartet in D, D. 94: II. Andante con moto

String Quartet in D, D. 94: III. Menuetto (Allegretto) – Trio

String Quartet in D, D. 94: IV. Presto

Andante in C, D. 3

String Quartet in A Minor, D. 804 'Rosamunde': I. Allegro ma non troppo

String Quartet in A Minor, D. 804 'Rosamunde': II. Andante

String Quartet in A Minor, D. 804 'Rosamunde': III. Minuetto (Allegretto) – Trio

String Quartet in A Minor, D. 804 'Rosamunde': IV. Allegro moderato