Schubert: String Quartets Vol. 2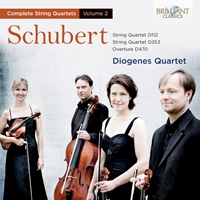 Composer
Franz Schubert
Artist
Diogenes Quartet
Stefan Kirpal violin
Gundula Kirpal violin
Julia Barthel viola
Stephen Ristau cello
Format
1 CD
Cat. number
94462
EAN code
5028421944623
Release
August 2013
About this release
There is little doubt that Vienna at the turn of the 19th century was the musical capital of the world; a nexus for the string quartet composer, who could alternate composing for the leading virtuosos of the day with creating works that satisfied the then-increasing predilection for domestic music-making. Against this background, striving to find his own voice and using the medium as a path towards his early symphonies, was the young, prodigiously talented Franz Schubert. Similar to Beethoven, Schubert stood out in his refusal to target the general public with his writing, though there is much evidence to suggest that the majority of his early string quartets were written for and first performed by his family's own ensemble.

This recording brings together three such works written during Schubert's teenage years, beginning with the Overture in B B470 – seemingly the only one of its kind for string quartet by the composer, and in which traits such as unison playing and fanfares reveal the focus of his orchestral experimentations at that time. Recorded for the first time using a playable version that was made from the original orchestral score, the work is followed by D112, also a work of different origin (originally a string trio). Schubert is still searching for the right response to the quartets of the Viennese masters here, though the finale's lower-voice writing and virtuosic interjections of the first violin do reveal an increasingly original conception of the quartet sound. More compact and less experimental is D353 – something that is perhaps due to Schubert's contemporaneous studies with the Italian composer Antonio Salieri.

Continuing their complete survey of Schubert's string quartet output with this recording is the Diogenes Quartet, whose first offering (94315) was released to critical acclaim. The Munich-based group is considered one of the most successful string quartets of the younger generation; "Glorious string tone and impeccable ensemble are trademarks of this first-rate quartet" (MusicWeb International, June 2012).

Other information:
- Recorded on 3–5 December 2012, Himmelfahrtskirche, München-Sendling.
- The second instalment of the recording of Schubert's complete string quartets by the German Diogenes Quartet presents two early, but by no means immature quartets: the B flat D112 and the E major D353, 'Hausmusik' for domestic use, written by a composer whose genius lent a ray of eternity to every note he wrote.
- A world premiere for the Overture D470, an orchestral piece in Italian style, arranged for string quartet by Schubert himself, and completed for this recording by musicologist Christian Starke.
- Contains notes on the music and a biography of the quartets.
Track list
Disk 1
Overture in B-Flat, D. 470: Adagio maestoso – Allegro (Completed by Christian Starke)

String Quartet in B-Flat, D. 112: I. Allegro ma non troppo

String Quartet in B-Flat, D. 112: II. Andante sostenuto

String Quartet in B-Flat, D. 112: III. Minuetto – Trio

String Quartet in B-Flat, D. 112: IV. Presto

String Quartet in E Major, D. 353: I. Allegro con fuoco

String Quartet in E Major, D. 353: II. Andante

String Quartet in E Major, D. 353: III. Minuetto – Trio

String Quartet in E Major, D. 353: IV. Rondo: Allegro vivace