Schubert: Symphonies 8 & 9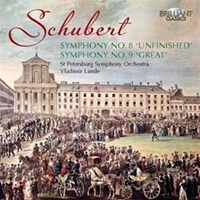 Composer
Franz Schubert
Artist
St-Petersburg Symphony Orchestra
Vladimir Lande conductor
Format
1 CD
Cat. number
94243
EAN code
5028421942438
Release
August 2011
About this release
A convincing answer to the bias that only Austrians can play Schubert well: also these Russian forces grasp the meaning of Schubert's universal language, as expressed in the tragic 8-th Symphony (the Unfinished) and the Symphony No. 9, of "Heavenly Length".

After completing his 6th symphony in 1818, Schubert struggled to complete another symphony. Nos.1-6 display a deep knowledge of the symphonies of Haydn and Mozart, and his hero Beethoven – especially his 2nd symphony. The influence of Rossini can also be detected in the early symphonies.
The creative crisis concerned Schubert's attempts to find a symphonic voice that was his own. The years 1818-25 saw him commence 5 symphonies, and abandon 4 of them. Immediately after the 6th he started work on a D major work D615, but left only two unfinished opening movements. 1820 saw a more adventurous project, again in D major. The expansive and nearly complete scherzo looks forward to the Great C major's scherzo. The other movements are fragmentary.The E major No.7 from 1821 is in a different league.

Calling for the largest orchestra in any Schubert symphony, the four movements have the word 'fine' scribbled at the end of the score. Schubert only partially scored this work, but it provides a fascinating view to what was to come.The following year, the B minor No.8 ushered the new symphonic style Schubert has been striving to find. Dramatic and highly emotional, it is a mystery why he never completed the work. The scherzo lacks a trio, and the finale cannot be traced. It is possible that the outsized (and identically scored) entr'acte from Rosamunde was intended as the finale – it certainly resembles the finales of his earlier symphonies.

The two-movement torso had to wait until 1865 for its premiere.
The 9th was fully completed in 1825 – the only symphony Schubert completed in the last decade of his life. His long journey to create a 'Great' symphony had been achieved. The 9th is one of the towering masterworks of the repertoire. A gap of 11 years elapsed before the premiere conducted by Mendelssohn in Leipzig. Schubert commenced work his 10th symphony in 1828, a visionary work that foreshadows Mahler, it was to be his symphonic 'swan song' and his sixth unfinished symphony.
Schubert's 8th and 9th are the only symphonies of the period to rival those of Beethoven.

Other information:
- Recorded in 2010.
- Vladimir Lande is a young Russian conductor, holding posts with orchestras in both St Petersburg and Washington D.C.
Track list
Disk 1
Symphony No. 8 in B Minor, D 759 'Unfinished': I. Allegro moderato

Symphony No. 8 in B Minor, D 759 'Unfinished': II. Andante con moto

Symphony No. 9 in C, D 944 'Great': I. Andante – Allegro ma non troppo

Symphony No. 9 in C, D 944 'Great': II. Andante con moto

Symphony No. 9 in C, D 944 'Great': III. Scherzo: Allegro vivace

Symphony No. 9 in C, D 944 'Great': IV. Allegro vivace