Schulhoff: Complete Music for Violin and Piano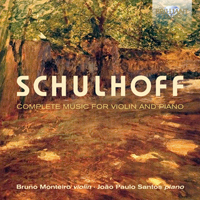 Composer
Erwin Schulhoff
Artist
Bruno Monteiro violin
João Paulo Santos piano
Format
1 CD
Cat. number
95324
EAN code
5028421953243
Release
November 2016
About this release
The last two decades have seen a richly merited revival of interest in the music of Erwin Schulhoff, one of the German-Jewish composers who fell victim to the Nazis' rise to power in the 1930s and whose work was soon declared Entartete Musik; he was deported to a concentration camp in Bavaria in the winter of 1941 and died there of tuberculosis nine months later, not yet 50 years old.

By then Schulhoff had earned a considerable reputation in his native Prague and beyond, with a catalogue of large, ambitiously programmatic symphonies, daring jazz-age chamber
music and an opulent, Expressionist opera, Flammen, first staged in Brno in 1932. The Suite and First Sonata violin and piano are much earlier works, less harmonically adventurous and more indebted to the examples of Debussy, Richard Strauss and his teacher Max Reger, effusive and lyrical in expression.

Dating from 1927, the solo Sonata is spiced with brilliant, folk-like writing and spikier harmonies, masterfully written within the Bachian tradition and a striking predecessor to Bartók's work in the genre. Encoded within the more consoling theme of the slow movement are all twelve notes of the chromatic scale: Schulhoff's answer to Schoenberg's innovation. The Second Sonata was written the same year; its percussive writing and unsettled mood, especially in the third-movement Burlesque, demonstrate why Schulhoff was held in high esteem from Prague to Paris. The work is cunningly structured in a cyclical form which transforms the opening motif throughout its four movements.

This is the second recording for Brilliant Classics made by Bruno Monteiro and João Paulo Santos: the first being of music no less individually situated on the cusp of modernism, by Karol Szymanowski (BC94979). Their partnership received enthusiastic acclaim from the review section of classical.net: 'Every release from Bruno Monteiro and João Paulo Santos confirms them as a tremendously adventurous and musical partnership… a masterful survey of Szymanowski… a project of real importance and wide musical appeal.'

Erwin Schulhoff (1894-1942) was a Czech composer of German-Jewish descent. He received his musical education in Cologne, Leipzig and Vienna. Under the Nazis he was captured for his Jewish identity and his music, which the Germans considered "Entartet", in 1942 he died tragically in a concentration camp.
Schulhoff's music started in the late romantic style of Brahms and Reger. Later he was influenced by the newly developed Jazz music, Dadaism and Czech folk music, all three fused into his own personal musical language.
This new recording presents his complete output for violin and piano: one violin solo sonata, two sonatas for violin and piano and a suite for violin and piano. Highly original and dramatic music in which the tension of the "Zeitgeist" is everywhere apparent.
Played by Bruno Monteiro and João Paolo Santos, who already recorded successfully for Brilliant Classics the music for violin and piano by Szymanowski (BC94979).
Track list
Disk 1
Suite for Violin and Piano, WV 18: I. Präludium. Stürmisch

Suite for Violin and Piano, WV 18: II. Gavotte. Mäßig

Suite for Violin and Piano, WV 18: III. Menuetto

Suite for Violin and Piano, WV 18: IV. Walzer

Suite for Violin and Piano, WV 18: V. Scherzo

Sonata No. 1 for Violin and Piano, WV 24: I. Wuchtig

Sonata No. 1 for Violin and Piano, WV 24: II. Ruhig

Sonata No. 1 for Violin and Piano, WV 24: III. Scherzo. Bewegt

Sonata No. 1 for Violin and Piano, WV 24: IV. Rondo. Nicht zu schnell

Sonata for Solo Violin, WV 83: I. Allegro con fuoco

Sonata for Solo Violin, WV 83: II. Andante sostenuto

Sonata for Solo Violin, WV 83: III. Scherzo. Allegretto grazioso

Sonata for Solo Violin, WV 83: IV. Allegro risoluto

Violin Sonata No. 2, WV 91: I. Allegro impetuoso

Violin Sonata No. 2, WV 91: II. Andante

Violin Sonata No. 2, WV 91: III. Burlesca. Allegretto

Violin Sonata No. 2, WV 91: IV. Allegro risoluto