Schumann: Complete Organ Music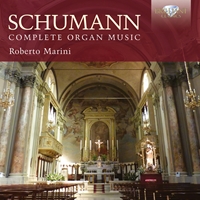 | | |
| --- | --- |
| Composer | Robert Schumann |
| Artist | Roberto Marini organ |
| Format | 1 CD |
| Cat. number | 94721 |
| EAN code | 5028421947211 |
| Release | February 2014 |
About this release
Robert Schumann is probably best known for his copious amount of piano works and lieder – music that, fuelled by vivid imaginings and unfettered emotions, represents one of the highest expressions of the Romantic spirit. It shouldn't be forgotten, however, that the composer also wrote masterly works for the organ, an instrument which interested him only occasionally but which he praised in his Rules for House and Life (1850): 'If you pass near a church and you hear the organ playing, go inside and listen… Never waste an opportunity to practise the organ: there is no other instrument able so swiftly to dispense with all that is impure and imprecise, both in the music itself and in the manner of playing it.'

It was Schumann's deep admiration for J.S. Bach that led him to a detailed study of counterpoint – one which, together with his encounter with the Pedalflügel (a piano with a pedalboard), led him to compose the three groups of works comprising this release. Given that the pedal piano is now all but obsolete, the conventional organ suffices more than adequately for this type of repertoire, and the Mascioni Organ of Pontevico – inaugurated in 2009 and combining traditional elements with innovative design concepts – is a particularly fine specimen on which to play it. Roberto Marini, one of Italy's most accomplished organists and whose repertoire betrays his particular affinity with the Romantic and late-Romantic oeuvre (career highlights include a complete Reger cycle performance) begins his recital with the Six Studies Op.56, works written in strictly canonic form and which reveal the diverse aspects of Schumann's musical personality. The Four Sketches Op.58, pieces of poetic character, close to the style of chamber music, follow, leading to the final and crowning work of the set: the Six Fugues on BACH, a personal tribute the composer's inspiration and the first important composition in musical history to be based on the theme of Bach's name.

Other information:
- Recorded 27 April 2011, Church of SS. Tommaso e Andrea, Pontevico, Italy.
- Schumann's name is not immediately connected with the organ, and indeed he never specifically wrote music for a church organ. Yet his lifelong admiration for Johann Sebastian Bach and his fascination for a newly invented Pedalflügel (a piano with a pedalclavier attached) led him to compose three sets of works for this instrument, which are recorded here on a church organ.
- The music's style is that of polyphonic severity (a far cry from Schumann's early and famous piano works, which are inhabited by fantastic creatures from legends, poetry and dreams), yet in every bar Schumann's romantic heartbeat can be felt.
- Played by Roberto Martini on the Mascioni Organ of the Abbey of St Thomas the Apostle, Pontevico (Italy).
- Booklet includes detailed notes about the composer and music. Also features an artist biography and information about the organ (Italian and English).
Track list
Disk 1
Robert Schumann: 6 Studien für den Pedal-Flügel, Op. 56: No. 1, Nicht zu schnell

Robert Schumann: 6 Studien für den Pedal-Flügel, Op. 56: No. 2, Mit innigem Ausdruck

Robert Schumann: 6 Studien für den Pedal-Flügel, Op. 56: No. 3, Andantino

Robert Schumann: 6 Studien für den Pedal-Flügel, Op. 56: No. 4, Innig

Robert Schumann: 6 Studien für den Pedal-Flügel, Op. 56: No. 5, Nicht zu schnell

Robert Schumann: 6 Studien für den Pedal-Flügel, Op. 56: No. 6, Adagio

Robert Schumann: 4 Skizzen für den Pedal-Flügel, Op. 58: No. 1, Nicht schnell und sehr markiert

Robert Schumann: 4 Skizzen für den Pedal-Flügel, Op. 58: No. 2, Nicht schnell und sehr markiert

Robert Schumann: 4 Skizzen für den Pedal-Flügel, Op. 58: No. 3, Lebhaft

Robert Schumann: 4 Skizzen für den Pedal-Flügel, Op. 58: No. 4, Allegretto

Robert Schumann: 6 Fugen über den Namen BACH, Op. 60: No. 1, Langsam

Robert Schumann: 6 Fugen über den Namen BACH, Op. 60: No. 2, Lebhaft

Robert Schumann: 6 Fugen über den Namen BACH, Op. 60: No. 3, Mit sanften Stimmen

Robert Schumann: 6 Fugen über den Namen BACH, Op. 60: No. 4, Mäßig, doch nicht zu langsam

Robert Schumann: 6 Fugen über den Namen BACH, Op. 60: No. 5, Lebhaft

Robert Schumann: 6 Fugen über den Namen BACH, Op. 60: No. 6, Mäßig, nach und nach schneller