Schumann, Glinka: Fantasiestücke Op.73, Trio Pathétique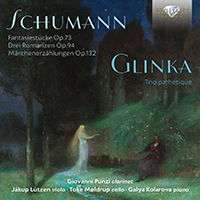 Download booklet
Composer
Mikhail Ivanovich Glinka, Robert Schumann
Artist
Giovanni Punzi clarinet
Jákup Lützen viola
Toke Moldrup cello
Galya Kolarova piano
Format
1 CD
Cat. number
95871
EAN code
5028421958712
Release
November 2019
About this release
Vivid new recordings of Romantic chamber music, full of yearning and magic.

Glinka wrote his piano trio of substituting violin for clarinet and/or cello for bassoon. He was a 28-year-old teacher at the conservatoire in Milan when he composed it, having left Russia and travelled south for his health. A note on the autograph score reads: 'I have known love only through the pain it brings,' yet the prevailing mood of the work is genial rather than tragic, full of Mediterranean sunshine rather than icy Russian chill.

Glinka's lovely trio makes a unique yet natural coupling on record with three collections of fantasy pieces by Robert Schumann. These are all late works, written between 1849 and 1853 – a generation after Glinka's trio – and yet they share a predominant mood of playful high spirits alternating with wistful reflection that never spills over into outright tragedy. The Märchenerzählungen are fairy-tales without words – perhaps a giant appears in the second, a princess in the third – while the trio of Romances plumbs a deeper vein of expression, especially in the popular version for clarinet rather than the original for oboe.

Principal clarinet of the Copenhagen Philharmonic Orchestra, Giovanni Punzi made this new album with colleagues from the orchestra alongside the Bulgarian-born, multi-award winning pianist Galya Kolarova, who is also based in the Danish capital. Punzi's previous album for Brilliant Classics also focused on a German Romantic composer, Max Bruch (BC95673): according to the Fanfare magazine review of May 2019, 'There is a pronounced Italian snap to these performances that provides an intriguing alternative coloration to these works.'

This new recording brings together the chamber music that Schumann wrote featuring the clarinet, coupled with the clarinet trio by Glinka.
Robert Schumann (1810-1856), visionary Romantic, was also a very practical man, who wrote works which could be played on various solo instruments. The Fantasiestücke Op. 73, the Drei Romanzen Op. 74 and the Märchenerzählungen (Fairy Tales) may be performed with either viola, oboe or clarinet.
These relatively late works of Schumann are on an intimate scale and present idyllic musical landscapes, the world of legends and fairytales.
The Trio Pathétique by Schumann's contemporary Mikhael Glinka is in classical/romantic style, written under the influence of an unrequited love. Glinka wrote in the autograph: "I have known love only through the pain it brings".
Giovanni Punzi is one of the foremost clarinet players of the young Italian generation. He played in the Mahler Youth Orchestra, the Verbier Festival Orchestra under conductors like Abbado, Gergiev, Muti, Gatti and Nagano.
Track list
Disk 1
Robert Schumann: Fantasiestücke in A Minor, Op. 73: I. Zart und mit Ausdruck

Robert Schumann: Fantasiestücke in A Minor, Op. 73: II. Lebhaft, leicht

Robert Schumann: Fantasiestücke in A Minor, Op. 73: III. Rasch und mit Feuer

Robert Schumann: 3 Romanzen, Op. 94: I. Nicht schnell

Robert Schumann: 3 Romanzen, Op. 94: II. Einfach, innig, etwas lebhafter

Robert Schumann: 3 Romanzen, Op. 94: III. Nicht schnell

Robert Schumann: Märchenerzählungen, Op. 132: I. Lebhaft, nicht zu schnell

Robert Schumann: Märchenerzählungen, Op. 132: II. Lebhaft und sehr markiert

Robert Schumann: Märchenerzählungen, Op. 132: III. Ruhiges Tempo, mit zartem Ausdruck

Robert Schumann: Märchenerzählungen, Op. 132: IV. Lebhaft, sehr markiert

Mikhail Ivanovich Glinka: Trio pathétique in D Minor: I. Allegro moderato

Mikhail Ivanovich Glinka: Trio pathétique in D Minor: II. Scherzo, vivacissimo – Trio

Mikhail Ivanovich Glinka: Trio pathétique in D Minor: III. Largo

Mikhail Ivanovich Glinka: Trio pathétique in D Minor: IV. Maestoso risoluto

Mikhail Ivanovich Glinka: Trio pathétique in D Minor: IV. Allegro con spirit