Schumann: Mariana Izman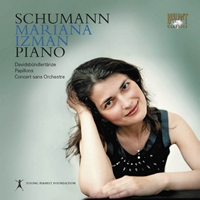 | | |
| --- | --- |
| Composer | Robert Schumann |
| Artist | Maria Izman piano |
| Format | 1 CD |
| Cat. number | 93910 |
| EAN code | 5028421939100 |
| Release | May 2009 |
About this release
Mariana Izman was born in Moldavia in 1979. Taking up the piano at the age of just 6, she graduated with honours in 2002 from the Conservatory of Amsterdam. A year prior to her graduation, she won the third prize at the 2001 YPF National Piano Competition. She performs regularly both in the Netherlands and internationally.

Mariana Izman's recital includes two of Schumann's most famous works for piano. Davidsbündlertänze, which consists of 18 character pieces, was composed in 1837, just after his reconciliation with Clara Wieck following a disastrous attempt to ask her father's permission to marry her. Papillons Op.2 dates from 1832. Schumann appended programmatic descriptions to the numbers based on the masked ball scene from Jean Paul's novel Flegeljahre. Both use material from some earlier polonaises for piano four-hands. Although an early work, the Third Sonata had a long and complicated gestation. It started out in life as a 'Concerto without Orchestra' in 1835 and the slow movement is a set of variations on a theme by Clara. Schumann started work on at least three piano concertos, but only one, the A minor Concerto Op.54, itself a merging of two originally separate works, survives. Constantly reworked, as were the other two sonatas, the Third Sonata was finally published with a scherzo in 1853, three years before Schumann's death.

Other information:
- Part of a series from Brilliant Classics featuring outstanding young artists who have won the principal prizes at the Young Pianist Foundation's National Piano Competition.
Track list
Disk 1
Davidsbündlertänze op. 6: Lebhaft

Davidsbündlertänze op. 6: Innig

Davidsbündlertänze op. 6: Mit Humor

Davidsbündlertänze op. 6: Ungeduldig

Davidsbündlertänze op. 6: Einfach

Davidsbündlertänze op. 6: Sehr rasch

Davidsbündlertänze op. 6: Nicht schnell

Davidsbündlertänze op. 6: Frisch

Davidsbündlertänze op. 6: Lebhaft

Davidsbündlertänze op. 6: Balladenmäßig. Sehr rasch

Davidsbündlertänze op. 6: Einfach

Davidsbündlertänze op. 6: Mit Humor

Davidsbündlertänze op. 6: Wild und lustig

Davidsbündlertänze op. 6: Zart und singend

Davidsbündlertänze op. 6: Frisch

Davidsbündlertänze op. 6: Mit gutem Humor

Davidsbündlertänze op. 6: Wie aus der Ferne

Davidsbündlertänze op. 6: Nicht schnell

Davidsbündlertänze op. 6: Papillons op. 2

Concert sans Orchestre (First version of the Piano Sonata No. 3 in F minor, op. 14): Allegro Brillante

Concert sans Orchestre (First version of the Piano Sonata No. 3 in F minor, op. 14): Quasi Variazioni – Andantino de Clara Wieck

Concert sans Orchestre (First version of the Piano Sonata No. 3 in F minor, op. 14): restissimo possibile