Schumann: Music for Cello & Piano Vol. 2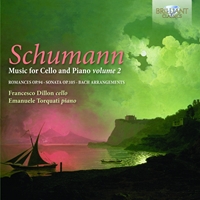 Composer
Robert Schumann
Artist
Francesco Dillon cello
Emanuel Torquati piano
Format
1 CD
Cat. number
94328
EAN code
5028421943282
Release
December 2012
About this release
Combining communicative performances with engaging programming, this release is dedicated to Schumann's music for cello and piano – works that were written after a period devoted almost exclusively to the piano, and whose aim it was to extend musical knowledge and practice.

Indeed, in surveying some of the composer's most acclaimed works, such as the Piano Quintet Op.44 and Three Romances Op.94 (originally scored for oboe), the compilation also features the linchpin of Schumann's work, J.S. Bach. Bach's contrapuntal influence on the composer was immense, and it is therefore unsurprising that Schumann arranged a number of his works – including the complete solo cello suites. Suite No.3 is the one chosen for this release, and is coupled with the Sarabande from No.5 in C minor, this time arranged by F.W. Grützmacher. One of the 19th century's most acclaimed cellists, Grützmacher played a major role in widening appreciation of significant works, and the compilation offers five such transcriptions by this highly adept arranger.

Teaming up once again to deliver consummate readings of these works are the seasoned Duo Dillon-Torquati, both of whom enjoy busy international careers. The release is a worthy follow-up to their previous two for Brilliant Classics (Grützmacher's transcriptions of Schumann's piano and vocal music, 94060; Liszt's complete works for cello and piano, 94150) and provides a fascinating insight into the esteem with which composers and performers have responded to each other's music.

Other information:
- Recorded 23–24 July 2012, Fondazione Spinola Banna per l'arte, Banna, Italy.
- An original programme featuring works for cello and piano by Schumann, arrangements of works written originally for other instruments.
- Schumann himself left the choice of instrument open for some of his works: the clarinet, oboe and cello often changed roles. The Romanzen Op. 94 were originally for oboe and piano, but work very well played on the cello, as arranged by the famous 19th century cellist Grützmacher. Also the violin sonata Op. 105 fares excellently through the golden, melancholy sonorities of the cello.
- Schumann lived his whole life under the spell of the great Johann Sebastian Bach, and as a tribute to Bach's genius Schumann added a piano part to the famous Cello Suites.
- This is the second issue of Schumann transcriptions for cello by the duo Francesco Dillon/Emanuele Torquati. Their earlier issue, BC 94150, received enthusiastic comment in the international press: "comes across with vibrant conviction" (Musicweb International).
- Includes comprehensive booklet notes and biographies of the performers.
Listening
Track list
Disk 1
Robert Schumann: Drei Romanzen, Op. 94 (originally for oboe and piano): I. Nicht schnell

Robert Schumann: Drei Romanzen, Op. 94 (originally for oboe and piano): II. Einfach, innig – Etwas lebhafter

Robert Schumann: Drei Romanzen, Op. 94 (originally for oboe and piano): III. Nicht schnell

Robert Schumann: Sonata No. 1 in A Minor, Op. 105 (originally for violin and piano): I. Mit leidenschaftlichem Ausdruck

Robert Schumann: Sonata No. 1 in A Minor, Op. 105 (originally for violin and piano): II. Allegretto

Robert Schumann: Sonata No. 1 in A Minor, Op. 105 (originally for violin and piano): III. Lebhaft

Robert Schumann: Festlicher Marsch from Vier Marschen, Op. 76

Robert Schumann: Aufschwung from Phantasiestücke, Op. 12

Robert Schumann: Trauermarsch from the Piano Quintet, Op. 44

Robert Schumann: Suite No. 3 in C, BWV 1009 (arr. Schumann): I. Prélude

Robert Schumann: Suite No. 3 in C, BWV 1009 (arr. Schumann): II. Allemande

Robert Schumann: Suite No. 3 in C, BWV 1009 (arr. Schumann): III. Courante

Robert Schumann: Suite No. 3 in C, BWV 1009 (arr. Schumann): IV. Sarabande

Robert Schumann: Suite No. 3 in C, BWV 1009 (arr. Schumann): V. Bourrée I

Robert Schumann: Suite No. 3 in C, BWV 1009 (arr. Schumann): VI. Bourrée II

Robert Schumann: Suite No. 3 in C, BWV 1009 (arr. Schumann): VII. Gigue

Robert Schumann: Sarabande from Suite No. 5 in C Minor (arr. F.W. Stade)