Schumann: Piano Quartets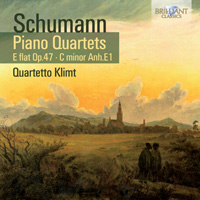 Composer
Robert Schumann
Artist
Quartetto Klimt
Matteo Fossi piano
Duccio Ceccanti violin
Alice Gabbiani cello
Edoardo Rosadini viola
Format
1 CD
Cat. number
95012
EAN code
5028421950129
Release
February 2015
About this release
It was through disobeying his mother's wish for him to study law, and through late‐night "read throughs" with his friends of chamber works by Mozart and Beethoven, among others, which led Schumann to begin work on his own Piano Quartet in C minor in 1828. By never attending a single law lecture and spending many hours each day practicing and improvising at the piano, he also made the acquaintance of the eightyear‐old Clara Wieck, the daughter of his piano teacher. Already a keyboard prodigy at that young age, it was through playing the subordinate role of accompanying her – now his wife – on a concert tour in 1842, and returning alone to Leipzig where he sank into a deep depression, that he threw himself into the study of the string quartets of Mozart, Beethoven and Haydn, resulting in his own Piano Quartet in E flat. The Piano Quartet in C minor shares many characteristics with Schubert's Trio in E flat D929 (Op.100) but manages to avoid pastiche. Despite revealing some immature compositional techniques, it is an astonishingly confident work for someone who had received little or no formal musical training. Penned 13 years later, the Piano Quartet in E flat was written by a musician now well versed in the art of composition, and features lyrical melody lines, a bustling Scherzo, and a Vivace finale culminating in some magisterial Bach like passagework. Quartetto Klimt is one of the most interesting chamber music groups in Italy today, regularly performing in prestigious concert seasons and festivals, both in their home country and abroad, and supported by such prestigious artists as Carlo Maria Giulini, Natalia Gutman and Maurizio Pollini. They make their Brilliant Classics debut with this recording, having previously recorded Dvořák's two quartets for piano and strings for the Amadeus magazine.
This release couples two of Schumann's substantial chamber music works: the mature E flat Piano Quartet Op. 47 and the youthful C minor Piano Quartet.
Schumann's E flat Piano Quartet is a masterwork in its genre, on a par with those by Mozart and (later) Brahms. The C minor brother is an outpouring of youthful passion on a grand scale, compensating its lack of structural solidity by ardent impetuosity and boundless energy. Excellent performance by the Quartetto Klimt, 4 young Italians sharing their passion for this still slightly neglected chamber music.
Recorded in 2009.
Booklet contains liner notes and artist biographies.
Track list
Disk 1
Piano Quartet in E-Flat Major, Op. 47: I. Sostenuto assai – Allegro ma non troppo

Piano Quartet in E-Flat Major, Op. 47: II. Scherzo. Molto vivace

Piano Quartet in E-Flat Major, Op. 47: III. Andante cantabile

Piano Quartet in E-Flat Major, Op. 47: IV. Finale. Vivace

Piano Quartet in C Minor, Anh. E1: I. Allegro molto affettuoso

Piano Quartet in C Minor, Anh. E1: II. Minuetto. Presto

Piano Quartet in C Minor, Anh. E1: III. Andante

Piano Quartet in C Minor, Anh. E1: IV. Allegro giusto. Presto