Schumann: String Quartet - Piano Quintet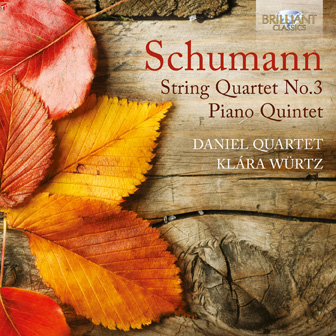 Composer
Robert Schumann
Artist
Daniel Quartet
Klara Wurtz piano
Format
1 CD
Cat. number
95014
EAN code
5028421950143
Release
October 2014
About this release
Although perhaps better known for his Lieder and piano music, both of the works heard on this new recording by the Daniel Quartet are from Robert Schumann's significant oeuvre of chamber music. Remarkably, it was within a single year (1842), at the start of his career, that Schumann wrote his three String Quartets Op.41 and the Piano Quintet Op.44; both are now considered pillars of the chamber music repertoire.

Schumann was well acquainted with examples of the genre by Haydn, Mozart and Mendelssohn, and passionate studies of Beethoven's quartets preceded his own works. He adapted elements from these older compositions into his new music, and easily transposed his writing for full orchestra to the smaller ensemble. Schumann's song-like melodies are brought to life in this lively new release, with the exuberant character of the music palpable in the Daniel Quartet's performance. Schumann himself described the String Quartet in A major as one of the best things he had ever written, and the Piano Quintet in E flat major is similarly considered one of Schumann's best compositions. The work was dedicated to his beloved wife Clara, and she played in its premiere in 1843.

The Daniel Quartet is renowned for its performances of chamber music at major venues in the USA and across Europe. For the Piano Quintet, they are joined by Hungarian pianist Klára Würtz – one of Brilliant Classics' most prolific artists – whose recent recording of Beethoven violin sonatas received five-star reviews in Diapason and Fanfare.

Other information:
- Recorded in 2014.
- This new recording presents two of Schumann's best and most famous chamber music works.
- Schumann composed his first 23 Opus numbers exclusively for piano solo, then poured out a rich stream of Lieder. He came relatively late to orchestral and chamber music. His Piano Quintet and String Quartets are firmly rooted in the Viennese classical style of Beethoven and Mendelssohn, but Schumann imbued them with his own unique "fantastic" language, a free and dreamlike imagination, full of diverse characters and ideas.
- Excellent performances by one of the leading Dutch string quartets, the Daniel Quartet, joined in the Piano Quintet by Klára Würtz, whose Schumann recordings for Brilliant Classics have met with great critial acclaim.
- Booklet includes liner notes and artist biographies.
Track list
Disk 1
Robert Schumann: String Quartet in A Major, Op. 41 No. 3: I. Andante espressivo – Allegro molto moderato

Robert Schumann: String Quartet in A Major, Op. 41 No. 3: II. Assai agitato – Un poco adagio – Tempo risoluto

Robert Schumann: String Quartet in A Major, Op. 41 No. 3: III. Adagio molto

Robert Schumann: String Quartet in A Major, Op. 41 No. 3: IV. Allegro molto vivace

Robert Schumann: Piano Quintet in E-Flat Major, Op. 44: I. Allegro brillante

Robert Schumann: Piano Quintet in E-Flat Major, Op. 44: II. In modo d'una marcia. Un poco largamente – Agitato

Robert Schumann: Piano Quintet in E-Flat Major, Op. 44: III. Scherzo. Molto vivace

Robert Schumann: Piano Quintet in E-Flat Major, Op. 44: IV. Allegro ma non troppo