Schuncke: Piano Music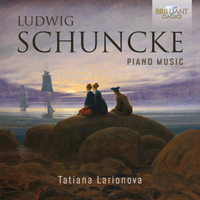 | | |
| --- | --- |
| Composer | Ludwig Schuncke |
| Artist | Tatiana Larionova piano |
| Format | 1 CD |
| Cat. number | 94807 |
| EAN code | 5028421948072 |
| Release | July 2015 |
About this release
Born the same year as Robert Schumann, 1810, Ludwig Schuncke died at the tender age of 24 from tuberculosis. Thus was cruelly abbreviated the life of a pianist and composer who, had he lived on, might well have attained more of the fame accorded to Schumann himself. The two men met at a Leipzig drinking establishment in December 1833 and quickly became firm friends. Up to that point Schunke had pursued the career of a prodigal musician, including studies in Paris with Anton Reicha, even a brief meeting with Chopin.

The influence of Chopin can be heard in the reflective introduction to Schunke's Grand Sonata, which is the largest piece in this valuable collection of his piano music, which will captivate anyone with an ear or interest for the stirrings of the 19th-century Romantic tradition of piano music. Schuncke dedicated the Sonata to Schumann, who returned the compliment with his Toccata Op.7: some indication of the mutual respect between the two men but also Schuncke's capability as a performer. The Sonata's brief but stormy Scherzo leaps through torrents of passagework, and the following Andante owes more to the songful German tradition than Chopin's brand of melancholy.

The other works on the disc remain unpublished, but are no less polished for that. There are two Caprices (one dedicated to Clara Wieck, soon to be Clara Schumann, and the other to Chopin); two brilliant rondos (though even here the influence of Mendelssohn is more noticeable by its absence) and two variation sets, one cast as a Divertissement and the other as an Aria. They are played with all the élan and feeling due to them by the Russian pianist Tatiana Larionova (b.1979), a student in Moscow of the great Viktor Merzhanov (who can be heard playing Rachmaninov on Brilliant's unrivalled compendium of Russian pianists, BC9014). She is presently resident in Italy.

Ludwig Schuncke (1810-1834) died tragically young of tuberculosis at age 24. He was hailed in the Leipzig musical circles as a young genius, Robert Schumann (who became a close friend) exclaimed: "this is the one we were waiting for!".
Schuncke wrote for the newly founded "Neue Zeitschrift für Musik", was a member of Schumann's Davidsbund, and quickly established himself as a composer. His style, firmly rooted in the classical Viennese tradition, is infused with Romantic gestures, and emotional outpourings, his pianistic style strongly influenced by his comrade Schumann: flourishing and virtuoso.
This new recording contains the complete piano music of Schuncke, a Grand Sonata and several salon pieces of brilliant and diverting character: a real discovery!
Played with brilliance and gusto by the young Russian pianist Tatiana Larionova.
Track list
Disk 1
Piano Sonata in G Minor, Op. 3: I. Allegro

Piano Sonata in G Minor, Op. 3: II. Scherzo. Molto allegro

Piano Sonata in G Minor, Op. 3: III. Andante sostenuto

Piano Sonata in G Minor, Op. 3: IV. Finale. Allegro

Divertissement brillant sur des motifs allemands in B-Flat Major, Op. 12

Caprice No. 1 in C Major, Op. 9

Caprice No. 2 in C Minor, Op. 10

Rondeau brillant in E-Flat Major, Op. 11

Rondeau in D Major, Op. 15

Air suisse varié