Sciarrino: Chamber Music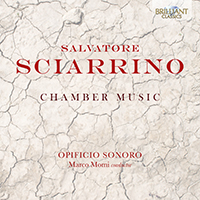 Composer
Salvatore Sciarrino
Artist
Ensemble Opificio Sonoro
Marco Momi conductor
Format
1 CD
Cat. number
96683
EAN code
5028421966830
Release
January 2023
About this release
A contemporary-specialist Italian chambercollective makes a striking debut album with a 75th-birthday tribute to one of Italian newmusic's most enduringly provocative figures.
Born in 1947, Salvatore Sciarrino has been delighting and perplexing his audiences, often at the same time, ever since the mid-60s, though his reputation has long since spread beyond European avant-garde circles, particularly with the opera Luci miei tradici and its stagings in Brussels, New York, Salzburg and Berlin.
The basic premises of Sciarrino's language explore the limits of perception, the borderline between sound and silence, and the abstraction of gestures and forms from the tonal contexts that supply them. 'I don't write music, I write a psychological experience,' Sciarrino he declared, and his output certainly resists description or classification except insofar as it takes its place in a grand tradition of Italian postwar experimentalists in the laboratory of sound, headed by figures as diverse as Luciano Berio and Luigi Nono.
Even at the level of his works for orchestra and the stage, Sciarrino writes with an immediacy and intimacy of expression which finds its natural home in the kind of chamberensemble works recorded here. Scored for flute, guitar, bass clarinet and violin, the album's title work dates from 1986 and lives up to its title by discovering how many shades of sound can be found near the border with silence, a sonic analogue to a Rothko painting or an Agnes Martin drawing.
Vagabonde blu makes full use of the accordion's potential to set weightless and ceaseless waves of sound in motion. By contrast, the scoring of alto flute, cor anglais and bass flute makes Muro d'orizzonte a study in furtive attacks and explosions. The most recent work is Alba meònia from 2020, receiving its first recording on this album, and scattering its timbres across a still wider soundscape through the diverse scoring for flute, violin and guitar.
Somehow Sciarrino finds a way to make every one of his chosen instruments sound new, as though it was made for him – such as the marimba's inquisitive rattle and plink in Il legno e la parola (2004): he makes the instrument speak. Ending by contrast with the sinuous Arioso a 5, this album is a beautifully curated tribute to one of Italy's most original living composers.

- Born in Sicily, Salvatore Sciarrino (1947) studied visual arts before turning to music. Largely self-taught through independent study of early and modern/contemporary music, he nonetheless received some guidance from Antonio Titone and Turi Belfiore. The first public performance of his music took place in 1962. He completed his studies in Rome and Milan, and was introduced to electronic music by Franco Evangelisti, whom he considers, along with Stockhausen, to be one of his "artistic fathers."
- Sciarrino feels that his music demonstrates strong historical continuity. His vast catalogue is characterized by a gradual evolution (as opposed to stylistic leaps) toward a musical conceptualization which has been described as "sonic ecology." Since the beginning of his career in the 1960s, the idea of a distinct "Sciarrino sound" was already present.
- His music is intimate, focused and refined, sustained by microvariations in sonic structures comprising rich timbres and breaths. He developed a sonic universe which is transparent, rarefied and near silence (or "sound zero," which, for the composer, is also music); it is built upon a multitude of microscopic sounds and almost imperceptible noises, and is reduced to only what is absolutely essential. His works are also marked be the eloquence of their titles, e.g., Esplorazione del bianco (1986) or Cantare con silenzio (1999).
- This new recording was made in celebration of the composer's 75th birthday, and presents highlights of his chamber music production: three solo pieces (piano, accordion and marimba), four trios, one quartet and one ensemble piece for five musicians. The project includes first world-recordings of two pieces.
- Opificio Sonoro is an ensemble based in Perugia, directed by Marco Momi. They worked closely together with the composer on this unique project.
Listening
Track list
Disk 1
Salvatore Sciarrino: Esplorazione del bianco II

Salvatore Sciarrino: Vagabonde blu

Salvatore Sciarrino: Muro d'orizzonte

Salvatore Sciarrino: Polveri laterali

Salvatore Sciarrino: Alba meònia

Salvatore Sciarrino: Il legno e la parola

Salvatore Sciarrino: Il motivo degli oggetti di vetro

Salvatore Sciarrino: Omaggio a burri

Salvatore Sciarrino: Arioso a 5