Scriabin: Complete Piano Sonatas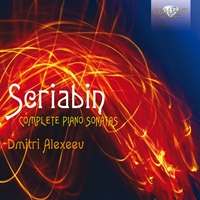 | | |
| --- | --- |
| Composer | Alexander Scriabin |
| Artist | Dmitri Alexeev piano |
| Format | 2 CD |
| Cat. number | 94388 |
| EAN code | 5028421943886 |
| Release | September 2012 |
About this release
Alexander Scriabin, unhinged musical poet, theosophist who saw his calling as no less than forging a unity of Man and Godthrough music, can best be appreciated not perhaps through the lush orchestral music but his still more innovative piano music. The ten Sonatas span his career, from the Silver age outpourings of the four-movement First Sonata to the ever more elliptical, sudden shifts in mood and material which flit through the unique forms of the last four in the cycle, not least the Seventh ('White Mass') and Ninth ('Black Mass'). Diabolically talented pianism indeed is required to keep up with Scriabin's flurries of notes, flying across the page like Siberian snowstorms, and then to see through them to the shape-shifting melodies cloaked in 'mystic harmonies'.

Step forward, then, Dmitri Alexeev, who first came to attention 30 years ago with fast and furious recorded accounts of concertos by Shostakovich and Prokofiev: recordings of sensational facility that have stood the test of time. Alexeev's rigorous Russian education began at the Moscow Conservatoire with Dmitri Bashkirov, and he has retained a specially intimate relationship with the music of his homeland,
while, curiously, never before having recorded one of the great cycles of Russian piano music. This, then, is a first, sure to be noticed and sought after by pianophiles worldwide.

Other information:
- New recordings (2008) of the complete Scriabin piano sonatas are rare, and rightly so, only the greatest have the insight, abilities and guts to explore the cosmic and metaphysic world of these 20th century masterworks. Dmitri Alexeev is such an artist: equipped with a formidable technique he immerses himself in the hyper individualistic style of the eccentric Russian, delving deeply, to get to the bottom of such pieces like the "Black Mass" sonata, or its spiritual opposite, the "White Mass" sonata. A fascinating journey, from the romantic, Chopin-inspired Sonatas 1-4, towards the later sonatas, written in the unique "Scriabinesque" atonal language, inspired by his theosophical ideas, and megalomaniac metaphysics.- Recorded in.
- Dmitri Alexeev is one of today's foremost pianists, having played with the most important orchestras and conductors of the world. His substantial discography on EMI Classics was awarded with numerous international awards.
- Includes comprehensive booklet notes on Scriabin and the Sonatas by Valentina Rubtsova (and translated by Elizabeth Wilson, author of the acclaimed biography of Shostakovich).
Track list
Disk 1
Sonata No. 1 in F Minor, Op. 6 (1892): I. Allegro con fuoco

Sonata No. 1 in F Minor, Op. 6 (1892): II. Crotchet = 40 (Lento)

Sonata No. 1 in F Minor, Op. 6 (1892): III. Presto – Funèbre

Sonata No. 2 in G-Sharp Minor, Op. 19 Sonata-Fantasy' (1892–97): I. Andante

Sonata No. 2 in G-Sharp Minor, Op. 19 Sonata-Fantasy' (1892–97): II. Presto

Sonata No. 3 in F-Sharp Minor, Op. 23 (1897–98): I. Drammatico

Sonata No. 3 in F-Sharp Minor, Op. 23 (1897–98): II. Allegretto

Sonata No. 3 in F-Sharp Minor, Op. 23 (1897–98): III. Andante

Sonata No. 3 in F-Sharp Minor, Op. 23 (1897–98): IV. Presto con fuoco

Sonata No. 4 in F-Sharp, Op. 30 (1903): I. Andante

Sonata No. 4 in F-Sharp, Op. 30 (1903): II. Prestissimo volando
Disk 2
Sonata No. 5, Op. 53 (1907)

Sonata No. 6, Op. 62 (1911)

Sonata No. 7, Op. 64 'White Mass' (1911)

Sonata No. 8, Op. 66 (1912–13)

Sonata No. 9, Op. 68 'Black Mass' (1912–13)

Sonata No. 10, Op. 70 (1913)