Shostakovich & Barshai: Chamber Symphonies 1-5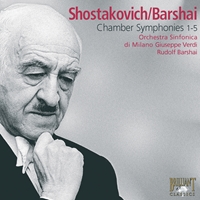 Composer
Dmitri Shostakovich
Artist
Orchestra Sinfonica di Milano Giuseppe Verdi
Rudolf Barshai conductor
Format
2 CD
Cat. number
8212
EAN code
5029365821223
Release
January 2009
About this release
Conductor Barshai is a well-known Shostakovich expert. His previous recordings for Brilliant Classics of the complete symphonies was received with great acclaim and won the Classical Award in Cannes some years ago.

Barshai is now also making a name for himself as an arranger of Shostakovich's string quartets for chamber orchestra: the Kammersinfonien of Chamber symphonies. He started with the eighth quartet, Opus 110(a).

Together the Orchestra Sinfonica di Milano Giuseppe Verdi Barshai has recorded more of his very effective arrangements. The orchestra specializes in amongst others works by Shostakovich.

New and recent recordings shedding a different light on the string quartets no.'s 1, 3, 4, 8 and 10.
Track list
Disk 1
Chamber Symphony, Op. 73a (Arrangement of String Quartet No. 3 by Rudolph Barshai): I. Allegretto

Chamber Symphony, Op. 73a (Arrangement of String Quartet No. 3 by Rudolph Barshai): II. Moderato con moto

Chamber Symphony, Op. 73a (Arrangement of String Quartet No. 3 by Rudolph Barshai): III. Allegro non troppo

Chamber Symphony, Op. 73a (Arrangement of String Quartet No. 3 by Rudolph Barshai): IV. Adagio

Chamber Symphony, Op. 73a (Arrangement of String Quartet No. 3 by Rudolph Barshai): V. Moderato

Chamber Symphony, Op. 83a (Arrangement of String Quartet No. 4 by Rudolph Barshai): I. Allegro

Chamber Symphony, Op. 83a (Arrangement of String Quartet No. 4 by Rudolph Barshai): II. Andantino

Chamber Symphony, Op. 83a (Arrangement of String Quartet No. 4 by Rudolph Barshai): III. Allegretto

Chamber Symphony, Op. 83a (Arrangement of String Quartet No. 4 by Rudolph Barshai): IV. Allegretto
Disk 2
Chamber Symphony, Op. 49a "Eine kleine Symphonie" (Arrangement of String Quartet No. 1 by Rudolph Barshai): I. Moderato

Chamber Symphony, Op. 49a "Eine kleine Symphonie" (Arrangement of String Quartet No. 1 by Rudolph Barshai): II. Moderato

Chamber Symphony, Op. 49a "Eine kleine Symphonie" (Arrangement of String Quartet No. 1 by Rudolph Barshai): III. Allegro molto

Chamber Symphony, Op. 49a "Eine kleine Symphonie" (Arrangement of String Quartet No. 1 by Rudolph Barshai): IV. Allegro

Chamber Symphony, Op. 110a (Arrangement of String Quartet No. 8 by Rudolph Barshai): I. Largo

Chamber Symphony, Op. 110a (Arrangement of String Quartet No. 8 by Rudolph Barshai): II. Allegro molto

Chamber Symphony, Op. 110a (Arrangement of String Quartet No. 8 by Rudolph Barshai): III. Allegretto

Chamber Symphony, Op. 110a (Arrangement of String Quartet No. 8 by Rudolph Barshai): IV. Largo

Chamber Symphony, Op. 110a (Arrangement of String Quartet No. 8 by Rudolph Barshai): V. Largo

Chamber Symphony, Op. 118a (Arrangement of String Quartet No. 10 by Rudolph Barshai): I. Andante

Chamber Symphony, Op. 118a (Arrangement of String Quartet No. 10 by Rudolph Barshai): II. Allegretto furioso

Chamber Symphony, Op. 118a (Arrangement of String Quartet No. 10 by Rudolph Barshai): III. Adagio

Chamber Symphony, Op. 118a (Arrangement of String Quartet No. 10 by Rudolph Barshai): IV. Allegretto