Shostakovich: Cello Concertos Nos. 1 & 2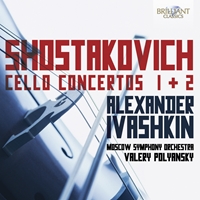 Composer
Dmitri Shostakovich
Artist
Alexander Ivashkin cello
Moscow Symphony Orchestra
Valery Polyansky conductor
Format
1 CD
Cat. number
9413
EAN code
5029365941327
Release
July 2013
About this release
Dmitri Shostakovich spent 20 years composing under the threatening and often stifling influence of Stalin's regime. The dictator's death in March 1953 (on the same day as Sergei Prokofiev's) led to a feeling of liberation that spread throughout the Soviet Union; this newfound freedom began to manifest itself in Shostakovich's music.

The first movement of Cello Concerto No.1 (1959) is based on the composer's own DSCH motif and is succeeded by a folk-infused second movement, followed by a substantial cadenza for the soloist and an exhilarating dance finale. Cello Concerto No.2 (1966) could not be more different, beginning with a sombre Largo with a modal or oriental flavour, after which the eerie glissandi of the second movement give way to an Allegretto finale, which focuses on the combat between the horns and side drum. This movement contains a distinctive tapping motif that many have interpreted to be symbolic of the clicking medical equipment used during the composer's treatment for a heart condition.

Alexander Ivashkin, encouraged to become a solo cellist by the legendary Mstislav Rostropovich, has performed all over the world alongside a variety of established artists and orchestras. He is also in constant demand as a conductor and is currently the Director of Performance Studies at Goldsmiths College, University of London.

Other information:
- Recorded in 1997.
- Shostakovich's 2 cello concertos, undisputed 20th century masterworks, contain some of his most personal and heartfelt music. Despair and hope alternate in this music of a composer expressing his own unique voice and emotions under a suffocating regime.
- Excellent performances by Russian cellist Alexander Ivashkin (protégé of Rostropovich) and the Moscow Symphony Orchestra under Valery Polyansky.
- Contains liner notes on composer and works.
- Booklet contains extensive liner notes on composer, works and the artists.
Track list
Disk 1
Cello Concerto No. 1 in E-Flat Major, Op. 107: I. Allegretto

Cello Concerto No. 1 in E-Flat Major, Op. 107: II. Moderato –

Cello Concerto No. 1 in E-Flat Major, Op. 107: III. Cadenza –

Cello Concerto No. 1 in E-Flat Major, Op. 107: IV. Allegro con moto

Cello Concerto No. 2, Op. 126: I. Largo

Cello Concerto No. 2, Op. 126: II. Allegretto

Cello Concerto No. 2, Op. 126: III. Allegretto