Shostakovich: The Gamblers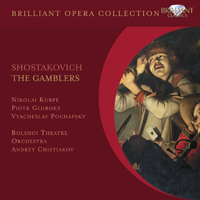 Composer
Dmitri Shostakovich
Artist
Nikolai Kurpe tenor
Piotr Gluboky bass
Vyacheslav Pochapsky bass>
Bolshoi Theatre Orchestra
Andrey Chistiakov conductor
Format
1 CD
Cat. number
9181
EAN code
5029365918121
Release
May 2010
About this release
Dmitri Shostakovich (1906-75) left us two operas, The Nose, and Lady Macbeth of Mtsensk, plus the operetta Moscow Cheryemusski – or so we thought. After his death several other operatic projects surfaced – some merely sketches, a few numbers from a projected work, and some that exist only in his letters as ideas. As recently as 2009 the torso of a science fiction opera Orango – dating from 1932 was unearthed.

Without doubt the most substantial of these tantalisingly incomplete works is The Gamblers, after the comedy by Gogol. Written in 1942, the year of the epic 7th symphony 'The Leningrad' , it occupied the composer almost constantly during this turbulent year. The work is characterised by an acidic black humour, there are no heroes, and no women. The unprincipled cardsharps are believed to represent the world leaders Chamberlain, Stalin and Mussolini playing a game of high stakes with Hitler's Germany – the result of which is Russia being invaded. Shostakovich followed Gogol's text word for word – he didn't need a libretto as he later commented. He soon realised that The Gamblers would never be performed as the satirical treatment of the Gogol story would land him in the Gulag. In spite of pleas from friends to complete the opera well after Stalin's death, he refused saying 'one should not step in to the same river twice'. The surviving 1st Act needed only a 3 page ending to complete it, and Gennady Rozhdestvensky supplied the missing material and conducted the premiere in 1978.

Other information
- Recorded in 1995.
- Comprehensive booklet notes included.
- "the acute characterisation that Shostakovich brings to Gogol's offhand narrative, and the music's often startling originality accord it far more than mere curiosity value. Voices are a shade too prominent, ensuring clarity in this very human drama" (Gramophone, January 1998).
Track list
Disk 1
Dmitri Shostakovich: Alexei-Ikharev

Dmitri Shostakovich: Shvokhnyev-Gavryushka

Dmitri Shostakovich: Ikharev-Alexei

Dmitri Shostakovich: The Game