Sibelius: Complete Symphonies and Tone Poems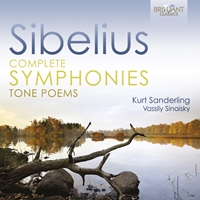 Composer
Jean Sibelius
Artist
Berliner Sinfonie-Orchester
Kurt Sanderling conductor
Moscow Philharmonic Orchestra
Vassily Sinaisky conductor
Format
7 CD
Cat. number
9439
EAN code
5029365943925
Release
July 2013
About this release
This special box set contains the complete symphonies and tone poems of Jean Sibelius, a composer whose works embodied the musical language of his native country. Such was his popularity in his native Finland that from 1897 onwards he was given a yearly state grant, permitting him to focus solely on his creative endeavours. Sibelius was heavily influenced by the Kalevala – the first real example of a Finnish national literature – and his music is praised for depicting the rugged form of the Finnish landscape. Among the works in this collection are the Lemminkaïnen Suite, in which we find the Swan of Tuonela, the Second Symphony and Finlandia, the tale of the struggle and subsequent victory of the Finnish people.

The recordings by the Berliner Sinfonie-Orchester, directed by Kurt Sanderling, are described by Gramophone's Andrew Achenbach as full of 'strength, integrity and fierce intelligence', and are combined with performances by the Moscow Philharmonic Orchestra, conducted by Vassily Sinaisky.

Other information:
- Recordings from 1970–1991.
- This 7 CD set celebrates the major orchestral works of Finland's most famous composer, Jean Sibelius: the complete 7 symphonies and the tone poems. Glorious orchestral music, universally loved and frequently performed, opening up a world of vast Scandinavian landscapes, both grandiose and intimate, a world of legends, heroes and romance.
- Superb recordings by the legendary Kurt Sanderling and the Berliner Sinfonie-Orchester (gems from the Berlin Classics catalogue) and the Moscow Philharmonic Orchestra conducted by Vassily Sinaisky.
- Contains both orchestras' intepretations of Finlandia, En saga and Night Ride and Sunrise.
- Contains extensive liner notes on the composer and works.
- Great Value-for-money set, highest quality for an affordable price.
Track list
Disk 1
Jean Sibelius: Symphony No. 1 in E Minor, Op. 39: I. Andante ma non troppo – Allegro energico

Jean Sibelius: Symphony No. 1 in E Minor, Op. 39: II. Andante ma non troppo lento

Jean Sibelius: Symphony No. 1 in E Minor, Op. 39: III. Scherzo: Allegro

Jean Sibelius: Symphony No. 1 in E Minor, Op. 39: IV. Finale, quasi una fantasia. Andante – Allegro

Jean Sibelius: En saga, Op. 9

Jean Sibelius: Finlandia, Op. 26
Disk 2
Jean Sibelius: Symphony No. 2 in D Major, Op. 43: I. Allegretto

Jean Sibelius: Symphony No. 2 in D Major, Op. 43: II. Tempo andante, ma rubato

Jean Sibelius: Symphony No. 2 in D Major, Op. 43: III. Vivacissimo

Jean Sibelius: Symphony No. 2 in D Major, Op. 43: IV. Finale. Allegro moderato

Jean Sibelius: Symphony No. 3 in C Major, Op. 52: I. Allegro moderato

Jean Sibelius: Symphony No. 3 in C Major, Op. 52: II. Andantino con moto, quasi allegretto

Jean Sibelius: Symphony No. 3 in C Major, Op. 52: III. Moderato – Allegro ma non tanto
Disk 3
Jean Sibelius: Symphony No. 4 in A Minor, Op. 63: I. Tempo molto moderato, quasi adagio

Jean Sibelius: Symphony No. 4 in A Minor, Op. 63: II. Allegro molto vivace

Jean Sibelius: Symphony No. 4 in A Minor, Op. 63: III. II tempo largo

Jean Sibelius: Symphony No. 4 in A Minor, Op. 63: IV. Allegro

Jean Sibelius: Symphony No. 5 in E-Flat Major, Op. 82: I. Tempo molto moderato – Allegro moderato

Jean Sibelius: Symphony No. 5 in E-Flat Major, Op. 82: II. Andante mosso, quasi allegretto

Jean Sibelius: Symphony No. 5 in E-Flat Major, Op. 82: III. Allegro molto un pochettino largamente
Disk 4
Jean Sibelius: Symphony No. 6 in D Minor, Op. 104: I. Allegro molto moderato

Jean Sibelius: Symphony No. 6 in D Minor, Op. 104: II. Allegretto moderato

Jean Sibelius: Symphony No. 6 in D Minor, Op. 104: III. Poco vivace

Jean Sibelius: Symphony No. 6 in D Minor, Op. 104: IV. Allegro molto

Jean Sibelius: Symphony No. 7 in C Major, Op. 105

Jean Sibelius: Night Ride and Sunrise, Op. 55
Disk 5
Jean Sibelius: Lemminkaïnen Suite, Op. 22: No. 1. Lemminkaïnen and the Maidens of Saari

Jean Sibelius: Lemminkaïnen Suite, Op. 22: No. 2. The Swan of Tuonela

Jean Sibelius: Lemminkaïnen Suite, Op. 22: No. 3. Lemminkaïnen in Tuonela

Jean Sibelius: Lemminkaïnen Suite, Op. 22: No. 4. Lemminkaïnen's Return

Jean Sibelius: Finlandia, Op. 26
Disk 6
Jean Sibelius: Luonnotar, Op. 70

Jean Sibelius: The Bard, Op. 64

Jean Sibelius: En saga, Op. 9

Jean Sibelius: Pohjola's Daughter, Op. 49

Jean Sibelius: The Dryad, Op. 45 No. 1
Disk 7
Jean Sibelius: Spring Song, Op. 16

Jean Sibelius: The Oceanides, Op. 73

Jean Sibelius: Tapiola, Op. 112

Jean Sibelius: Night Ride and Sunrise, Op. 55