Smetana: Complete Orchestral Works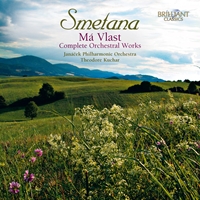 Composer
Bedrich Smetana
Artist
Janácek Philharmonic Orchestra
Theodore Kuchar conductor
Format
3 CD
Cat. number
93634
EAN code
5028421936345
Release
April 2006
About this release
Bedrich Smetana was the first major nationalist composer of Bohemia. Probably best known for his opera The bartered bride and of course The Moldau (from 'My homeland') most of his orchestral music is rather neglected by the average symphony orchestra.

Smetana's predilection for anything Bohemian shines through not just in his music but also particularly in the subjects of his symphonic poems and opera. A keen dancer himself, his music often echoes his native dance tunes as well. The composer also had a keen interest in the theatre. Hence the subjects of his early symphonic poems which were based on works by Shakespeare, Schiller and Oehlenschläger. Of his later symphonic poems, the series 'Má Vlast', especially 'Vltava' (the Moldau) is very well-known.

Of course no orchestra but the Janácek Philharmonic Orchestra conducted by Theodore Kuchar could play this music better: this is the genuine article. On this release, one can hear the ultimate performances of this most pleasant and vivacious music.
Listening
Track list
Disk 1
Bedrich Smetana: Má Vlast (My Country/Mein Vaterland): Vyšehrad

Bedrich Smetana: Má Vlast (My Country/Mein Vaterland): Vltava (The Moldau)

Bedrich Smetana: Má Vlast (My Country/Mein Vaterland): Šarka

Bedrich Smetana: Má Vlast (My Country/Mein Vaterland): From Bohemia's Meadows and Forests

Bedrich Smetana: Má Vlast (My Country/Mein Vaterland): Tábor

Bedrich Smetana: Má Vlast (My Country/Mein Vaterland): Blanik
Disk 2
Bedrich Smetana: Wallenstein's Camp, Symphonic Poem, Op. 14

Bedrich Smetana: Håkon Jarl, Symphonic Poem, Op. 16

Bedrich Smetana: Richard III, Symphonic Poem, Op. 11

Bedrich Smetana: Overture to "The Bartered Bride"

Bedrich Smetana: Three Dances from "The Bartered Bride": Polka

Bedrich Smetana: Three Dances from "The Bartered Bride": Furiant

Bedrich Smetana: Three Dances from "The Bartered Bride": Skocna (Dance of the Comedians)

Bedrich Smetana: Doktor Faust, Overture to the puppet-play by Matej Kopecký

Bedrich Smetana: Venkovanka, The Peasant Woman, Polka

Bedrich Smetana: Nasim Devam, To our Girls, Polka
Disk 3
Bedrich Smetana: Festive Symphony in E Major, Op. 6: Allegro vivace

Bedrich Smetana: Festive Symphony in E Major, Op. 6: Largo maestoso

Bedrich Smetana: Festive Symphony in E Major, Op. 6: Scherzo, allegro vivace

Bedrich Smetana: Festive Symphony in E Major, Op. 6: Finale, allegro non troppo ma energico

Bedrich Smetana: Festive Overture in C Major

Bedrich Smetana: Festive Overture in D Major, Op. 4

Bedrich Smetana: Prague Carnival, Introduction & Polonaise

Bedrich Smetana: March of the National Guard

Bedrich Smetana: Shakespeare Festival March, Op. 20