Soler: 6 Concertos for 2 Harpsichords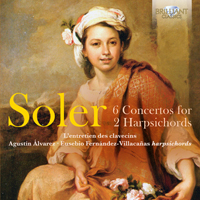 Composer
Antonio Soler
Artist
L'entretien des clavesins
Agustín Álvarez harpsichord
Eusebio Fernández-Villacañas harpsichord
Format
1 CD
Cat. number
95327
EAN code
5028421953274
Release
September 2016
About this release
These concertos have appeared on Brilliant Classics before, in their alternative guise as organ concertos (BC93763), and they were reissued within the invaluable boxset of complete keyboard sonatas on 9CDs (BC95143) which is dominated by the solo harpsichord sonatas in definitive recordings by Pieter-Jan Belder.

Although Soler originally wrote them for organ, the galant character of these six duet-concertos, however, may more fully be appreciated on harpsichord, Soler's own instrument. A refined, delicate and carefree mood may be discerned in both slow and quick movements. So too an unmistakably Spanish flavour, reminiscent of Goya, abounding with subtle changes of colour and unexpected twists of mood and melody, in which popular and courtly characters are masterfully mixed.

Indeed the composer probably played these concertos on the harpsichord himself, in company with his pupil and employer, Don Gabriel de Bórbon (a photograph of his palace adorns the back of the booklet). The concertos are chamber pieces, despite their name, and share the bipartite structure of the harpsichord sonatas, likely influenced by the example of Domenico Scarlatti, and they make great play with the possibilities of echo and elaborate ornamentation.

The Spanish harpsichordists Agustín Álvarez (b.1959) and Eusebio Fernández-Villacañas (b.1974) form the harpsichord duet L'entretien des clavécins. For this album they play on two instruments by the Milanese maker Andrea Restelli: a copy of a Pascal Taskin (Edinburgh 1769), and a copy of Pierre Donzelague (London 1711). They have presented the programme on this album in the context of a Goya exhibition at the Prado in Madrid, which houses many of the most renowned examples of his art.

Antonio Soler (1729-1783) was a scholar, musicologist (he wrote about the history of Spanish music), composer and virtuoso keyboard player. He was in the service of the Spanish Royal family, and personal tutor of the Infante Gabriel de Bórbon.
Soler wrote a great quantity of solo keyboard sonatas for the use at the Royal court. They are one movement works, much in the style of the sonatas by Domenico Scarlatti (whom he knew personally). The sonatas abound in instrumental virtuosity, daring harmonies and attractive melodies in pre-classical style.
Soler wrote the 6 Concertos for 2 Harpsichords for his royal pupil. Judging by the brilliance and vitality of these popular works the composer and his pupil must have hugely enjoyed themselves playing them…
Played by the harpsichord duo L'entretien des clavecins, formed by Agustín Álvarez and Eusebio Fernandez-Villacañas, playing magnificent copies, built by Andrea Restelli, of a Taskin and Donzelague harpsichord.
Listening
Track list
Disk 1
Antonio Soler: Concerto No. 1 in C Major, R. 463: I. Andante

Antonio Soler: Concerto No. 1 in C Major, R. 463: II. Minué

Antonio Soler: Concerto No. 2 in A Minor, R. 463: I. Andante

Antonio Soler: Concerto No. 2 in A Minor, R. 463: II. Allegro

Antonio Soler: Concerto No. 2 in A Minor, R. 463: III. Tempo de minué

Antonio Soler: Concerto No. 3 in G Major, R. 463: I. Andantino

Antonio Soler: Concerto No. 3 in G Major, R. 463: II. Minué

Antonio Soler: Concerto No. 4 in F Major, R. 463: I. Afectuoso – Andante non largo

Antonio Soler: Concerto No. 4 in F Major, R. 463: II. Minué

Antonio Soler: Concerto No. 5 in A Major, R. 463: I. Cantabile

Antonio Soler: Concerto No. 5 in A Major, R. 463: II. Minué

Antonio Soler: Concerto No. 6 in D Major, R. 463: I. Allegro – Andante – Allegro – Andante

Antonio Soler: Concerto No. 6 in D Major, R. 463: II. Minué