Sollima: Chamber Music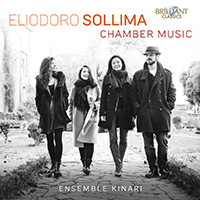 Download booklet
Composer
Eliodoro Sollima
Artist
Ensemble Kinari
Giovanni Sollima cello
Format
1 CD
Cat. number
96287
EAN code
5028421962870
Release
June 2021
About this release
Eliodoro Sollima (1926-2000) was a Sicilian musician raised in the town of Marsala, where the concert hall is dedicated to his memory. From 1954 to 1991 he taught composition at the conservatoire in Palermo, where he was also the institution's director for 16 years. This is the only album dedicated to his music: new recordings made by a young contemporary music ensemble, who are joined by the composer's son, Giovanni Sollima, a cellist and composer in his own right who has made several previous albums for Brilliant Classics.
Sollima studied piano with Arturo Benedetti Michelangeli, and he wrote for his instrument with a thorough grasp of its range as a Romantic instrument – Italian TV broadcasts preserve some unfussily accomplished performances of Liszt – which courses through his best-known piece, the Toccata of 1951. However, his idiom embraced a Bartokian toughness of rhythm, most vividly demonstrated here by the three movements for piano trio (for which Sollima received compliments from Isaac Stern). In 1968 he wrote a powerful concerto for string orchestra in memory of Bobby Kennedy, and the tortured harmonies of this piece carry over into both the contemporaneous piano trio and the later 'Evoluziona No.5' for violin and piano.
However, the album surveys the full range of Sollima's oeuvre, from the brief and touching Aria he composed for a chamber quintet as a 19-year-old, to a compact Cello Sonata written at the age of 22 in 1948. From almost half a century later dates the 'Legend of St Damiano', a single-movement piano quartet that effectively synthesises the evolution of the composer's music.
Luciano Tarantino recorded Giovanni Sollima's own music on a 'Cello Solo Journey' released in 2019 by Brilliant Classics (95964). His own playing can also be enjoyed on a 2014 album of Offenbach's cello duets (94475).

Eliodoro Sollima was a remarkable Italian composer, teacher and pianist. He perfected his piano playing at the Accademia Chigiana in Siena with Guido Agosti and in Arezzo with Arturo Benedetti Michelangeli, who selected him in May 1954 for the first Italian performance of Alban Berg's Kammerkonzert at the Teatro Nuovo in Milan. In 1965 he founded the Trio di Palermo.
His personal style combines contemporary harmonies with poignant and passionate, almost late-romantic phrases. He is a man, a musician at one with his land and the multi-ethnicity of musical roots that it offers, and an innovative experimenter of every current of musical thought of his time, without ever being exclusively linked to any of them.
This new recording presents a selection of Sollima's chamber music: a Cello Sonata, Tre Movimenti for piano trio, and a Quartetto for piano quartet.
Played by the Kinari Ensemble (violin, cello, viola, piano) and cellist Giovanni Sollima, the composer's son and one of the most outstanding cellists of his generation.
Listening
Track list
Disk 1
Eliodoro Sollima: Sonata for Cello and Piano: I. Lento – Allegro viva

Eliodoro Sollima: Sonata: II. Andante molto espressivo

Eliodoro Sollima: Sonata: III. Perpetuum mobile – Allegro con spirito

Eliodoro Sollima: Studi for Violin and Clarinet: I. Allegro ritmico

Eliodoro Sollima: Studi for Violin and Clarinet: II. Lento

Eliodoro Sollima: Studi for Violin and Clarinet: III. Presto

Eliodoro Sollima: Tre movimenti for Piano, Violin and Cello: I. Allegro

Eliodoro Sollima: Tre movimenti for Piano, Violin and Cello: II. Andante sostenuto

Eliodoro Sollima: Tre movimenti for Piano, Violin and Cello: III. Vivace

Eliodoro Sollima: Evoluziona No. 5

Eliodoro Sollima: Quartetto No. 3 "la leggenda di San Damiano

Eliodoro Sollima: Aria for Piano, Violin, Viola and 2 Cellos