Songs of Love and Exile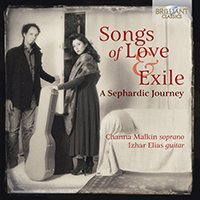 Download booklet
Composer
Mario Castelnuovo-Tedesco
Artist
Izhar Elias guitar
Channa Malkin soprano
Format
1 CD
Cat. number
95652
EAN code
5028421956527
Release
September 2019
About this release
The debut album of an exciting young Dutch soprano: an anthology of popular Sephardic songs completed with excerpts from a rare song collection by Mario Castelnuovo-Tedesco.

Having made her operatic debut at the age of 16, singing Barbarina with the Dutch National Opera, Channa Malkin has since made solo appearances with Mariss Jansons and the Royal Concertgebouw Orchestra as well as early-music luminaries such as Andrew Parrott and Joshua Rifkin. For her first recording, she has chosen to explore her Jewish heritage with songs from her childhood: 'Underneath the seemingly simple melodies telling life's usual stories,' she writes in the album's introductory notes, 'I felt the longing of generation upon generation for a homeland left long ago but never forgotten.'

Channa Malkin is joined here by her regular duet partner, the guitarist Izhar Elias, who is well known to collectors of Brilliant Classics recordings for his imaginative choice of repertoire and vivid performances. Gramophone lavished praise on his 'sympathetic accompaniment' to Erik Bosgraaf in their recording of the lute book by Jakob van Eyck (BC93391): 'As a reference work this set should be considered indispensable; as one to be dipped in for pleasure, highly desirable.'

The selection of Sephardic songs they have made ranges between subjects of love, war, birth and death: epic tales sung by medieval Spanish bards, Jewish liturgical melodies and texts, and Arabic styles of melodic ornamentation. Malkin and Elias have made their own arrangements, letting the music guide them intuitively and drawing inspiration from their backgrounds in early music, Jewish cantorial singing and Spanish folk song interpretation, as well as their personal family histories.

Their selection also includes several Sephardic songs arranged by contemporary composers, in order to explore the ways in which this music can be performed as classical art song. Israeli composer, guitarist and Sephardic song expert Daniel Akiva, Spanish composer and conductor Lorenzo Palomo and Joaquín Rodrigo each offer a unique take on the Sephardic song idiom. So does the Italian-American composer Mario Castelnuovo-Tedesco: his collection of The Divan of Moses-Ibn-Ezra sets the poetry of an 11th-century rabbi from Grenada.

Sepharad, today's Spain and Portugal, held a large Jewish population since at least the 8th century. During the Moorish occupation the Sephardic Jews enjoyed a degree of religious freedom unheard of in Europe at the time, taking part in the rich social and intellectual life of the day.
The musical tradition was passed on by the women, who were kept at home among themselves. The music was the result of the cultural melting pot of the day, a mix of the epic tales sung by medieval Spanish bards, Jewish liturgical melodies and Arabic styles of melodic ornamentation. The language was Judaeo-Spanish, a mix of Spanish and Hebrew.
On this new recording the traditional songs come in arrangements by contemporary composers as well as by the artists themselves.
Both artists, soprano Channa Malkin and guitarist Izhar Elias, share a Jewish ancestry, deeply rooted in the widely spread Jewish settlements of Central Europe and the Middle East.
Listening
Track list
Disk 1
Traditional: Lavava y suspirava

Traditional: La serena

Traditional: Durme, hermozo hijico

Traditional: La rosa enflorece

Traditional: Hija mia

Traditional: Como la rosa

Traditional: Morenica

Traditional: Nana sefardí

Traditional: Linda de mi corazón

Traditional: Caminí por altas torres

Traditional: Nani nani

Traditional: A la una yo nací

Traditional: Durme durme

Mario Castelnuovo-Tedesco: The Divan of Moses-Ibn-Ezra: I. Drink Deep, my Friend

Mario Castelnuovo-Tedesco: The Divan of Moses-Ibn-Ezra: II. Dull and Sad is the Sky

Mario Castelnuovo-Tedesco: The Divan of Moses-Ibn-Ezra: III. The Garden Dons a Coat of Many Hues

Mario Castelnuovo-Tedesco: The Divan of Moses-Ibn-Ezra: IV. The Dove that Nests in the Tree-top

Mario Castelnuovo-Tedesco: The Divan of Moses-Ibn-Ezra: V. O Brook

Mario Castelnuovo-Tedesco: The Divan of Moses-Ibn-Ezra: VI. Fate Has Blocked the Way