Sor: 20 Studies for Guitar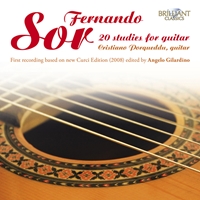 | | |
| --- | --- |
| Composer | Fernando Sor |
| Artist | Cristiano Porqueddu guitar |
| Format | 1 CD |
| Cat. number | 9205 |
| EAN code | 5029365920520 |
| Release | November 2010 |
About this release
The first complete recording based on the new Curci edition of the famous 20 Studies of the Spanish composer Fernando Sor (1778 - 1839) selected by Andrés Segovia and edited by Angelo Gilardino. Completely revisited in the timbres and colors of high value music for six strings belonging to the classical repertoire and of great interest to students and professionals.

A complete and innovative reading, carried out thanks to 'urtext' version, the latter the result of a comparison of minunzioso sources. It follows a synoptic reading of the two versions from which emerge in a transparent way the nature of the work of Segovia and creative teaching of a classical author that he read and interpreted in the light of his aesthetics and his ideal.

Other information:
- World premiere recording (2010).
- Angelo Gilardino (Vercelli, Italy, 1941), composer, guitarist, musicologist and teacher, was the artistic director of the Andrés Segovia Foundation at Linares (Spain) from 1997 until 2005. He rescued many unknown works for guitar in the Segovia's archive, providing a powerful contribution to the repertoire of this instrument in the 20th century.
Track list
Disk 1
Capriccio sopra la lontananza

La luna y la muerte

Già la pioggia è con noi

Elegia di Marzo

Omaggio a Béla Bartók

Soledad

Alborada

Omaggio a Alban Berg

Fantasia

Ophélie

Omaggio a Heitor villa-Lobos

Omaggio a Sergei Prokofiev

Omaggio a Sergei Prokofiev

Omaggio a Sergei Prokofiev

Omaggio a Sergei Prokofiev

Omaggio a Sergei Prokofiev

Omaggio a Sergei Prokofiev

Omaggio a Sergei Prokofiev

Omaggio a Sergei Prokofiev

Omaggio a Sergei Prokofiev