Sor: Complete Sonatas for Guitar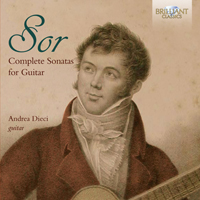 | | |
| --- | --- |
| Composer | Fernando Sor |
| Artist | Andrea Dieci guitar |
| Format | 1 CD |
| Cat. number | 95395 |
| EAN code | 5028421953953 |
| Release | February 2017 |
About this release
One modern commentator has acclaimed the guitar method of Fernando Sor as 'easily the most remarkable book on guitar technique ever written'. He can safely be numbered among the founding fathers of the Spanish guitar tradition, and his four sonatas rank among his grandest and most inspired works.

In his lifetime, Sor was known as a Paganini of the guitar, performing across Europe in the early years of the 19th century just as the violinist did, and acquiring hardly less fame on the way: one contemporary English critic remarked that a new composition was Sor was awaited with hardly less impatience than the latest novel by Sir Walter Scott. He reciprocated such enthusiasm by composing songs and duets for his English audiences, but these sonatas represent the most thorough-going coming to terms of the new art-music aesthetic of the guitar with the Classical style of Mozart and Haydn.

The first two sonatas are single-movement works: grandly conceived as such, but no match for the magnificent expressive breadth of the 'Grande Sonate' Op.22, with its four movements enclosing a deeply felt Adagio and stylish Minuet: in orchestral garb, neither would be out of place in a Haydn symphony, so ingenious and happy is their invention. The Second Grand Sonata has a four-movement structure of its own, beginning with the most imposing and expansive of slow movements, continuing with a symphonic Allegro and then a graceful set of variations before concluding – and not even Haydn went this far – with the Menuet and Trio that would ordinarily be placed second or third.

Andrea Dieci has made several well- received albums for Brilliant Classics, including music by Henze (BC95186), Nicola Jappelli (BC9435) and Piazzolla (BC94896). Here he tackles a monument of the guitar repertoire, and with a mastery that should appeal well beyond the coterie of guitar-music enthusiasts.

Fernando Sor (1778-1839) was one of the most important and successful composers for the guitar in the first half of the 19th century. Spanish by birth he tried his luck in the musical capital of the world of that time, Paris, a time when the guitar received a true revival and emancipation as a valuable and respected classical instrument.
Sor's guitar works show an incredible skill and present many technical and musical innovations. His "Grande Sonatas" for guitar are true masterpieces of the genre, substantial works in which the features and forms of the Classical Style of Hummel and Boccherini are imbued with salon drama and a great dose of virtuosity: high class entertainment!
Andrea Dieci ("An impressive guitarist" New York Times; "A true star of the classical guitar" Corriere della Sera) made already several successful recordings for Brilliant Classics: Henze: Complete Guitar Music, BC95186 and Piazzolla Café 1930, BC94896.
The booklet contains excellent liner notes in both English and Italian.
Listening
Track list
Disk 1
Fernando Sor: Grand Solo in D Major, Op. 14: Introduction. Andante – Allegro

Fernando Sor: Guitar Sonata in C Major, Op. 15b: Allegro moderato

Fernando Sor: Grande Sonate in C Major, Op. 22: I. Allegro

Fernando Sor: Grande Sonate in C Major, Op. 22: II. Adagio

Fernando Sor: Grande Sonate in C Major, Op. 22: III. Minuetto. Allegro – Trio

Fernando Sor: Grande Sonate in C Major, Op. 22: IV. Rondo. Allegretto

Fernando Sor: Grande Sonate in C Major, Op. 25: I. Andante largo

Fernando Sor: Grande Sonate in C Major, Op. 25: II. Allegro non troppo

Fernando Sor: Grande Sonate in C Major, Op. 25: III. Thêma con variazioni. Andantino grazioso

Fernando Sor: Grande Sonate in C Major, Op. 25: IV. Minuetto. Allegro – Trio