Spanish Secular Cantatas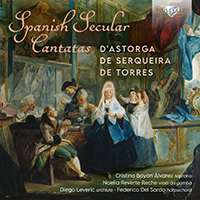 Composer
Emanuele Rincón d'Astorga, José de Torres, Juan De Serquiera
Artist
Cristina Bayón Álvarez soprano
Noelia Reverte Reche viola da gamba
Diego Leverić archlute
Federico Del Sordo harpsichord
Format
1 CD
Cat. number
96824
EAN code
5028421968247
Release
June 2023
About this release
Songs of love and loss by a trio of early 18th century Spanish composers, showcasing the vocal art of a distinguished early-music soprano.

Cristina Bayón Álvarez has sung with early-music luminaries such as Christophe Coin, Diego Fasolis and Carlos Mena. She has also recorded a pair of warmly received albums for Brilliant Classics, reviving the sacred music of Juan Francés de Iribarren (95859) and Romantic-era songs by female composers ('Boulevard des femmes', 96729).

For her latest album, Cristina Bayón Álvarez turns to 18th-century Spain, presenting for the first time on record a sequence of newly edited secular cantatas. These are all brief pieces, taking amorous and pastoral themes for their subjects, alternating recitative and aria, conveying the pain of a lover separated from the object of their affections, or rejected by them. One piece stands out for its relative modernity of sentiment: La picarilla más bella by José de Torres y Martínez Bravo (ca. 1670-1738), highlighting the contempt for love on the part of a woman who prefers freedom of spirit to the suffering caused by sentimental passion.

The least unfamiliar of the three composers featured on the album is Emanuele Rincón d'Astorga (1680-1775), best known for a Stabat mater of plangent expressive quality. The affecting, Italianate vocal lines of this sacred work also colour the three cantatas recorded here: Filis, que abrigas, Respirad, mas sea quedito and Sean, Filis, de mi llanto.

Astorga made his name outside Spain, though eventually settled and died in Madrid; Juan de Serquiera (ca. 1655-ca. 1726) was likely also active in the Spanish capital, though of Portuguese origin. Almost nothing survives of his life and work, which makes the survival of Oh, corazón amante all the more precious, especially since it demonstrates Serquiera's skill at affective word setting.

José de Torres y Martínez Bravo is recorded as master of music at the Royal Chapel in Madrid from 1697 until his death in 1707. Not least thanks to this distinction, much more is known of his activity, including a keyboard-instruction manual and a set of Masses dedicated to Philip V of Spain. As recorded here, La picarilla más bella and Por el Tenaro monte share the expressive flair and rhythmic energy of his vernacular villancicos. Taken together, the works here make an exciting addition to the catalogue of Spanish Baroque vocal repertoire, especially in such accomplished and stylish performances.

- An original and enterprising program of Secular Cantatas by three Spanish composers from the Baroque, an era in which this genre was dominated by their Italian contemporaries.
- The three composers are Emanuel Rincón d'Astorga 1680-1757, Juan de Lima Serqueira c.1655-c.1726 and José de Torres c.1670-1738.
- The peculiarity of these cantatas consists in the fact that they are equipped with a text in Spanish and an (alternative) text in Italian, the meaning of which, however, as Rincón d'Astorga himself says, does not always coincide exactly with that of the Spanish text. The cantatas, all of amorous and courtly-pastoral themes, are tripartite (aria -recitative - aria) or quadripartite (recitative - aria - recitative - aria), according to a custom that we find in other Italian authors of the same period.
- The album presents as solo singer the acclaimed Cristina Bayón Álvarez (who, for Brilliant Classics, has already successfully recorded a CD dedicated to Juan Frances de Iribarren BC95859); the instrumental part is entrusted to the viola da gamba player Noelia Reverte Reche, the archlutist Diego Leverić and the harpsichordist Federico Del Sordo (all members of the Ensemble Il Narvalo which has already made several successful productions for Brilliant Classics).
Listening
Track list
Disk 1
Emanuele Rincón d'Astorga: Filis, que abrigas: I. Recitativo – Aria

Emanuele Rincón d'Astorga: Filis, que abrigas: II. Recitativo – Aria

Emanuele Rincón d'Astorga: Respirad, mas sea quedito: I. Aria

Emanuele Rincón d'Astorga: Respirad, mas sea quedito: II. Recitativo – Aria

Emanuele Rincón d'Astorga: Sean, filis, de mi llanto: I. Aria

Emanuele Rincón d'Astorga: Sean, filis, de mi llanto: II. Recitativo – Aria

Juan De Serquiera: Oh, corazón amante: I. Estribillo

Juan De Serquiera: Oh, corazón amante: II. Recitativo – Aria

José de Torres: La picarilla más bella: I. Copla

José de Torres: La picarilla más bella: II. Aria

José de Torres: La picarilla más bella: III. Recitativo – Aria

José de Torres: La picarilla más bella: IV. Copla – Airoso

José de Torres: La picarilla más bella: V. Recitativo – Aria

José de Torres: La picarilla más bella: VI. Aria

José de Torres: Por el tenaro monte: I. Recitativo – Aria

José de Torres: Por el tenaro monte: II. Recitativo – Aria

José de Torres: Por el tenaro monte: III. Recitativo – Aria