Speth: Ars Magna Consoni et Dissoni, Music for Organ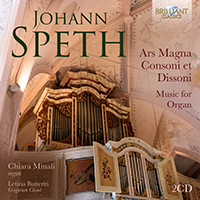 Download booklet
Composer
Johann Speth
Artist
Chiara Minali organ
Letizia Butterin gregorian chant
Format
2 CD
Cat. number
96097
EAN code
5028421960975
Release
May 2022
About this release
The music of Johann Speth (1664-1719) has featured here and there on many compilations of instrumental music from mid-17th century Germany. However, until now there has never been a complete recording of the sole collection which carries his name down to us today. Published in 1693, this volume of keyboard toccatas, partitas and Magnificats takes its title from an influential treatise on the science and aesthetics of music from 1650 by the Jesuit scholar Athanasius Kircher.

Kircher attempted to show how the balance of dissonance with consonance in harmony mirrored the presence of good and evil in the universe. There is in turn something attractively compendious about Speth's musical response, which Speth appears to have produced as a bona fide for his successful application to become organist of the cathedral in Augsburg. Very little is known of his life until that point in 1692, and not much after, save that in 1719 he was still living and active in the city which at the time was politically significant and prosperous as a seat of the Hapsburgs.

Ars Magna Consoni et Dissoni opens with a sequence of 10 toccatas, quite brief and owing something to the influence of contemporary southern German composers such as Georg Muffat and Johann Caspar Ferdinand Fischer. There follows the more Italianate strains of three 'partitas' – not dance suites but elaborations and variations on popular vocal melodies from the other side of the Alps.

The remainder of Speth's collection synthesizes Italian and German styles in eight Magnficats. These are composed in the alternatim genre, with a line of plainchant answered by a composed response to the following line and so on. Each of the Magnificats takes its tonal base – the equivalent of its key signature – from a different musical mode, each starting on their own note. The collection as a whole adds up to a colourful snapshot of the invention and variety of German keyboard music beyond Bach, and as a notable predecessor to the compendious ambitions of The Well-Tempered Clavier.

Speth's collection is played here on a modern reconstruction of a 1732 organ in the parish church of Santa Maria Assunta in the small northern Italian town of Cavalese. Chiara Minali's musicianship has already been appreciated on several previous releases from Brilliant Classics, likewise focused on lesser-known names from the 17th and 18th centuries, including solo collections by Grazioli (95935) and Spergher (95834).

Johann Speth (1664- after ca. 1719) was born in Speinshart, about 150 km from Nuremberg, to the teacher Heinrich Speth and his wife Margareta. Almost nothing is known of his life before his appointment as organist of Augsburg Cathedral, and the date of his death is also uncertain.
"Ars magna consoni et dissoni" is the work that Johann Speth enclosed with his application for the position of organist at Augsburg Cathedral, a position he was awarded on 4 November 1692. The work is divided into three parts: ten toccatas (Musicalische Blumenfelder), eight Magnificats and three sets of variations. Italian influences are clearly evident in the work: there is a variation on a theme by Bernardo Pasquini, a passage by Bernardo Storace in the 'Spagnioletta' aria and a verse from the Magnificat by Alessandro Poglietti. In addition to Italian influences, influences from contemporary southern German composers are also evident, particularly Georg Muffat and Johann Caspar Ferdinand Fischer. In the Magnificats Speth takes up the model proposed by Kerll: each Magnificat consists of a prelude, five verses and a finale. The first and last verses are of larger proportions and composed in toccata style, while the intermediate verses are generally short fugues.
Played by Chiara Minali on the Organ of the Parish Church of Santa Maria Assunta – Cavalese, Italy, the specifications of which are included in the booklet.
Chiara Minali has recorded a 3CD box of Ignazio Spergher's Keyboard Works (95834, Brilliant Classics). In the British magazine Choir & Organ, it was given 5 stars and listed in the top 20 best CDs of 2019. She also recorded a 2CD set of Giovanni Battista Grazioli's 12 Harpsichord Sonatas (95935).
Listening
Track list
Disk 1
Johann Speth: Toccata Prima oder Erstes Musicalisches Blumen Feld

Johann Speth: Toccata Secunda oder Zweytes Musicalisches Blumen Feld

Johann Speth: Toccata Tertia oder Drites Musicalisches Blumen Feld

Johann Speth: Toccata Quarta oder Viertes Musicalisches Blumen Feld

Johann Speth: Toccata Quinta oder Fünfftes Musicalisches Blumen Feld

Johann Speth: Toccata Sexta oder Sechstes Musicalisches Blumen Feld

Johann Speth: Toccata Septima oder Sibendtes Musicalisches Blumen Feld

Johann Speth: Toccata Octava oder Achtes Musicalisches Blumen Feld

Johann Speth: Toccata Nona oder Neundtes Musicalisches Blumen Feld

Johann Speth: Toccata Decima et ultima oder Zehendes Musicalisches Blumen Feld

Johann Speth: Partite diverse sopra l'aria detta la Todesca

Johann Speth: Partite diverse sopra l'aria detta la Pasquina

Johann Speth: Partite diverse sopra la Spagnioletta
Disk 2
Johann Speth: Magnificat primi toni

Johann Speth: Magnificat secundi toni

Johann Speth: Magnificat tertii toni

Johann Speth: Magnificat quarti toni

Johann Speth: Magnificat quinti toni

Johann Speth: Magnificat sexti toni

Johann Speth: Magnificat septimi toni

Johann Speth: Magnificat octavi toni