Spohr: Chamber Music for Clarinet, Soprano and Piano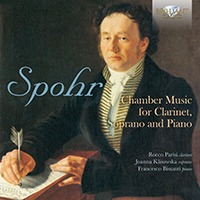 Composer
Louis Spohr
Artist
Joanna Klisowska soprano
Rocco Parisi clarinet
Francesco Bissanti piano
Format
1 CD
Cat. number
95638
EAN code
5028421956381
Release
October 2020
About this release
A new recording of Spohr's masterpiece in the field of art-song, complemented by a trio of attractive instrumental rarities.

Though his star has fallen since his death in 1859, Louis Spohr was once commonly ranked alongside the greatest of his contemporaries. Like Beethoven he gained fame in Vienna and wrote prolifically in all the classical genres, but he travelled more widely, and his operas and oratorios won particular acclaim in France and England respectively.

Spohr's curse and gift was fluency: whether written in serious or popular vein, his music is unfailingly mellifluous and beautifully written, falling easily on the ear while offering a satisfying challenge to its performers. As a violinist Spohr was considered second only to his friend Paganini. His brilliant virtuoso style and great skill in phrasing effectively founded a German school of violin playing. He understood equally well how to write for soprano and for clarinet, and the centrepiece of this collection is his set of Sechs Deutsche Lieder Op.103 (1837), which follow the example of Schubert's late and sublime song Der Hirt an dem Felsen (The Shepherd on the Rock) in weaving a clarinet obbligato around the vocal line. Spohr himself had produced several previous sextets of German-language songs but in this cycle he was inspired to new expressive heights by his long friendship with the clarinettist Johann Simon Hermstedt.

This fruitful partnership had also resulted in two clarinet concertos and the lighter fantasies included here: the Potpourri Op.80 based on themes by his German contemporary Peter von Winter and the less-familiar Op.21 Fantasia on themes from his own unstaged opera Alruna. Both of them are gloriously melodic as well as affording ample opportunities for brilliance. More Mozartian in its lyricism is the Andante variation movement from his Op.34 Nottorno, originally scored for wind ensemble and arranged here for clarinet and piano.

The soprano Joanna Klisowska features on a well-received Brilliant Classics album of Mario Castelnuovo-Tedesco (95282), in the first complete recording of his late cycle The Divan of Moses Ibn Ezra: 'Polish soprano Joanna Klisowska shows considerable empathy with the spirit of these exquisitely conceived and moving songs. She has the most mellifluous tone, delivering consistently perfectly controlled, pointed and affectingly expressive, arching legato lines, so many in high registers.' MusicWeb International

Louis Spohr was one of the most famous composers in his time, a leading exponent of the emerging Romantic Movement. His works are firmly rooted in the Viennese classical tradition, but the overtly dramatic expression, the rich and sonorous orchestration and the substantial dimension of his compositions gained him the reputation as one of the first truly romantic composers.
Spohr composed extensively for the clarinet, a result of his friendship and creative partnership with Johann Hermstedt, court musician and one of the most acclaimed clarinetists of the period. On this new recording we hear the clarinet solo, accompanied by the piano, in two sets of "Theme and Variations" and a Potpourri on popular opera melodies, tuneful, brilliant and virtuoso music. The main work are the "6 Deutsche Lieder" for soprano, clarinet and piano, the same combination as Schubert's Der Hirt auf dem Felsen, also sharing the pastoral and lyrical atmosphere of this song.
Performed by soprano Joanna Klisowska (who already recorded a splendid Castelnuovo-Tedesco CD for Brilliant Classics), clarinetist Rocco Parisi (who gave the world premiere of Berio's Sequenza for clarinet) and pianist Francesco Bissanti.
Listening
Track list
Disk 1
Louis Spohr: Andante mit Variationen, Op. 34

Louis Spohr: 6 Deutsche Lieder, Op. 103: I. Sei still mein Herz

Louis Spohr: 6 Deutsche Lieder, Op. 103: II. Zwiegesang

Louis Spohr: 6 Deutsche Lieder, Op. 103: III. Sehnsucht

Louis Spohr: 6 Deutsche Lieder, Op. 103: IV. Wiegenlied

Louis Spohr: 6 Deutsche Lieder, Op. 103: V. Das heimliche Leid

Louis Spohr: 6 Deutsche Lieder, Op. 103: VI. Wach auf

Louis Spohr: Theme & Variations on a Theme from the Opera Alruna

Louis Spohr: Potpourri in F Major, Op. 80: I. Larghetto

Louis Spohr: Potpourri in F Major, Op. 80: II. Allegro