Spohr: Complete Clarinet Concertos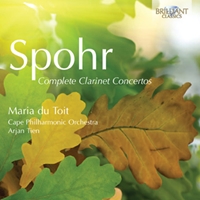 Composer
Louis Spohr
Artist
Maria du Toit clarinet
Cape Philharmonic Orchestra
Arjan Tien conductor
Format
2 CD
Cat. number
94837
EAN code
5028421948379
Release
December 2013
About this release
During his lifetime, Louis Spohr was considered to be an iconic musical figure of the era: he was hailed as a leading composer, worthy of the stature of Haydn, Mozart and Beethoven, and was also a celebrated and accomplished violinist and conductor. Furthermore, he was a remarkable innovator who was responsible for many new concepts that today's musicians take for granted – he invented the chinrest, was one of the first conductors to use a baton, and introduced rehearsal numbers to scores. This pioneering spirit is reflected in Spohr's works, which, although they are rooted in the Classical tradition, also anticipate the formal and harmonic experimentation and programmatic writing associated with Romanticism.

Indeed, Spohr's First Clarinet Concerto played a significant role in the development of the instrument. All four concertos were written for the brilliant clarinettist and Spohr's great friend Johann Simon Hermstedt – when the First Concerto turned out to be unplayable on existing clarinets at the time due to its range and difficulty, Hermstedt decided to adapt the clarinet and extend its number of keys from five to thirteen! The virtuosic writing in these concertos certainly exploits the clarinet's potential to the full, but they also demonstrate Spohr's capacity for intense expression – as heard, for example, in the turbulent opening movement of the Third Concerto – and beautiful lyricism, which comes to the fore in the song-like Adagio of the First Concerto.

Spohr's complete clarinet concertos are performed by Maria du Toit, who is hailed as one of South Africa's most important clarinettists and has won praise from eminent conductor Theodore Kuchar for her "wide-ranging musical imagination and technical assuredness". Her most recent solo album, Luminous Shade, was nominated for a South African Musical Award.

Other information:
- Recordings made in April 2013 in Cape Town.
- An exciting new recording of these major cornerstones of the clarinet repertoire, the 4 Clarinet Concertos by Louis Spohr!
- Spohr was a famous composer in his time, a leading exponent of the emerging Romantic Movement. His works are firmly rooted in the Viennese classical tradition, but the overtly dramatic expression, the rich and sonorous orchestration and the substantial dimension of his compositions gained him the reputation as one of the first truly romantic composers.
- Spohr wrote his clarinet concertos for the Johann Hermstedt, a famous virtuoso in his time. The concertos offer immensely enjoyable listening, beautiful melodies exploring the possibilities of the instrument to the full, set against a brilliant and colourful orchestral background.
- Maria du Toit is one of the most exciting clarinet players of her generation, her natural, vivid phrasing and her immaculate technique are a feast to listen to. Expert and enthusiastic support from the Cape Philharmonic, South Africa's best orchestra, conducted by Arjan Tien.
- Contains booklet and artist biographies.
Track list
Disk 1
Louis Spohr: Concerto No. 1 in C Minor, Op. 26: I. Adagio – Allegro

Louis Spohr: Concerto No. 1 in C Minor, Op. 26: II Adagio

Louis Spohr: Concerto No. 1 in C Minor, Op. 26: III. Rondo: Vivace

Louis Spohr: Concerto No. 4 in C Minor: I. Allegro vivace

Louis Spohr: Concerto No. 4 in C Minor: II. Larghetto

Louis Spohr: Concerto No. 4 in C Minor: III. Rondo al Espagnol
Disk 2
Louis Spohr: Concerto No. 2 in E-Flat Major, Op. 57: I. Allegro

Louis Spohr: Concerto No. 2 in E-Flat Major, Op. 57: II. Adagio

Louis Spohr: Concerto No. 2 in E-Flat Major, Op. 57: III. Rondo alla polacca

Louis Spohr: Concerto No. 3 in F Minor: I. Allegro moderato

Louis Spohr: Concerto No. 3 in F Minor: II. Adagio

Louis Spohr: Concerto No. 3 in F Minor: III. Vivace non troppo