Stabat Mater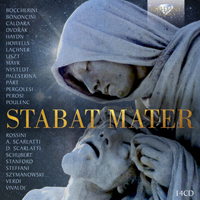 | | |
| --- | --- |
| Artist | various artists |
| Format | 14 CD |
| Cat. number | 95370 |
| EAN code | 5028421953700 |
| Release | February 2017 |
About this release
The Stabat Mater depicts Mary standing at the cross of Jesus, weeping at the sight of her son's crucifixion. The poem asks us to share in Mary's pain ('Fac, ut ardeat cor meum') and rejoice in Christ's sacrifice for mankind. The timeless bond between a mother and her son transcends the shifting world around us. Mary's anguish crosses all boundaries, speaking to anyone who has seen a loved one suffering, humanising Christ for experiencing mortal pain even while lauding him as the saviour. Not only is the theme heartfelt and tender, but the Latin text is rhythmic and lyrical, lending itself perfectly to music.

The existing versions represent a wonderful diversity of styles. In Palestrina's time, it was important that the music did not interfere with the clarity of the words. His Stabat Mater for eight voices, therefore, is simple, resonant, and wonderfully moving. Vivaldi, Caldara and both Alessandro and Domenico Scarlatti were among the Baroque composers to try their hand next; Vivaldi only set the first ten stanzas, ending with the plea to experience Mary's suffering for ourselves. The music, melancholy and minor, contrasts with Caldara's setting, which includes two trombones.

Later composers include Luigi Boccherini, who wrote some florid lines for solo soprano, the only early setting to include a soloist. By the time Haydn came to write his own Stabat Mater in 1767 he would have been familiar with those of Pergolesi and Alessandro Scarlatti. It became Haydn's most performed work in his lifetime, notable for its swapping out of the oboes for two cors anglais in two of the movements, creating a graver and more melancholy sound.

Dvořák and Liszt both created highly personal settings of the poem: Liszt because of his
strong religious impulse – he wrote the Stabat Mater as part of his oratorio Christus while
living in the Vatican, having entered the lower orders – and Dvořák because of a string of personal tragedies. The Czech composer lost his eldest daughter Josefa in 1876, which prompted him to begin sketching the music, and he returned to the composition in 1877 after the deaths of his two surviving children in close succession.

A number of turn-of-the-century composers lent their romantic touch to the text. Verdi's version, scored for chorus and large orchestra, was written towards the end of his life, and is fully representative of his mature style. Stanford and Howells, both deeply embedded in the Anglican tradition, brought the Stabat Mater into the renaissance of British music. The Stabat Mater has lost none of its allure in more recent times: perhaps its enduring quality has become even more important since the momentous events of the 20th century. Poulenc composed his setting in 1950, stung by the recent death of his close friend Christian Bérard. Knut Nystedt, the Norwegian composer who died in 2014, composed his stripped down Stabat Mater in 1986, scored for choir and solo cello. Influenced by Gregorian chant and Palestrina, the composer brings us full circle to the earliest settings of this ageless poem.

Brilliant Classics has brought together a number of first-class performers for this set, including classic performances and new recordings. Harry Christophers conducts The Sixteen in their performance of Agostino Steffani's Stabat Mater dolorosa, featuring soloists Elin Manahan Thomas and Grace Davidson. Dvořák's Stabat Mater is stylishly performed by The Washington Chorus and Orchestra, conducted by Robert Shafer, alongside Christine Brewer and John Aler, in a performance recorded at Washington D.C.'s John F. Kennedy Center. Boccherini's Stabat Mater (released in July 2016 and praised by MusicWeb International as 'an engaging performance, high on polish and long on assurance') is performed by the young Ensemble Symposium, featuring Francesca Boncompagni.

The text of Stabat Mater Dolorosa, a hymn to the Virgin Mary, is attributed to Jacopo Todi (1230-1306). It is a lamentation upon the tragic fate of Mary, bewailing the suffering and death of her son Jesus Christ at the cross. This outpouring of grief and loss is of universal human appeal and has inspired many composers throughout history, writing music of the most heart wrenching beauty. This 14CD set is the most extensive collection of Stabat Maters ever collected, 23 in total. It includes the most famous Stabat Mater ever composed, that by Pergolesi, as well as by known and lesser composers from the Baroque well into the 20th century, closing with the moving Stabat Mater by Arvo Pärt.
Included are the original Stabat Mater text and liner notes written by Philip Borg-Wheeler specially for this. A worthy successor to the successful Brilliant Classics REQUIEM collection (BC95104).
Track list
Disk 1
Stabat mater in F Minor, P.77: I. Stabat mater dolorosa

Stabat mater in F Minor, P.77: II. Cujus animam gememtem

Stabat mater in F Minor, P.77: III. O quam tristis et afflicta

Stabat mater in F Minor, P.77: IV. Quae moerabat et dolebat

Stabat mater in F Minor, P.77: V. Quis est homo qui non fleret

Stabat mater in F Minor, P.77: VI. Vidit suum dulcem natum

Stabat mater in F Minor, P.77: VII. Eja Mater, fons amoris

Stabat mater in F Minor, P.77: VIII. Fac, ut ardeat cor meum

Stabat mater in F Minor, P.77: IX. Sancta mater, istud agas

Stabat mater in F Minor, P.77: X. Fac, ut portem Christi mortem

Stabat mater in F Minor, P.77: XI. Inflammatus et accensus

Stabat mater in F Minor, P.77: XII. Quando corpus morietur

Stabat mater

Stabat mater, RV 621: I. Stabat mater

Stabat mater, RV 621: II. Cujus animam

Stabat mater, RV 621: III. O quam tristis

Stabat mater, RV 621: IV. Quis est homo

Stabat mater, RV 621: V. Quis non posset

Stabat mater, RV 621: VI. Pro peccatis

Stabat mater, RV 621: VII. Eja mater

Stabat mater, RV 621: VIII. Fac, ut ardeat

Stabat mater, RV 621: IX. Amen
Disk 2
Stabat mater: I. Stabat mater dolorosa

Stabat mater: II. Cujus animam gememtem

Stabat mater: III. O quam tristis

Stabat mater: IV. Quis est homo qui non fleret

Stabat mater: V. Quis non posset contristari

Stabat mater: VI. Pro peccatis suae gentis

Stabat mater: VII. Vidit suum dulcem natum

Stabat mater: VIII. Eja mater, fons amoris

Stabat mater: IX. Sancta mater, istud agas

Stabat mater: X. Fac, ut ardeat cor meum

Stabat mater: XI. Tui nati vulnerati

Stabat mater: XII. Juxta crucem tecum stare

Stabat mater: XIII. Virgo virginum praeclara

Stabat mater: XIV. Fac, ut portem Christi mortem

Stabat mater: XV. Inflammatus et accensus

Stabat mater: XVI. Fac me cruce custodiri

Stabat mater: XVII. Quando corpus morietur

Stabat mater in G Minor: I. Stabat mater dolorosa

Stabat mater in G Minor: II. Cujus animam gememtem

Stabat mater in G Minor: III. Quis est homo

Stabat mater in G Minor: IV. Sancta mater

Stabat mater in G Minor: V. Tui nati vulnerati

Stabat mater in G Minor: VI. Fac me tecum

Stabat mater in G Minor: VII. Juxta crecum

Stabat mater in G Minor: VIII. Virgo virginum

Stabat mater in G Minor: IX. Fac, ut portem

Stabat mater in G Minor: X. Flammis nu urar succensus

Stabat mater in G Minor: XI. Christe, cum sit hinc exire

Stabat mater in G Minor: XII. Fac ut animae donator
Disk 3
Stabat mater in C Minor: I. Stabat mater. Largo chorus

Stabat mater in C Minor: II. O quam tristis. Andante soprano

Stabat mater in C Minor: III. Quis est homo. Andante soprano, alto

Stabat mater in C Minor: IV. Pro peccatis. Adagio alto

Stabat mater in C Minor: V. Eja Mater. Cantabile alto

Stabat mater in C Minor: VI. Sancta mater. Tempo giusto chorus

Stabat mater in C Minor: VII. Fac me vere tecum stare. Sostenuto alto

Stabat mater in C Minor: VIII. Juxta crucem. Andante bass

Stabat mater in C Minor: IX. Virgo virginum. Tempo giusto chorus

Stabat mater in C Minor: X. Fac, ut portem. Vivace tenor

Stabat mater in C Minor: XI. Fac me plagis vulnerary. Adagio alto, tenor, chorus

Stabat mater in C Minor: XII. Inflammatus alto, tenor, chorus

Stabat mater in C Minor: XIII. Fac me cruce custodiri. Tempo giusto bass

Stabat mater in C Minor: XIV. Fac me cruce custodiri. Affettuoso soprano

Stabat mater in C Minor: XV. Quando corpus. Largo e pianissimo chorus

Stabat mater in C Minor: XVI. Paradisi Gloria. Adagio soprano, alto, tenor, bass, chorus

Dio e la vergine: I. Recitativo. Non anche avea natura Dio

Dio e la vergine: II. Aria. Vergine bella Dio

Dio e la vergine: III. Recitativo. Signor, poiché a te piacque Vergine

Dio e la vergine: IV. Aria. Io voglio solo Vergine

Dio e la vergine: V. Recitativo. Da me fosti Dio, Vergine

Dio e la vergine: VI. Duetto. Sei tutta bella Dio, Vergine
Disk 4
Stabat mater dolorosa: I. Stabat mater dolorosa EMT

Stabat mater dolorosa: II. Cujus animam gementem EMT, GD, MD, chorus

Stabat mater dolorosa: III. Quis est homo qui non fleret JB, MD

Stabat mater dolorosa: IV. Pro peccatis suae gentis chorus

Stabat mater dolorosa: V. Vidit suum dulcem natum RM

Stabat mater dolorosa: VI. Eja mater, fons amoris EMT, GD, JB, MD, chorus

Stabat mater dolorosa: VII. Fac me vere tecum flere MD, chorus

Stabat mater dolorosa: VIII. Virgo virginum praeclara JB, MD, RM

Stabat mater dolorosa: IX. Fac, ut portem Christi mortem EMT, GD, MD

Stabat mater dolorosa: X. Fac me plagis vulnerari chorus

Stabat mater dolorosa: XI. Inflammatus et accensus JB, MD, RM

Stabat mater dolorosa: XII. Quando corpus morietur chorus

Stabat mater G. 532: I. Stabat mater

Stabat mater G. 532: II. Cujus animam

Stabat mater G. 532: III. Quae moerebat

Stabat mater G. 532: IV. Quis est homo

Stabat mater G. 532: V. Pro peccatis

Stabat mater G. 532: VI. Eja mater

Stabat mater G. 532: VII. Tui nati vulnerati

Stabat mater G. 532: VIII. Virgo virginum

Stabat mater G. 532: IX. Fac, ut portem

Stabat mater G. 532: X. Fac me plagis

Stabat mater G. 532: XI. Quando corpus
Disk 5
Stabat mater: I. Stabat mater dolorosa

Stabat mater: II. Cujus animam gementem

Stabat mater: III. Quis non posset

Stabat mater: IV. Eja mater, fons amoris

Stabat mater: V. Sancta mater, istud agas

Stabat mater: VI. Fac me vere tecum

Stabat mater: VII. Juxta crucem

Stabat mater: VIII. Inflammatus et accensus

Stabat mater: IX. Fac, ut animae donetur

Stabat mater: X. Amen

Stabat mater: I. Stabat mater. Andante con vita

Stabat mater: II. Pro peccatis. Adagio

Stabat mater: III. Tui nati. Andantino

Stabat mater: IV. Fac, ut portem. Andante
Disk 6
Stabat mater in G minor, Hob. XXbis: I. Stabat mater dolorosa

Stabat mater in G minor, Hob. XXbis: II. O quam tristis et afflicta

Stabat mater in G minor, Hob. XXbis: III. Quis est homo

Stabat mater in G minor, Hob. XXbis: IV. Quis non posset

Stabat mater in G minor, Hob. XXbis: V. Pro peccatis suae gentis

Stabat mater in G minor, Hob. XXbis: VI. Videt suum dulcem natum

Stabat mater in G minor, Hob. XXbis: VII. Eja mater, fons amoris

Stabat mater in G minor, Hob. XXbis: VIII. Sancta mater, istud agas

Stabat mater in G minor, Hob. XXbis: IX. Fac me verum tecum flere

Stabat mater in G minor, Hob. XXbis: X. Virgo virginum praeclara

Stabat mater in G minor, Hob. XXbis: XI. Flammis arci ne succendor

Stabat mater in G minor, Hob. XXbis: X. Fac me cruci custodiri

Stabat mater in G minor, Hob. XXbis: XI. Quando corpus morietur

Stabat mater in G minor, Hob. XXbis: XII. Paradisi gloria

Stabat mater in G minor D. 175
Disk 7
Stabat mater: I. Stabat mater dolorosa

Stabat mater: II. Cujus animam gementem

Stabat mater: III. Quis est homo

Stabat mater: IV. Pro peccatis

Stabat mater: V. Eja, mater, fons amoris

Stabat mater: VI. Sancta mater

Stabat mater: VII. Fac, ut portem

Stabat mater: VIII. Inflammatus et accensus

Stabat mater: IX. Quando corpus morietur

Stabat mater: X. In sempiterna saecula
Disk 8
Stabat mater No. 3 in C Minor: I. Stabat mater dolorosa

Stabat mater No. 3 in C Minor: II. O quam tristis

Stabat mater No. 3 in C Minor: III. Quis est homo

Stabat mater No. 3 in C Minor: IV. Eja, mater

Stabat mater No. 3 in C Minor: V. Eja, mater

Stabat mater No. 3 in C Minor: VI. Virgo virginum

Stabat mater No. 3 in C Minor: VII. Flammis ne urar

Stabat mater No. 3 in C Minor: VIII. Quando corpus
Disk 9
Stabat mater, Op. 58: I. Stabat mater dolorosa soloists, chorus

Stabat mater, Op. 58: II. Quis est homo, qui non fleret soloists

Stabat mater, Op. 58: III. Eja, mater, fons amoris chorus

Stabat mater, Op. 58: IV. Fac, ut ardeat cor meum bass, chorus

Stabat mater, Op. 58: V. Tui nati vulnerati chorus

Stabat mater, Op. 58: VI. Fac me vere tecum flere tenor, chorus

Stabat mater, Op. 58: VII. Virgo virginum praeclara chorus
Disk 10
Stabat mater, Op. 58: I. Fac, ut portem Christi mortem soprano, tenor

Stabat mater, Op. 58: II. Inflammatus et accensus alto

Stabat mater, Op. 58: III. Quando corpus morietur soloists, chorus

Stabat mater, Op. 154: I. Stabat mater dolorosa

Stabat mater, Op. 154: II. Quis est homo

Stabat mater, Op. 154: III. Eja Mater

Stabat mater, Op. 154: IV. Fac me vere

Stabat mater, Op. 154: V. Fac me plagis vulneraria
Disk 11
Stabat mater, Op. 96: I. Prelude. Largo

Stabat mater, Op. 96: II. Stabat mater. Andante molto espressivo soloists, chorus

Stabat mater, Op. 96: III. Intermezzo. Allegro moderato

Stabat mater, Op. 96: IV. Eja Mater. Allegretto soloists, chorus

Stabat mater, Op. 96: V. Finale. Allegro soloists

Stabat mater from quattro pezzi sacri
Disk 12
Stabat mater, Op. 53: I. Stabat mater dolorosa. Andante mesto soprano, chorus

Stabat mater, Op. 53: II. Quis est homo qui non fleret. Moderato baritone, chorus

Stabat mater, Op. 53: III. Eja mater, fons amoris. Lento dolcissimo soprano, alto, chorus

Stabat mater, Op. 53: IV. Fac me tecum, pie, flere. Moderato soprano, alto, chorus

Stabat mater, Op. 53: V. Virgo virginum praeclara. Allegro baritone, chorus

Stabat mater, Op. 53: VI. Christe, cum sit hinc exire. Andante tranquillissimo soloists, chorus

Stabat mater, FP 148: I. Stabat mater dolorosa

Stabat mater, FP 148: II. Cujus animam gementem

Stabat mater, FP 148: III. O quam tristis

Stabat mater, FP 148: IV. Quae moerebat

Stabat mater, FP 148: V. Quis est homo

Stabat mater, FP 148: VI. Vidit suum

Stabat mater, FP 148: VII. Eja mater

Stabat mater, FP 148: VIII. Fac ut ardeat

Stabat mater, FP 148: XI. Sancta mater

Stabat mater, FP 148: X. Fac, ut portem

Stabat mater, FP 148: XI. Inflammatus et accensus

Stabat mater, FP 148: XII. Quando corpus
Disk 13
Stabat mater: I. Stabat mater dolorosa

Stabat mater: II. Cujus animam gementem

Stabat mater: III. Quis est homo

Stabat mater: IV. Eja, mater

Stabat mater: V. Sancta mater —

Stabat mater: VI. Fac, ut portem —

Stabat mater: VII. Christe cum sit hinc exire

Te deum

Sine nomine
Disk 14
Stabat mater dolorosa from the oratorio Christus, S. 172b

Stabat mater, Op. 111

Stabat mater