Steffani: Vocal Chamber Duets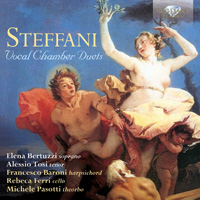 Download booklet
Composer
Agostino Steffani
Artist
Elena Bertuzzi soprano
Alessio Tosi tenor
Francesco Baroni harpsichord
Rebeca Ferri cello
Michele Pasotti theorbo
Format
1 CD
Cat. number
94969
EAN code
5028421949697
Release
February 2015
About this release
Agostino Steffani was a man of many talents. A gifted linguist, his skills led him to a successful career as a diplomat, spending most of his life in Germany rather than his native Italy. As well as mediating between heads of state of the day, Steffani was a prolific composer, producing a substantial number of operas and sacred works. His secular music was also well known, although, to protect his neutrality, his works were signed by his secretary rather than the composer himself. The vocal chamber duets on this release are unusual for the period; Steffani moved away from the Baroque practice of pairing a solo voice with a basso continuo accompaniment and instead began to favour the equal partnership of two voices. The composer's skills as a linguist underpin these works, exemplified by the expert way in which he matches the words to the melody. The texts in general are brief, charming musings on the pain and pleasure of unrequited love, with Steffani drawing on various contemporary Italian poets. Although Steffani's chamber duets cover a number of voice combinations, the ones for soprano and tenor are some of the most attractive, thanks to the light interplay between the male and female voices. They are consummately interpreted by experienced performers Elena Bertuzzi and Alessio Tosi, who between them have won several national and international prizes and have performed at a number of prestigious festivals. Tosi has previously collaborated with renowned early music ensemble La Venexiana, and their recording of Monteverdi's Il ritorno di Ulisse in patria was praised as being "state‐of‐the‐art stuff"in Gramophone magazine. Bertuzzi has already recorded for Brilliant Classics, having released a collection of chambermusic by Georg Benda in 2013 (BC94433), for which she was acclaimed by MusicWeb International as "a pleasure to hear". Both singers are well‐supported by musicians playing on period instruments, and their long experience in performing Baroque music leads to an authentic and charming recording.
The music of Agostino Steffani was torn from oblivion by the successful album "Mission" by Cecilia Bartoli. Subsequent issues of his music showed a highly original and prolific composer of instrumental music, sacred music and operas. Apart from his activities as a highly esteemed composer he was also a diplomat in the service of Italy, accomplishing
important missions to the courts of Europe.
This new recording presents delightful vocal duets for soprano and tenor, accompanied by a small instrumental ensemble of cello, theorbo and harpsichord. Both voices are perfectly equal, and foreshadow the duets from the famous operas by Haydn and Mozart. The secular texts mainly deal with Love, both fulfilled and unrequited.
Beautifully sung by tenor Alessio Tosi (whose recent recording of Monteverdi's Ulisse with La Venexiana was described as "state‐of‐the‐art"by the Gramophone) and Elena Bertuzzi.

Other information:
Recorded in Italy in 2014.
Contains notes about the composer and extensive artist biographies.
Track list
Disk 1
Agostino Steffani: Pria ch'io faccia

Agostino Steffani: E così mi compatite?

Agostino Steffani: Lontananza crudel, tu mi tormenti

Agostino Steffani: Vorrei dire un non so che

Agostino Steffani: Dolce è per voi soffrire

Agostino Steffani: Gelosia, che vuoi da me?

Agostino Steffani: Saldi marmi che coprite