Stradella: Complete Violin Sinfonias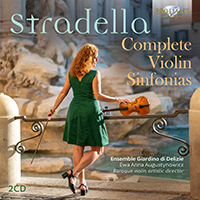 Composer
Alessandro Stradella
Artist
Ensemble Giardino di Delizie
Ewa Anna Augustynowicz baroque violin, artistic director
Format
2 CD
Cat. number
96079
EAN code
5028421960791
Release
June 2021
About this release
Alessandro Stradella's (1639-1682) latterday fame has tended to focus on his sudden death in February 1782 at the age of 41 in mysterious circumstances – Flotow even wrote an opera on the subject – to the expense of his music, which would otherwise guarantee him a place in posterity's estimation among the most individual voices of the Italian Baroque.
Stradella's operas and oratorios have attracted recordings and performances from early-music luminaries such as Alan Curtis and Fabio Biondi; his relatively slender surviving output of instrumental music remains comparatively little-known and under-recorded. The first mention of Stradella's instrumental music occurs in a letter from 1676, while the composer was working in the service of Pope Clement X. Shady dealings soon compelled Stradella to leave quickly for Venice where, having just married the mistress of a nobleman belonging to one of the city's wealthiest and most influential families, he suffered a near-fatal assault in October 1677.
We still do not know precisely how and when these Sinfonias were composed, though Stradella occasionally mentions them in his correspondence and borrowed passages from them in his operas and oratorios. They are structured in several brief sections, several with a grave and stately introduction, a dashing contrapuntal movement, a brief aria-like section and a dazzling finale, like a sonata in microcosm, with the dialogue weaving in and out of the solo violin and its accompaniment.
However, Stradella probably did not write the Sinfonias as a discrete set, given their internal variety. The sixth and eleventh of the set are at least twice as long as many of the others, and Stradella uses this space to spin an expressive mood of great stillness in his arching introductions.

Critical praise for Giardino di Delizie on Brilliant Classics:
Lonati, 95590: 'Spirited performances, notable not just for their technical polish, but also for their heart and human excitement. I can't imagine this level of achievement being surpassed anytime soon, if at all.' Fanfare

Colista, 96033: 'An energetic and imaginative approach… a very welcome addition to the catalogue.' Early Music Review

Colista, 96033: 'The agility of execution materializes in grace and lightness... persuasive, mobile phrasing, free from any frenzy or nervousness and skilled in distilling the particular colour and weight of each phrase.' L'ape musicale

This new CD presents the complete Sinfonias for violin and basso continuo by Alessandro Stradella, a First Recording!
The music by Alessandro Stradella is gaining rapidly in recognition and popularity. The composer's extremely adventurous life (he was an aristocratic lady-killer, who himself was murdered in the end by a revengeful rival) and his equally adventurous music presents a forceful image of a fascinating and important figure of the Italian Baroque.
The most obvious stylistic characteristic of these pieces is the prevalence of counterpoint. Stradella attributed similar values to the violin and basso continuo parts, entrusting the latter with more than the customary harmonic support. Indeed, often the melody is developed by both instruments, weaving back and forth from basso continuo to violin in constant dialogue, in keeping with "concerto" form.
Founded in 2014 by the violinist Ewa Anna Augustynowicz, Ensemble Giardino di Delizie is a female quartet of early-music experts based in Rome but working internationally, not only with each other but also within groups led by Christophe Coin, Enrico Onofri, Fabio Bondi and other luminaries of modern Baroque performance. Their previous recordings with music by Lonati and Colista were reviewed enthusiastically by the international press.
Track list
Disk 1
Alessandro Stradella: Sinfonia No. 8 in F Major

Alessandro Stradella: Sinfonia No. 11 in A Minor

Alessandro Stradella: Sinfonia No. 5 in E Minor

Alessandro Stradella: Sinfonia No. 4 in D Minor

Alessandro Stradella: Sinfonia No. 10 in A Minor

Alessandro Stradella: Sinfonia No. 1 in D Major

Alessandro Stradella: Sinfonia a tre No. 2 in B-Flat Major
Disk 2
Alessandro Stradella: Sinfonia No. 6 in F Major

Alessandro Stradella: Sinfonia No. 12 in A Minor

Alessandro Stradella: Sinfonia No. 9 in G Major

Alessandro Stradella: Sinfonia No. 2 in D Major

Alessandro Stradella: Sinfonia No. 7 in F Major

Alessandro Stradella: Sinfonia No. 3 in D Minor

Alessandro Stradella: Sinfonia a tre No. 1 in D Minor