String Quartets by Del Adalid, Arriola & Durán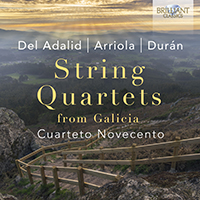 | | |
| --- | --- |
| Composer | José Arriola, José Durán, Marcial Del Adalid |
| Artist | Cuarteto Novecento |
| Format | 1 CD |
| Cat. number | 96661 |
| EAN code | 5028421966618 |
| Release | January 2023 |
About this release
This recording showcases 3 string quartets by 3 Galician composers from 3 consecutive centuries: Adalid (19th century), Arriola (20th century) and Durán (21st century). Each composer represents the experiences of their respective lifetimes in Galicia, a place with a true vocation for universality.
Marcial del Adalid (1826–1881) was born into a family with a great musical tradition. After studying in London with Ignaz Moscheles, one of Beethoven's disciples, Adalid became one of the main representatives of the 'Rexurdimento', a Romantic nationalist movement in Galicia. Adalid recovered traditional Galician melodies which had, up until then, only been transmitted orally, and put them in his work Cantares viejos y nuevos de Galicia.
According to Margarita Viso, the main scholar and editor of Adalid's work, the String Quartet in G Op.16 was the author's only foray into this genre. The four movements follow the pathway set by Beethoven, and echoes of his Sonata Pathétique can be heard; later, the final section recalls the transparent classicism of the Haydnian rondos.
José Rodríguez Carballeira, better known as José Arriola (1895–1954), was a famous pianist and composer. A child prodigy, he was sponsored by the Queen Regent María Cristina who gave him a scholarship to study in Germany with Richard Strauss, and he later completed successful world tours. However, tragedy struck Arriola at the end of the Second World War when his home in Berlin was destroyed and he lost almost everything. The composer had to return to Spain in 1946, when the country was facing the harsh post-war years.
Arriola's String Quartet in C, dedicated to the memory of his mother, presents writing imbued with Germanic post-romanticism, the legacy of Strauss's teachings. A work of great depth, Arriola creates a dense polyphonic framework while eliminating ornaments, giving the piece great lyrical intensity.
Juan Durán (b.1960) is one of the most representative composers of the current generation of Galician artists. He has written many pieces for chamber, symphonic, vocal and stage genres, as well as orchestrations of Galician music. He was awarded with the 2009 Critics' Award, the 2013 Galician Culture Prize and the 2018 Reina Sofía Prize for Composition. He is a member of the Royal Galician Academy of Fine Arts and the M.I. Valencian Music Academy. The most striking aspect of his String Quartet is, without a doubt, the choice of the three movements that make it up: a pasodoble, a blues and a samba. Durán wanted to heighten the classical form through maintaining its sonata structure. Therefore, the pasodoble acts as the exposition section, the blues is the development, and the energetic final samba is structured around the recurring rondo.

Other information:
- Recorded September 2019 in Santiago de Compostela, Spain
- Trilingual booklet in English, Spanish & Galician contains liner notes and a profile of the quartet

- For historical reasons, the literature for string quartets in Spain is not very abundant. This emblematic form of chamber music did not have an easy journey and Galicia was not an exception. This new recording however brings together 3 string quartets by 3 Galician composers from 3 consecutive centuries: Marcial del Adalid y Gurréa (1826-1881), José Arriola (1895-1954) and Juan Durán (born 1960). Three representative composers of their own respective living time, nurtured in the musical tradition of their era, however each finding a personal language and emotional impact.
- This new recording marks the CD debut of the Cuarteto Novecento, gathering four musicians of different European origin: Ildikó Oltai (Hungary), Irina Gruia (Rumania), Ioana Ciobotaru (Rumania) and Millán Abeledo (Spain) are members of the Real Filharmonía de Galicia, based in Santiago de Compostela, musicians who feel Galicia as their own and, along with it, its music.
Listening
Track list
Disk 1
Marcial Del Adalid: String Quartet in G Major, Op. 16: I. Allegro

Marcial Del Adalid: String Quartet in G Major, Op. 16: II. Andante quasi adagio

Marcial Del Adalid: String Quartet in G Major, Op. 16: III. Minuetto

Marcial Del Adalid: String Quartet in G Major, Op. 16: IV. Finale. Moderato molto, quasi andante - Allegro assai

José Arriola: String Quartet in C Major: I. Andante molto - Allegro non troppo

José Arriola: String Quartet in C Major: II. Moderato

José Arriola: String Quartet in C Major: III. Allegro giocoso

José Arriola: String Quartet in C Major: IV. Finale. Ciaccona – Fuga - Andante molto

Juan Durán: String Quartet: I. Pasodoble

Juan Durán: String Quartet: II. Blues

Juan Durán: String Quartet: III. Samba