Takemitsu: Complete Music for Solo Guitar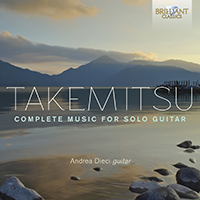 | | |
| --- | --- |
| Composer | Toru Takemitsu |
| Artist | Andrea Dieci guitar |
| Format | 1 CD |
| Cat. number | 95539 |
| EAN code | 5028421955391 |
| Release | May 2018 |
About this release
The idiom of Toru Takemitsu fits the classical guitar like a tailored suit of pure lines where simplicity conceals the thought and art behind their design. The range of sonority is wide yet subtle in the set of three Folios (1974) which became his first work for the instrument, yet their brevity is out of all proportion to the care taken in their construction, and they quickly made their composer renowned, along with Henze, as one of the most refined composers for the instrument in the second half of the last century. Takemitsu's explanation of the title was characteristically laconic: 'just two facing pages, short pieces, no more than that.' Within the third of them is buried a quotation from a chorale used by Bach in the St Matthew Passion, hinting at a grave character that is shared by the more overtly Hispanic figuration of the second movement.

From 13 years later, the four movements of All in Twilight are an impressionistic evocation in sound of a painting of the same name by Paul Klee. Takemitsu's fondness for bell-like sonorities returns in the minute-long tribute to the composer Sylvano Bussotti on his 60th birthday. Landscape and painting stimulated the composer's imagination in two more guitar pieces: Equinox, he explained, was inspired by the painting of the same name by the Catalan painter, Joan Miro (1967). 'During the equinox the length of day and night are the same and the title has some relationship to musical proportions and the harmonic pitch interval within the composition, but no literary meaning.'

In the Woods was Takemitsu's very last composition, completed in November 1995, three months before his death. This three-movement suite opens with Wainscot Pond, after a painting of Cornelia Foss – a tone-painting in his late style which is pared back to harmonic essentials and returns to a diatonic harmony that he never quite forsook at his most avant-garde.

Andrea Dieci's recordings for Brilliant Classics include 20th-century classics for his instrument by Piazzolla (BC95538) and Henze (BC95186), to which this new album is a valuable complement.

Toru Takemitsu (1930-1996) is one of Japan's foremost 20th century composers, an innovator combining elements of oriental and occidental philosophy to create a sound uniquely his own, fusing opposites together such as sound with silence, the east with the west.
Takemitsu had a special fondness for the guitar, an instrument that best expressed the "universe of seduction". Included on this new recording are the Folios (1974), "All is Twilight", Equinox, In the Woods and the 12 Songs, transcriptions for guitar of folk songs, jazz and pop songs.
Andrea Dieci is one of the foremost guitarists of his generation. He already successfully recorded guitar works by Hans Werner Henze, which was awarded the "Golden Award", the best CD of 2017, at the International Guitar Congress in Alessandria.
Track list
Disk 1
Toru Takemitsu: Folios: I. —

Toru Takemitsu: Folios: II. —

Toru Takemitsu: Folios: III. —

Toru Takemitsu: All in Twilight Four Pieces for Guitar: I. —

Toru Takemitsu: All in Twilight Four Pieces for Guitar: II. Dark

Toru Takemitsu: All in Twilight Four Pieces for Guitar: III. —

Toru Takemitsu: All in Twilight Four Pieces for Guitar: IV. Slightly Fast

Toru Takemitsu: A Piece for Guitar for the 60th Birthday of Sylvano Bussotti

Toru Takemitsu: Equinox

Toru Takemitsu: In the Woods Three Pieces for Guitar: I. Wainscot Pond – after a Painting by Cornelia Foss

Toru Takemitsu: In the Woods Three Pieces for Guitar: II. Rosedale

Toru Takemitsu: In the Woods Three Pieces for Guitar: III. Muir Woods

Toru Takemitsu: 12 Songs Transcriptions for Guitar: I. Londonderry Air

Toru Takemitsu: 12 Songs Transcriptions for Guitar: II. Over the Rainbow

Toru Takemitsu: 12 Songs Transcriptions for Guitar: III. Summertime

Toru Takemitsu: 12 Songs Transcriptions for Guitar: IV. A Song of Early Spring

Toru Takemitsu: 12 Songs Transcriptions for Guitar: V. Amours Perdues

Toru Takemitsu: 12 Songs Transcriptions for Guitar: VI. What a Friend

Toru Takemitsu: 12 Songs Transcriptions for Guitar: VII. Secret Love

Toru Takemitsu: 12 Songs Transcriptions for Guitar: VIII.Here, There and Everywhere

Toru Takemitsu: 12 Songs Transcriptions for Guitar: IX. Michelle

Toru Takemitsu: 12 Songs Transcriptions for Guitar: X. Hey Jude

Toru Takemitsu: 12 Songs Transcriptions for Guitar: XI. Yesterday

Toru Takemitsu: 12 Songs Transcriptions for Guitar: XII. The International

Toru Takemitsu: The Last Waltz