Tansman: Complete Music for Solo Guitar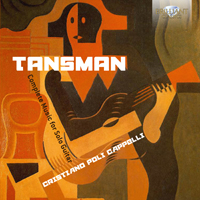 | | |
| --- | --- |
| Composer | Alexandre Tansman |
| Artist | Cristiano Poli Cappelli guitar |
| Format | 2 CD |
| Cat. number | 95221 |
| EAN code | 5028421952215 |
| Release | February 2016 |
About this release
Polish born and educated, Alexandre Tansman (1897-1986) was essentially a French composer, whose move to Paris in 1920 was the making of him. He won the admiration and friendship of both Ravel and Stravinsky, and took a central place in the exhilarating cultural life of the city's Roaring Twenties, even if his guitar music bears little trace of 'Jazz Age' experimentation. The guiding force behind Tansman's writing for the instrument lies, instead, in the person of Andres Segovía, catalyst and Svengali for so many composers in the first half of the 20th century.

The wandering harmonies of the Inventions and duet Sonatina may betray the influence of Ravel and Scriabin, with their echoes of French neoclassicism. The four Mazurkas, Suite in modo polonico and Hommage à Chopin, however speak clearly of Tansman's deep love for his native Poland; a love infused with nostalgia and imbued with a tender melancholy. The Spanish dance-music from which Segovía drew his own distinctive aesthetic identity is reflected in Tansman's transformations of vernacular French and Spanish melodies and rhythms in the Pièces Brèves and the Suite, which concludes with a movement simply titled Segovia. However, Segovía made significant editorial interventions in Tansman's scores, and Cristiano Poli Cappelli has returned to the composer's original ordering and markings in works such as the portmanteau, six-movement Suite.

Tansman's music for guitar is regularly encountered in mixed collections and compilations on record, but this is the first truly complete set; a previous disc billed as such omits several works such as the Pièce en forme de Passacaille and Hommage à Lech Walesa. Cristiano Poli Cappelli is joined in the duet-Sonatina by Andrea Pace; together they have recorded the complete music for two guitars by Mario Castelnuovo-Tedesco on Brilliant Classics (BC94833).

The music of Alexandre Tansman (1897-1986) is getting more and more attention lately, and rightly so, because here is a highly original yet accessible voice from 20-th century Poland, a highly prolific composer for both the student and the professional.
Tansman's style is influenced by Ravel (the colouristic effects), Scriabin (the extended harmonic language) and his deep love for Polish music and folklore.
This set contains his complete output for guitar solo, suites of Dance forms (often Polish), an Homage a Chopin, Inventions (an homage a Bach), Homage a Lech Walesa and many other exquisite miniatures full of melodic invention, surprising harmonies and a sincere expression of feeling.
Beautifully played by Italian guitarist Cristiano Poli Cappelli, who wrote the liner notes in English and Italian.
Track list
Disk 1
Alexandre Tansman: Ballade

Alexandre Tansman: Cavatina: I. Preludio

Alexandre Tansman: Cavatina: II. Sarabande

Alexandre Tansman: Cavatina: III. Scherzino

Alexandre Tansman: Cavatina: IV. Barcarole

Alexandre Tansman: Danza pomposa

Alexandre Tansman: Hommage à Chopin: I. Prélude

Alexandre Tansman: Hommage à Chopin: II. Nocturne

Alexandre Tansman: Hommage à Chopin: III. Valse Romantique

Alexandre Tansman: Suite in modo polonico: I. Entrée

Alexandre Tansman: Suite in modo polonico: II. Gaillarde

Alexandre Tansman: Suite in modo polonico: III. Kujawiak. Mazurka lente

Alexandre Tansman: Suite in modo polonico: IV. Tempo di polonaise

Alexandre Tansman: Suite in modo polonico: V. Kolysanka No. 2

Alexandre Tansman: Suite in modo polonico: VI. Oberek. Mazurka vive

Alexandre Tansman: Inventions: I. Passepied

Alexandre Tansman: Inventions: II. Sarabande

Alexandre Tansman: Inventions: III. Sicilienne

Alexandre Tansman: Inventions: IV. Toccata à deux voix

Alexandre Tansman: Inventions: V. Aria

Alexandre Tansman: Pièce en forme de passacaille

Alexandre Tansman: Deux chansons populaires: I. Andante

Alexandre Tansman: Deux chansons populaires: II. Allegretto
Disk 2
Alexandre Tansman: Sonatine: I. Modéré

Alexandre Tansman: Sonatine: II. Elegia

Alexandre Tansman: Sonatine: III. Vif

Alexandre Tansman: Sonatine: IV. Fughetta

Alexandre Tansman: Variations sur un theme de Scriabin

Alexandre Tansman: Prélude et interlude: I. Prélude

Alexandre Tansman: Prélude et interlude: II. Interlude

Alexandre Tansman: Pezzo in modo antico

Alexandre Tansman: Suite: I. Notturno Romantico

Alexandre Tansman: Suite: II. Alla Polacca

Alexandre Tansman: Suite: III. Canzonetta

Alexandre Tansman: Suite: IV. Invenzione

Alexandre Tansman: Suite: V. Berceuse d'Orient

Alexandre Tansman: Suite: VI. Segovia

Alexandre Tansman: Hommage à Lech Walesa

Alexandre Tansman: Pièces brèves: I. Valse-caprice

Alexandre Tansman: Pièces brèves: II. Dance populaire

Alexandre Tansman: Pièces brèves: III. Burlesque

Alexandre Tansman: Pièces brèves: IV. Berceuse-boîte à musique

Alexandre Tansman: Pièces brèves: V. Studio

Alexandre Tansman: Mazurka

Alexandre Tansman: Quattro tempi di mazurka: I. Moderato

Alexandre Tansman: Quattro tempi di mazurka: II. Rondò

Alexandre Tansman: Quattro tempi di mazurka: III. Allegro ma non troppo

Alexandre Tansman: Quattro tempi di mazurka: IV. Allegro giocoso