Tartini: Violin Concertos, Sonatas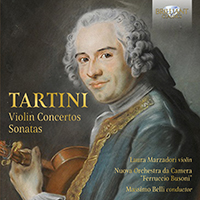 Download booklet
Composer
Giuseppe Tartini
Artist
Laura Marzadori violin
Nuova Orchestra da Camera "Ferruccio Busoni"
Massimo Belli conductor
Format
1 CD
Cat. number
95769
EAN code
5028421957692
Release
January 2020
About this release
First recordings of concertos by a legendary virtuoso of the Italian Baroque.

Concert master at the Teatro alla Scala since 2014, Laura Marzadori studied with Salvatore Accardo and Giuliano Carmignola, as well as playing in the Orchestra Mozart under Claudio Abbado. She has given chamber-music concerts with internationally renowned soloists such as Antonio Meneses, Andrea Lucchesini and Bruno Giuranna, and worked as a concert master for some of the world's great conductors, including Daniel Barenboim, Riccardo Chailly and Antonio Pappano. She gave the world premiere performances of Respighi's Violin Concerto in 2011, followed by a warmly received recording of the piece. She has also recorded the beautiful but little-known concerto by Ermanno Wolf-Ferrari.

Now she makes her debut on Brilliant Classics with an album of music from the Baroque era, focused on the devilish virtuosity of Giuseppe Tartini (1692-1770). Her selection ventures beyond the ubiquitous 'Devil's Trill' Sonata, however, to include pairs of concertos and chamber sonatas in which she is joined by the young musicians of a dynamic Italian chamber orchestra, playing on modern instruments, who have Tartini's idiom at their fingertips.

The two concertos are significant rarities, and have been specially prepared from unpublished manuscripts for this recording by its conductor, Massimo Belli; they are missing from even the compendious, 29CD box of Tartini's 'complete' concertos on Dynamic; this album thus makes a significant contribution to the library of Italian Baroque violin concertos, especially since the pieces concerned are so attractive, featuring solo parts that freely converse with individual voices within the orchestra.

Laura Marzadori pairs these delightful discoveries with two D major sonatas written not for the standard trio-sonata disposition of violin, bass and harpsichord, but rather an instrumentation that anticipates the string quartet. Their writing is full of bold harmonic moves as well as typically brilliant figuration for the violin, most elegantly dispatched here by Marzadori on her Guadagnini violin.
Giuseppe Tartini (Pirano d'Istria 1692 - Padua 1770) was a virtuoso violinist, composer, theoretician and teacher, a spider in the international cultural web in a time when Italy was the centre of the musical world, his violin school, the "School of Nations", attracted musicians from all over Europe.
Tartini's 4 part Sonatas are modeled in 3 movements, fast-slow-fast, and bear witness of the incredible skill of Tartini's string playing. They are highly melodious works of great beauty and charm. The two Violin Concertos are virtuoso works, paving the way for the great concertos from the classical and romantic era.
Excellent performances by violinist Laura Marzadori and the Ferruccio Busoni Chamber Orchestra conducted by Massimo Belli, who already successfully recorded similar works by Czerny, Viotti, Rolla and orchestral works by Wolf-Ferrari.
Listening
Track list
Disk 1
Giuseppe Tartini: Sonata a quattro in D Major: I. Allegro assai

Giuseppe Tartini: Sonata a quattro in D Major: II. Andante

Giuseppe Tartini: Sonata a quattro in D Major: III. Presto

Giuseppe Tartini: Concerto for Violin and Strings in A Minor, It. 941GT a.06: I. Allegro

Giuseppe Tartini: Concerto for Violin and Strings in A Minor, It. 941GT a.06: II. Grave

Giuseppe Tartini: Concerto for Violin and Strings in A Minor, It. 941GT a.06: III. Allegro

Giuseppe Tartini: Concerto for Violin and Strings in B-Flat Major, GT Bb.13: I. Allegro

Giuseppe Tartini: Concerto for Violin and Strings in B-Flat Major, GT Bb.13: II. Adagio/Largo

Giuseppe Tartini: Concerto for Violin and Strings in B-Flat Major, GT Bb.13: III. Allegro

Giuseppe Tartini: Sonata a quattro in D Major, No. 3: I. Allegro assai

Giuseppe Tartini: Sonata a quattro in D Major, No. 3: II. Larghetto

Giuseppe Tartini: Sonata a quattro in D Major, No. 3: III. Allegro