Tchaikovsky: Complete Orchestral Suites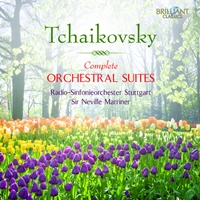 Composer
Piotr Ilyich Tchaikovsky
Artist
Radio-Sinfonieorchester Stuttgart
Sir Neville Marriner conductor
Format
2 CD
Cat. number
94372
EAN code
5028421943725
Release
May 2012
About this release
Born in the small town of Votkinsk in 1840, Pyotr Ilyich Tchaikovsky achieved considerable renown during his own lifetime and is today hailed as one of the world's best-loved composers. Having initially studied law before enrolling at the St Petersburg Conservatory aged 22, he is best remembered for his symphonies, operas and ballets; ranking among his lesser-known creations, however, are the Four Orchestral Suites, to which this excellent two-disc set is dedicated.

The works are best viewed as an outlet for unrestricted musical fantasy, and indeed Tchaikovsky wrote to his patron Nadezhda von Meck that he valued the genre of the orchestral suite precisely because of the 'freedom … it leaves the composer not to be bound by all sorts of traditions.' Composed in 1878–9 and 1883 respectively, Nos. 1 and 2 descend from the Baroque model, with Tchaikovsky paying homage to Bach and Telemann through the use of such idiomatic devices as the fugue – as heard in the opening movement of the First Orchestral Suite. Whereas the Second is distinguished for its careful attention to texture (including the addition of four accordions), the Third (1884) is particularly lauded for its Theme and Variations finale – a movement that was often performed on its own, such was its universal popularity.

Taking the form of a musical tribute to the composer Tchaikovsky most admired is the 'Mozartiana' Suite, written in 1887. A work that faithfully adapts some of the Austrian's best-known compositions, it presents a charming conclusion to an engaging cycle which – brimming with all the hallmarks of the Russian's style – is performed with authority under the expert baton of Sir Neville Marriner. All in all, this compilation is a must-buy for anyone wishing to delve deeper into the rich world of 19th-century orchestral music.

Other information:
- Recording made in 1987.
- Includes booklet notes covering each work.
- Tchaikovsky's Suites are his most "western" works, his imagination and creativity set free from the restrictions of formal genres (symphonies, sonatas). They contain delightful music, with hints of ballet music and inspirations from other composers.
Track list
Disk 1
Orchestral Suite No. 1 in D Minor, Op. 43: I. Introduzione e fuga: Andante sostenuto – Moderato e con anima

Orchestral Suite No. 1 in D Minor, Op. 43: II. Divertimento: Allegro moderato

Orchestral Suite No. 1 in D Minor, Op. 43: III. Intermezzo: Andantino semplice

Orchestral Suite No. 1 in D Minor, Op. 43: IV. Marche miniature: Moderato con moto

Orchestral Suite No. 1 in D Minor, Op. 43: V. Scherzo: Allegro con moto

Orchestral Suite No. 1 in D Minor, Op. 43: VI. Gavotte: Allegro

Orchestral Suite No. 2 in C, Op. 53 'Suite caractéristique': I. Jeu de sons: Andantino un poco rubato

Orchestral Suite No. 2 in C, Op. 53 'Suite caractéristique': II. Valse: Moderato (Tempo di valse)

Orchestral Suite No. 2 in C, Op. 53 'Suite caractéristique': III. Scherzo burlesque: Vivace, con spirito

Orchestral Suite No. 2 in C, Op. 53 'Suite caractéristique': IV. Rêves d'enfant: Andante molto sostenuto

Orchestral Suite No. 2 in C, Op. 53 'Suite caractéristique': V. Danse baroque: Vivacissimo
Disk 2
Orchestral Suite No. 3 in G, Op. 55: I. Élégie: Andantino molto cantabile

Orchestral Suite No. 3 in G, Op. 55: II. Valse mélancolique: Allegro moderato

Orchestral Suite No. 3 in G, Op. 55: III. Scherzo: Presto

Orchestral Suite No. 3 in G, Op. 55: IV. Tema con variazioni: Andante con moto

Orchestral Suite No. 4 in G, Op. 61 'Mozartiana': I. Gigue: Allegro (Gigue K574)

Orchestral Suite No. 4 in G, Op. 61 'Mozartiana': II. Menuet: Moderato (Minuet K355)

Orchestral Suite No. 4 in G, Op. 61 'Mozartiana': III. Preghiera: Andante non tanto (Ave verum corpus, K. 618)

Orchestral Suite No. 4 in G, Op. 61 'Mozartiana': IV. Thème et variations: Allegro giusto (Unser dummer Pöbel meint, K. 455)