Tchaikovsky: Complete works for cello and orchestra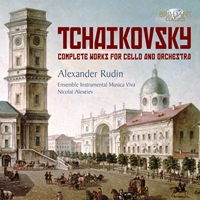 Composer
Piotr Ilyich Tchaikovsky
Artist
Alexander Rudin cello
Ensemble Instrumental Musica Viva
Nikolay Alekseev, conductor
Format
1 CD
Cat. number
94188
EAN code
5028421941882
Release
April 2011
About this release
Here's another fine disc, unavailable for some time, now receiving a new lease of life, and with no significant competition. It's true that the complete works for cello and orchestra amount to less than half this disc's duration, comprising as they do a couple of miniatures (the Pezzo Capriccioso and Nocturne) and the evergreen Rococo Variations. But the first point of importance is that the fine Russian cellist Alexander Rudin plays the original version of the score, and not the much more widely available piece of well-meaning butchery by a cellist of chaikovsky's own time,Wilhelm Fitzenhagen. Fitzenhagen fiddled around with the order of the variations and left one out altogether, as well as somewhat simplifying the composer's original and strenuous but effective demands upon the soloist. A return to the original reveals what we have been missing in the way of a rather more substantial and coherent work, and there are but one or two rival versions on the market.
In addition, Rudin complements the Variations with the gorgeous interlude from Swan Lake that features a solo cello, as well as an arrangement of the famous Andante cantabile from the First String Quartet. He then conducts this Muscovy orchestra himself in the Serenade for Strings.
Alexander Rudin was born in 1960 and studied with the cello legend Daniil Shafran. His pedigree in this music is impeccable.
Track list
Disk 1
Piotr Ilyich Tchaikovsky: Variations on a Rococo Theme Op.33, Original version

Piotr Ilyich Tchaikovsky: Nocturne, Adapted from the Six piano pieces, Op. 19

Piotr Ilyich Tchaikovsky: Andante cantabile, Adapted from the First String Quartet, No. 1 Op. 11

Piotr Ilyich Tchaikovsky: Pezzo capriccioso, Op. 62

Piotr Ilyich Tchaikovsky: Andante cantabile, Adapted from The Sleeping Beauty, Op. 66

Piotr Ilyich Tchaikovsky: Serenade for Strings, Op. 48: I. Pezzo in forma di sonatina: Andante non troppo – Allegro moderato

Piotr Ilyich Tchaikovsky: Serenade for Strings, Op. 48: II. Valse: Moderato (Tempo di valse)

Piotr Ilyich Tchaikovsky: Serenade for Strings, Op. 48: III. Elégie: Larghetto elegiaco

Piotr Ilyich Tchaikovsky: Serenade for Strings, Op. 48: IV. Finale (Tema russo): Andante; Allegro con spirito