Tchaikovsky: The Seasons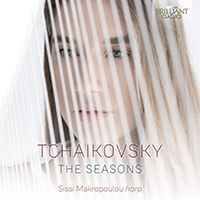 Download booklet
| | |
| --- | --- |
| Composer | Piotr Ilyich Tchaikovsky |
| Artist | Sissi Makropoulou harp |
| Format | 1 CD |
| Cat. number | 96034 |
| EAN code | 5028421960340 |
| Release | December 2019 |
About this release
Tchaikovsky's evergreen collection of miniatures in a new and captivating arrangement for harp.

Having worked with the Berliner Philharmoniker, the Deutsche Oper and MusicAeterna, Sissi Makropoulou has established a reputation among the most talented harpists of her generation, as well as a composer working under the name Sissi Rada. On this, her debut solo album, she brings both talents together. As she explains in her engaging booklet notes, she has been familiar with The Seasons since childhood. They count among the composer's most intimate works, as well as his most popular. 'I hear tenderness, benevolence and loneliness – the core of romantic love – in each and every note.'

It is the harp that lends a unique colour to some of Tchaikovsky's most memorable passages such as the cadenzas in Swan Lake and The Nutcracker. In some cases – January, for example - Sissi Makropoulou has transposed the pieces to sit more easily on the harp and to exploit its sumptuous palette of enharmonics. And while the Shrovetide Fair of February presents considerable challenges to the harpist in terms of quicksilver articulation and lightning-fast chord changes, the results speak for themselves in terms of a happy marriage between music and instrument. March, for example, could have been written with the harp in mind.

As an encore, Sissi Makropoulou plays her own arrangement of the second movement from Tchaikovsky's Fourth Symphony. The gentle mood of this Andantino 'in the style of a song' transfers itself sympathetically to the harp in her hands, and is informed by her experience of playing the composer's music under one of its most inspirational modern conductors, Teodor Currentzis.

A unique recording of the harp arrangement of Tchaikovsky's The Seasons!
In 1875 Tchaikovsky (1840-1893) was commissioned to write a series of piano pieces for the St. Petersburg musical magazine Nuvellist, each piece to be published in the monthly issue. Although Tchaikovsky frequently composed on commission (he sometimes described it casually as "tossing musical pancakes") he took it seriously and he even warmed to the task during composing. His 12 compositions are called "The Seasons" and describe each individual month of the year, either by mood or by a particular occasion or activity (January: By the Hearth, February: Carnival, July: Song of the Reaper etc). the music is affectionate, intimate and often hauntingly beautiful: a series of 12 musical gems!
This new recording presents The Seasons in an arrangement for harp, lovingly and expertly done by Greek Harpist Sissi Makropoulou. She is one of Greece's foremost harpists and she collaborated with the Berliner Philharmoniker, the Deutsche Oper and Musica Aeterna, with conductors like Barenboim, Nelsons and Currentzis.
Listening
Track list
Disk 1
Piotr Ilyich Tchaikovsky: The Seasons, Op. 37a: I. January at the Fireside. By the Heart. Moderato semplice, ma espressivo in E-Flat Major

Piotr Ilyich Tchaikovsky: The Seasons, Op. 37a: II. February Carnival. Allegro giusto in D Major

Piotr Ilyich Tchaikovsky: The Seasons, Op. 37a: III. March Song of the Lark. Andantino espressivo in G Minor

Piotr Ilyich Tchaikovsky: The Seasons, Op. 37a: IV. April Snowdrop. Allegretto con moto e un poco rubato in B-Flat Major

Piotr Ilyich Tchaikovsky: The Seasons, Op. 37a: V. May White Nights. Andantion in G Major

Piotr Ilyich Tchaikovsky: The Seasons, Op. 37a: VI. June Barcarolle. Andante cantabile in G Minor

Piotr Ilyich Tchaikovsky: The Seasons, Op. 37a: VII. July Reaper's Song. Allegro moderato con moto in E-Flat Major

Piotr Ilyich Tchaikovsky: The Seasons, Op. 37a: VIII. August the Harvest. Allegro vivace in B minor

Piotr Ilyich Tchaikovsky: The Seasons, Op. 37a: IX. September the Hunt. Allegro non troppo in G Major

Piotr Ilyich Tchaikovsky: The Seasons, Op. 37a: X. October Autumn Song. Andante doloroso e molto cantabile in D minor

Piotr Ilyich Tchaikovsky: The Seasons, Op. 37a: XI. November on the Troika. Allegro moderato in E Major

Piotr Ilyich Tchaikovsky: The Seasons, Op. 37a: XII. December Christmas. 5 Tempo di valse in A-Flat Major

Piotr Ilyich Tchaikovsky: Symphony No. 4, Op. 36: II. Andantino