Tchaikovsky: The Snow Maiden Snegurochka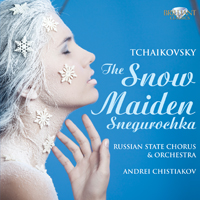 Composer
Piotr Ilyich Tchaikovsky
Artist
USSR State Choir and Orchestra
Andrey Chistiakov conductor
Format
1 CD
Cat. number
94038
EAN code
5028421940380
Release
April 2010
About this release
Tchaikovsky thought highly of his music to Ostrovky's drama The Snow Maiden, writing to his patroness Nadezhda von Meck in 1879 'one of my favourite offspring….I think this music is imbued with the joys of spring that I was experiencing at the time' It was an important commission for a composer who in 1873 was still establishing his reputation, and who had his first 3 symphonies and first piano concerto performed to great popular acclaim. The production of the drama was lavish, combining all three performing arts – drama, dance and music.

The premiere cost the vast sum of 15000 roubles, and though the production was stage with success (more for the music than the drama which was judged as rather static) in 1873 and 74, after 9 runs was never seen again due to the prohibitive cost. The music however was performed every now and again, but it has remained one of the composers least known works. Tchaikovsky used some of the material for his music to Hamlet in 1891, but he had always hoped to incorporate the score into an opera on the Snow Maiden story. When Rimsky-Korsakov's opera on the same story appeared Tchaikovsky was seething with anger, and wrote to his brother Modest 'it is as if they have taken from me by force something that is innately mine and dear to me and are presenting it to the public in bright new clothes'.

The music is characteristically colourful, especially the chorus depicting shivering birds and the procession of the carnival. It gives plenty of hints of the great ballet scores that would follow.

Other information:
- Recording made in 1994, Comparatively rare Tchaikovsky repertoire performed by all-Russian forces.
Track list
Disk 1
The Snow Maiden: Introduction

The Snow Maiden: Dance and choruses of the birds

The Snow Maiden: Winter's monologue

The Snow Maiden: Carnival procession

The Snow Maiden: Melodrama

The Snow Maiden: Interlude

The Snow Maiden: Lehl's first song

The Snow Maiden: Lehl's second song

The Snow Maiden: Interlude

The Snow Maiden: Chant of the blind bards

The Snow Maiden: Melodrama

The Snow Maiden: Chorus of the people and the courtiers

The Snow Maiden: Round of the young maidens

The Snow Maiden: Dance of the tumblers

The Snow Maiden: Lehl's third song

The Snow Maiden: Brussila's song

The Snow Maiden: Apparition of the Spirit of the Wood

The Snow Maiden: Interlude-The Spring Fairy

The Snow Maiden: Tsar Berendey's march and chorus

The Snow Maiden: Final Chorus