Tchesnokov: Tales without Words, Music for Flute and Piano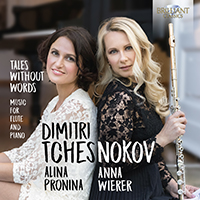 Composer
Dimitri Tchesnokov
Artist
Anna Wierer flute
Alina Pronina piano
Format
1 CD
Cat. number
96216
EAN code
5028421962160
Release
September 2021
About this release
This album features the complete works for flute (to date) by Franco-Ukranian composer Dimitri Tchesnokov (b.1982), with the exception of his flute trio Tableaux feìeìriques. This programme is supplemented by some of Tchesnokov's piano solos in a comparable style. The pieces presented here offer a contrast to the composer's religious/mystical music (3 Chants sacreìs, Requiem, Ave Verum) and his historic/realistic works (Symphonie archaïque, Château de Grandval, Symphonie Ukrainienne).

The 11 Haïkus are interspersed throughout the recital, maintaining a feeling of spontaneity and lightness, while the pieces alternating with the haikus create contrasting images and moods.

The influence of the Far East is present in several of the compositions, among them Rhapsodie Japonaise, based on traditional modes like Hirajōshi and Insen; Quelque part aÌ Tsushima (Somewhere in Tsushima), evoking the sound of the koto; and La Fête du Dragon, conjuring the fireworks and cheerful colours of China with the pentatonic mode. From the composer's Slavic roots comes Une Histoire vraiment bizarre (A truly bizarre story), a trip to a magical forest from old Russian fairy tales, where Little Red Riding Hood meets strange characters like the forest ghost, Leshy.

The absolute music of Tchesnokov's Partita combines simple motifs with a special harmonic tripartition of the octave. The slow movements are the calm before the virtuoso fugue – a real challenge for a monodic instrument like the flute.

Other information:
- Recorded in Berlin
- The trilingual booklet contains information about the music and biographies of the composer and performers in English, French and German

- Dimitri Tchesnokov, French-Ukrainian composer and pianist of Russian origin, was born in 1982. He studied music at the Tourtchak School of Arts in Kyiv in the piano class of Svitlana Dembovska, then entered the Glière Institute in the class of Elena Verikovskaya. Arrived in France at the age of 15, he continued to study piano with Adam Wibrowski. He obtained the diploma of musical studies at the conservatory of Boulogne-Billancourt in 2001 and perfected his skills with Lívia Rév and Setrak. After completing his orchestration studies in the class of Guillaume Connesson at the Aubervilliers - La Courneuve conservatory, he devoted himself entirely to composition. He is the author of several works for orchestra, numerous works for choir, a considerable number of chamber music works as well as about thirty works for piano.
- This CD contains music for flute and piano, as well as works for piano solo. The "Eleven Haikus", Rhapsodie Japonaise, "Tsushima"and La fête du Dragon, are inspired by the Orient, using traditional oriental modes and timbres. Other works are inspired by the rich Russian folklore and fairy tales.
- Played by Anna Wierer (flute) and Alina Pronina (piano), passionate advocates of this highly attractive music by Dimitri Tchesnokov, a strong and original voice in contemporary music.