Telemann: Complete Concertos and Trio Sonatas with viola da gamba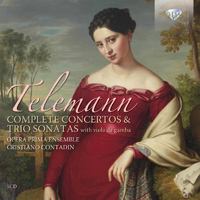 Composer
Georg Philipp Telemann
Artist
Cristiano Contadin viola da gamba
Opera Prima Ensemble
Format
5 CD
Cat. number
94831
EAN code
5028421948317
Release
March 2015
About this release
Only in recent decades has the viola da gamba become a focus for systematic study in its own right, independently of the violin, its heyday having occurred during the Renaissance and Baroque periods when, over the course of time, it began to turn towards more select audiences and a greater refinement of repertoire – elegance and exclusiveness became its bywords. One of its greatest propagators was undoubtedly Georg Philipp Telemann, who nourished his celebrity composer status through being extraordinarily prolific, writing for the instrument a rich, varied and distinctive repertoire, and simultaneously defying his contemporaries by choosing to include the instrument in many of the editions he published throughout his lifetime.

This release honours Telemann's achievement, recording as it does the wide range of typically 18th-century musical genres that Telemann composited for the instrument: solo sonatas with and without basso continuo, duo sonatas, works for three and four solo instruments and basso continuo, and orchestral concertos. Brought to life by the deft and characterful playing of Cristiano Contadin – one of today's leading viola da gambists, whose recording collaborations have earned him such prestigious awards as the Choc du Monde de la Musique and Diapason d'Or – Telemann's compositions reveal the instrument's vast melodic and contrapuntal range, drawing out its virtuoso potential along with its warm, inviting timbre (particularly in the concertos, where, in contrasting the full sound of the tutti passages with the gentle voice of the solo instrument, the composer effectively turns the relatively limited sound volume of the instrument into a positive feature). Contadin is joined by the specialist early music ensemble Opera Prima, among its members and soloists the acclaimed Baroque performers Roberto Loreggian and Federico Guglielmo, on this gem of a release which successfully promotes what surely deserves, in this day and age, to be a better-known facet of the great Baroque composer's vast and highly cosmopolitan output.
This set contains the complete works by Telemann in which the Viola da Gamba (or viol) has a prominent and soloistic role. The Viola da Gamba may be described as the predecessor of the modern Violoncello, and in its time it was a popular instrument much in use in instrumental music and as part of the Basso Continuo. Its slightly more modest volume compared with the cello is more than compensated by its specific timbre, with its vocal and sometimes melancholic qualities.
Georg Philipp Telemann, one of the most prolific composers of all time, wrote a fair number of works in which the Viola da Gamba features as a soloist: this 5CD set presents all these works, Trio Sonatas and Concertos, sometimes as the only soloist, sometimes in formation with other solo instruments. As always Telemann's music astounds by its originality, freshness and instrumental brilliance.
Excellent performances by leading Italian instrumentalists, well versed in the art of Authentic Performance Practice: Cristiano Contadin, Federico Guglielmo, Roberto Loreggian and many others.

Other information:
Recorded October 2013–March 2014, Abbey of St Mary of Carceri, Padua, Italy.
Booklet contains notes on the music/composer and artist biography.
Track list
Disk 1
Georg Philipp Telemann: Trio Sonata in G Minor, TWV 42:g1: Adagio – Vivace – Adagio – Allegro

Georg Philipp Telemann: Trio Sonata in G Major, TWV 42:G10: Cantabile – Vivace – Affettuoso – Allegro

Georg Philipp Telemann: Trio Sonata in E Major, TWV 42:E7: Siciliana – Presto – Andante – Vivace

Georg Philipp Telemann: Trio Sonata in G Minor, TWV 42:g10: Cantabile – Allegro – Largo – Vivace

Georg Philipp Telemann: Trio Sonata in D Major, TWV 42:D9: Dolce – Presto – Pastorale – Vivace

Georg Philipp Telemann: Trio Sonata in B Minor, TWV 42:h6: Largo – Vivace – Andante – Allegro

Georg Philipp Telemann: Trio Sonata in F Major, TWV 42:F10: Grave – Allegro – Andante – Vivace

Georg Philipp Telemann: Trio Sonata in G Minor, TWV 42:g11: Cantabile – Vivace – Dolce – Allegro
Disk 2
Georg Philipp Telemann: Trio Sonata in C Minor, TWV 42:c6: Andante – Allemande – Menuet – Aria. Largo – Gigue – Réjouissance. Presto

Georg Philipp Telemann: Trio Sonata in A Minor, TWV 42:a7: Andante – Allegro – Adagio – Allegro

Georg Philipp Telemann: Trio Sonata in F Major, TWV 42:F5: Dolce – Allegro – Largo – —

Georg Philipp Telemann: Trio Sonata in G Minor, TWV 42:g15: Vivace – Cantabile – Vivace

Georg Philipp Telemann: Trio Sonata in B Minor, TWV 42:h4: Largo – Vivace – Dolce – Vivace

Georg Philipp Telemann: Trio Sonata in G Minor, TWV 42:g7: Siciliana – Allegro – Adagio – Allegro assai

Georg Philipp Telemann: Quartetto in G Major, TWV 43:G10: Vivace – Andante – Vivace

Georg Philipp Telemann: Quartetto in G Major, TWV 43:G12: 1 Dolce – Allegro – Soave – Vivace
Disk 3
Georg Philipp Telemann: Trio Sonata in E Minor, TWV 42:e5: — – Vivace – Grave – Vivace

Georg Philipp Telemann: Trio Sonata in G Major, TWV 42:G8: Soave – Allegro – Andante – Allegro

Georg Philipp Telemann: Trio Sonata in C Minor, TWV 42:c3: Gratioso – Con contento – Sospirando – Spirituoso – Vivace

Georg Philipp Telemann: Trio Sonata in G Minor, TWV 42:g6: Largo – Vivace – Andante – Presto

Georg Philipp Telemann: Trio Sonata in A Major, TWV 42:A10: Cantabile – Vivace – Andante – —

Georg Philipp Telemann: Trio Sonata in G Minor, TWV 42:g9: Soave ma non adagio – Vivace – Largo – Allegro

Georg Philipp Telemann: Trio Sonata in C Major, TWV 42:C2: Dolce – Allegro – Grave – Vivace

Georg Philipp Telemann: Trio Sonata in D Minor, TWV 42:d7: Andante – Vivace – Adagio –—

Georg Philipp Telemann: Trio Sonata in F Major, TWV 42:F6: Vivace – Largo – Allegro

Georg Philipp Telemann: Trio Sonata in F Major, TWV 42:F3: Vivace – Mesto – Allegro
Disk 4
Georg Philipp Telemann: Concerto for Recorder and Viola Da Gamba in A Minor, TWV 52:a1: — – Allegro – Dolce – Allegro

Georg Philipp Telemann: Ouverture-Suite in D Major, TWV 55:D6: Ouverture – La Trompette – Sarabande – Rondeau – Bourrée – Courante-Double – Gigue

Georg Philipp Telemann: Sinfonia in F Major, TWV 50:3: Allabreve – Andante – Vivace

Georg Philipp Telemann: Concerto for Bass Viol in A Major, TWV 51:A5: Soave – Allegro – Adagio – Allegro
Disk 5
Georg Philipp Telemann: Concerto for Oboe, Violin and Viola Da Gamba in G Minor, TWV 43:g2: Affettuoso – Vivace – Adagio – Allegro

Georg Philipp Telemann: Concerto for Flute, Viola Da Gamba, Bassoon and Harpsichord in C Major, TWV 43:C3: Grave – Allegro – Largo – Vivace

Georg Philipp Telemann: Trio Sonata in E Major, TWV 42:E6: Allegro – Largo – Allegro

Georg Philipp Telemann: Quartetto in B Minor, TWV 43:h3: Adagio – Vivace – Andante – Presto

Georg Philipp Telemann: Trio Sonata in G Major, TWV 42:G6: Andante – Allegro – Largo – Presto