Ten Holt: Solo Piano Music Vol. 1-5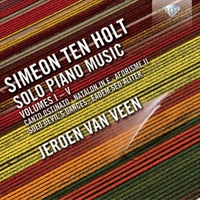 | | |
| --- | --- |
| Composer | Simeon ten Holt |
| Artist | Jeroen van Veen piano |
| Format | 5 CD |
| Cat. number | 9434 |
| EAN code | 5029365943420 |
| Release | February 2013 |
About this release
Born in 1923, Simeon ten Holt was a leading Dutch composer who came to attention following studies in Paris with Honegger and Milhaud. His music is best described as minimalist, and draws on the principles of Western harmony as well as those of aleatoricism.

This 5CD compilation is dedicated to Ten Holt's music for piano, an instrument that dominates his output and which for him contained all the possibilities he needed as a composer. Undoubtedly the most famous work featured is Canto Ostinato – a piece of stretched tones and fixed parts which, depending on the amount of repetition/phrasing/emphasis and volume as determined by the individual performer, provides for an almost endless range of performances. The process of listening to this music is similar to that of experiencing a ritual, and the same can be said of the other works on the compilation: Natalon in E, Aforisme II, the four Solos Devils Dances and Eadem Sed Aliter, the latter of which demands a high level of skill through the 'two sixteenths' separation between the left and right hand.

Performing these works is the acclaimed Dutch pianist Jeroen van Veen, a Brilliant Classics regular who is one of Ten Holt's biggest advocates. The release is an engaging follow-up to his 11CD box set with Ten Holt ('Multiple Piano Works') and the 9CD 'Minimal Piano Collection', which includes his own 24 minimal preludes.

Other information:
- Recorded 2012, The Netherlands.
- Very recently passed away at age 89, Simeon ten Holt was the Icon of Dutch minimalism. His works for multiple pianos include his most famous work, "Canto Ostinato", which gained cult status with a large audience not necessarily familiar with traditional classical music.
- The slowly shifting repeated patterns in Ten Holt's music have a hypnotic and hallucinatory effect on listeners, during concerts which may take several hours.
-This issue is a tribute to a composer who opened new horizons in classical music, and secured the interest and devotion of a new public.
- Includes extensive liner notes on the music as well as the artist.
Track list
Disk 1
Simeon ten Holt: Canto Ostinato: Section 1

Simeon ten Holt: Canto Ostinato: Section 20

Simeon ten Holt: Canto Ostinato: Section 74

Simeon ten Holt: Canto Ostinato: Section 88

Simeon ten Holt: Canto Ostinato: Section 91

Simeon ten Holt: Canto Ostinato: Section 95
Disk 2
Simeon ten Holt: Natalon in E: I. Sostenuto

Simeon ten Holt: Natalon in E: II. Andante moderato, giusto

Simeon ten Holt: Natalon in E: III. Adagio, agitato

Simeon ten Holt: Natalon in E: IV. Lento sostenuto

Simeon ten Holt: Natalon in E: V. Molto allegro giusto

Simeon ten Holt: Aforisme II
Disk 3
Simeon ten Holt: Solo Devil's Dance II: Section 1

Simeon ten Holt: Solo Devil's Dance II: Section 61

Simeon ten Holt: Solo Devil's Dance II: Section 72

Simeon ten Holt: Solo Devil's Dance II: Section 89

Simeon ten Holt: Solo Devil's Dance II: Section 93
Disk 4
Simeon ten Holt: Solo Devil's Dance III: Section 1

Simeon ten Holt: Solo Devil's Dance III: Section 26

Simeon ten Holt: Solo Devil's Dance III: Section 44

Simeon ten Holt: Solo Devil's Dance III: Section 68

Simeon ten Holt: Solo Devil's Dance I: Allegro vivace tempestoso
Disk 5
Simeon ten Holt: Eadem Sed Aliter: Section 1

Simeon ten Holt: Eadem Sed Aliter: Section 73

Simeon ten Holt: Eadem Sed Aliter: Section 104

Simeon ten Holt: Solo Devil's Dance IV: Section 1

Simeon ten Holt: Solo Devil's Dance IV: Section 29