The American Symphonic Organ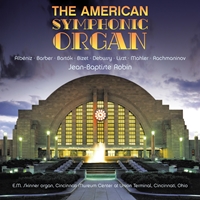 | | |
| --- | --- |
| Composer | Béla Bartók, Claude Debussy, Franz Liszt, Gustav Mahler, Georges Bizet, Isaac Albéniz, Jean-Baptiste Robin, Samuel Barber, Sergei Rachmaninoff |
| Artist | Jean-Baptiste Robin organ |
| Format | 1 CD |
| Cat. number | 94726 |
| EAN code | 5028421947266 |
| Release | November 2013 |
About this release
Here's a new organ spectacular worthy of the tradition, recorded in 2011 on the mighty EM Skinner organ of Cincinnati Museum Center at Union Terminal (Ohio, USA). The organ is maintained to a superb standard by its curator, Harley V. Piltingsrud, and putting the instrument through its paces with a selection that maintains the venerable tradition of organ arrangements is Jean-Baptiste Robin (1976), one of the most prominent French organists and composers of his generation who studied with Marie-Claire Alain and Olivier Latry.

Robin has made his own arrangements of music that ranges from the elegiac Adagio of Samuel Barber to the mighty Prelude in C sharp minor Op. 3, No.2 that made Rachmaninov's name, taking in Debussy's lush Prélude à l'après-midi d'un faune and monumental La cathédrale engloutie. There is even room among the Cincinatti organ's huge range of colours for Romanian folk dances by Bartók and 'Urlicht' by Mahler, which became the still turning point of his mighty 'Resurrection' Symphony. Concluding the recital are two original organ works, Liszt's contrapuntal tribute to Bach and Robin's own 'Distant Circles'.

Other information:
- A showcase of one of America's most spectacular symphonic organs, the EM Skinner organ of the Cincinnati Museum.
- Jean-Baptiste Robin, one of France's foremost organists and pupil of Marie-Clair Alain and Olivier Latry, wrote his own arrangements of a wildly varying and unashamedly popular selection of works by Albeniz, Barber (the famous Adagio!), Bizet, Bartók, Debussy (incredible colours in the Prélude à l'apres-midi d'un faune!), Liszt, Mahler (Urlicht, sung by a real soprano!), and Rachmaninoff.
- A fascinating demonstration of power and subtlety, pump and serenity!
- Booklet note by Jean-Baptiste Robin and full organ specification.
Track list
Disk 1
Préludes Book 1, L. 117: No. 10, La cathédrale engloutie

Suite Española No. 1, Op. 47: No. 5, Leyenda. Asturias

Prélude à l'après-midi d'un faune, L. 86

Six Romanian Folk Dances, Sz 56: I. Joc cu bâta. Allegro moderato - II. Brâul. Allegro - III. Pê-loc. Andante - IV. Buciumeana. Moderato - V. Poarga româneasca. Allegro - VI. Maruntel. Allegro

Carmen, Act 2, WD 31: Entr'acte

Adagio for strings, Op. 11

5 Morceaux de fantaisie, Op. 3: No. 2, Prelude in C-Sharp Minor

Symphony No. 2: IV. Urlicht

Prelude and Fugue on BACH, S. 260

Cercles Réfléchissants: No. 7, Cercles Lointains